To celebrate Labor Day—widely considered the unofficial start of campaign season—candidates and elected officials from all over Bergen County were out in full force at Rutherford's annual Labor Day Street Fair. The candidates walked down the crowded rows of vendor booths on Park Avenue to preach their missions and their goals for the future of the county.
Among those present were the candidates for the Bergen County freeholder race. Incumbent Democrats Tracy Zur, Steve Tanelli, and Tom Sullivan set up their booth just a few stalls down from Republican challengers Ken Tyburczy, John Mitchell, and Daisy Ortiz-Berger.
According to democratic freeholder Tanelli—a South Bergen resident and proud champion of labor—the street fair provides an opportunity for candidates to gain some recognition leading up to election season.
"Honestly, you are always campaigning," Tanelli said. "The county is going in the right direction. The biggest decisions are still ahead."
According to Tyburczy, the Republican candidates came to the event in Rutherford to spread the message of property tax relief, something they are billing as a central point to their campaign.
For challenger Mitchell, the Republican ticket will offer the county what he considers the best chance for the future.
"Compared to our opponents, we have a very different view of how big government should be," Mitchell said. "We need to make sure every tax dollar is spent wisely. We have it backwards. We need to start with dollar one focusing on the most vulnerable members of our population, those who are disabled."
According to Mitchell, the current budget system makes disabled persons—especially those older than 21 years old—an afterthought.
"I am a fiscal hawk," Mitchel said. "But, we need to reprioritize."
Freeholder Zur has been an advocate for disabled people in the county. According to Zur, the incumbents on the freeholder board have been "delivering good government" for the past few years.
"We have enhanced services that are important in Bergen County," she said. "Good government is good politics."
The freeholder candidates weren't the only ones present at Rutherford's Labor Day event. Assemblyman Gary Schaer (D-36) and Assemblywoman Marlene Caride (D-36) also attended the event. Their goal was to both campaign for their reelection in November and support fellow Bergen candidates.
"I am here to support the freeholders, the local candidates here in Rutherford and to have a good time," Schaer said.
According to Assemblywoman Caride, "today is really the kickoff" for the Assembly campaign.
"This is a great start to the season," she said. "I love meeting people and knocking on doors and I am really excited to start doing that."
Republican Assembly candidates Jim Lenoy and Forrest Elliott were also there to start their campaign season.
"We need to build for the next generation," Lenoy said. "At the state level the main issue is property taxes. They make a huge impact on the daily paycheck."
Rutherford candidates running in November also had a presence. Republican Rutherford Mayor Joseph DeSalvo, Republican Councilman Frank Nunziato and Republican council candidate Sean Walker had a booth, as did Democratic mayoral challenger Stephanie McGowan and democratic council candidates Mark Goldsack and Tom Mullhaney.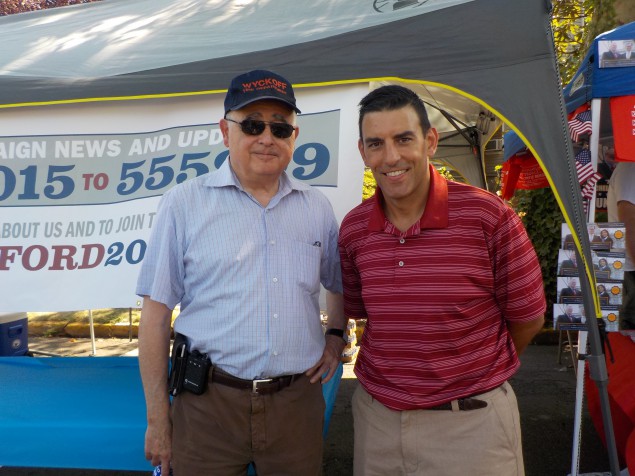 Support was strong for both Republicans and Democrats from members of their parties. Congressman Bill Pascrell (D-9) was present to share his support for the Democratic candidates, as was Bergen County Executive Jim Tedesco. Bergen County Republican chairman Bob Yudin was present to support the Republican candidates.
"From the Republican perspective, things are going very well," Yudin said. "We will take back control of the freeholder board from the democrats, we will win in district 38 and we have a good change in district 36."
The general election will take place on November 3rd.