"Do you think they liked it?" Brandon Maxwell whispered to a publicist, directly following the unveiling of the very first fashion show under his eponymous label. We were standing on the lower level of Mr. Chow, the toniest Chinese restaurant in Midtown. The room was buzzing with revelers that were sipping champagne and nibbling on cookies emblazoned with Mr. Maxwell's name.
There was Alexander Wang, standing on the stairs, chatting with a handful of the models that walked in the show. Star photographer duo Inez and Vinoodh lingered not far off. And although Lady Gaga, the obvious star of the evening, had dashed off as soon as the show ended (with her pal and former stylist Nicola Formichetti not far behind) the rest of the room was still stuffed with attendees.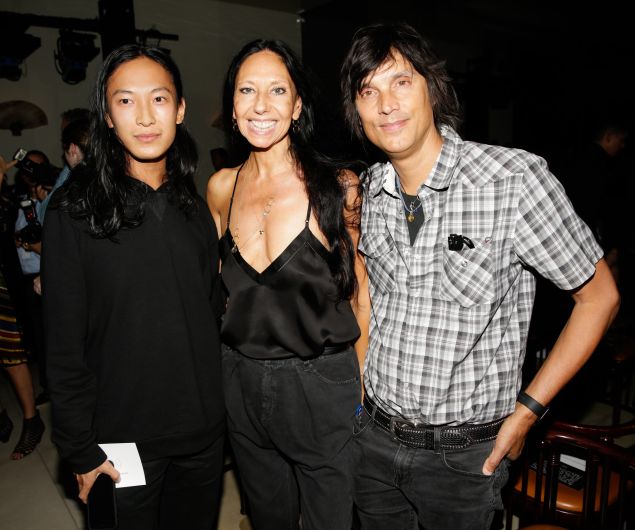 Returning to the question that Mr. Maxwell posed to his PR rep, the answer was definitely yes, we liked it. It's not often that attendees at a fashion show break out into spontaneous applause when a frock appears on the runway. But when a huge black dress with voluminous poufs of silk on the sleeves and one on the back walked by, the drama of the dress caused a burst of applause. From my vantage point, it looked as if that moment of appreciation was started by Lady Gaga, who has employed Mr. Maxwell's services as a stylist for the past few years.
While that particular piece was over-the-top and a touch too elaborate, the rest of the collection was impressive. There was a heavy focus on suiting, which tended to skew toward the sexier side of things (perhaps due to the fact that each two-piece was presented without a shirt underneath), Mr. Maxwell proved his mastery of tailoring. These weren't costumes, though; they were expertly crafted pieces that could easily be worn by a wide array of women.
For the younger set, a blush pink strapless crop top paired with limb-lengthening trousers would do, while a more mature customer would appreciate the slick blazers. From one pair of crocodile trousers to a proper dress with flared sleeves, everything in the collection was clean and streamlined. At times a bit simple, but perfectly to the point, we think Mr. Maxwell has appointed himself as a designer to watch.
Inspired by his collection, we grabbed a moment to chat with the stylist-turned-designer to see how he was reacting, following the show.
Now that your first show is over, how do you feel?
I feel great. I have felt oddly relaxed because I have such a great team and great friends who have helped me. When the first girl went out I was like, "Well, whatever it is, it is. But at least I took the chance and that's all you can do."
Where did your desire to become a designer stem from?
I grew up in a clothing store with my grandmother, who was a buyer and who worked at the store. I grew up around women always buying clothes in a small town in Texas. Although Neiman [Marcus] was two hours away, it was not in our town. So I understand that the luxury price point should be worth women's hard earned money. I wanted to offer something that was beautiful and timeless so that women could wear over and over again.
Were there any other childhood memories that inspired you?
In terms of the design of this collection, the tri-layer effect was modeled after me. When my parents went out, I remember taking my dad's cummerbund and wrapping it around bed sheets with my sister. That's where I started with this.
What was the story behind that huge dress with the back bustle?
I'm from Texas where everything's bigger and I've always loved that vibe. I've always looked towards women like Lynn Wyatt and I've always thought of them as the epitome of glamour. That was sort of my Lynn Wyatt dress.
What were Lady Gaga's thoughts on the collection?
She's been with me for days. And she's been laying in the room with my family every night, helping me go through the process. She's had a lot of thoughts and they've all been great.
How many members of your family were here tonight?
We had 43 members of my family here.
Why did you choose Mr. Chow as the space to debut your first collection?
I went to college on the Upper East Side when I was 18. This space always epitomized glamour and timelessness to me. I wanted it to be intimate and small, as well.

Going forward with your label, what's in store for the future?
If I'm so lucky to be able to do this again, my thoughts are endless.