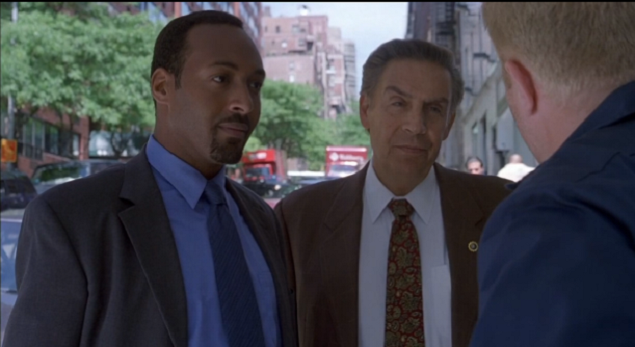 The other morning, my five-year-old daughter, Bee, ambled into our living room in her froggy pajamas, still half-asleep, and went straight for the remote control. She clicked on the television and called up the list of programs saved on our DVR.
"Hey," she cried, suddenly awake. "What happened to my shows?"
I'd been busted. The night before, I'd deleted Bee's cache of Curious George to make room for my Law & Order reruns.
The long-running NBC series made its debut 25 years ago this Wednesday. Since being cancelled in 2010, it's enjoyed a robust reincarnation on cable, where it's on, well, always.
Once every few weeks, I record a bunch of Law & Order reruns. I must have at least a dozen on hand at all times. When I saw my stash running low and the DVR nearing capacity, I had no choice but to nix the monkey and the Man With the Yellow Hat. Bee was not happy, but one day I'll explain to her that those shows are more than just entertainment for her parents. They're a salve.
Two decades ago, when my husband, Evan, and I were first dating we discovered Law & Order. We also discovered we were homebodies. Many an evening in that early head-over-heels period was spent eating Chinese takeout and watching the stories of the police, who investigate crime, and the district attorneys, who prosecute the offenders.
For us, it didn't get any better than that.
A lot has changed since then. Evan and I got married and had a child. Left jobs and started new ones. Moved a bunch of times. But we always took Law & Order with us. Like a photo album or scrap book, we didn't look at it every day, but took great comfort in knowing it was there.
When we have an epic blowout because, say, one of us came home late (him) or sent a too-harsh email (me) and have reached the point where we're too mad to even look at one another, we'll sit at opposite ends of the couch, silent and fuming, and punch up a vintage Law & Order.
The moment we hear the theme song (to which we considered walking down the aisle), there's a softening. It's an almost transportive experience, a drifting back in time that allows us each to give the other a sidelong glance and think, "Oh, yeah. I remember why I like you."
I've tried to put my finger on why, of all television shows, Law & Order is our go-to. The format is familiar and gratifying. There will be law. There will be order. There will be a twist. But if you cruise around the TV listings, you can find plenty of solid hour-long crime shows  – some that have had, or are still having, good long runs. Many are in syndication, ripe for recording. Still, I'm not erasing my kid's cartoons to create space for CSI.
So what makes Law & Order special?
There's hardly any character development. Sure, we know this one has a gambling problem and those two had a fling. But we're not going home with Jack McCoy or delving into Abbie Carmichael's psyche. All you need to know about the series' regulars is what they do for a living.
There are no slowly unfolding storylines to follow over the course of a season. The episodes stand alone. So alone that you could watch a show from one decade then skip to one from another without missing a beat.
Some television dramas – The Wire, to name one – have wrecked and haunted me, wrenched my guts and touched my soul. Others are downright disturbing (I still can't shake the image of that dude in a gas mask and tighty whities from True Detective). Law & Order doesn't do that. It provokes thought and argument not tears or nightmares. It's designed to make you think not feel.
Yet, I do feel. Not just admiration, but affection. This formulaic, no-frills police procedural won my respect. It also won my heart.
Lennie Briscoe had a lot to do with that. Of all the detectives who passed through the 2-7, he was by far my favorite. I could have fallen for the hot-headed Mike Logan, sexy Rey Curtis or cool Ed Green. They were younger and could run faster, but they didn't have Lennie's charm.
He got me with his wry one-liners ("There's no such thing as hooker-client confidentiality") and cracks about his ex-wives ("Love: a dangerous disease instantly cured by marriage"). I also appreciated his candor about being a recovering alcoholic and unwavering dedication to the job, despite having seen it all.
But what I found most endearing about Lennie was that he embodied the New York I love most, the New York where I grew up. Not the glammed up fabu-tropolis of Sex and the City or styled-to-a-T valentine of a Nora Ephron movie, but a real place, gritty and unpolished, where you needed a quarter to make a phone call and a token to ride the subway.
For a native New Yorker, one of the great joys of watching Law & Order, especially the first few seasons, is seeing the city as it was before police cars rounded out, losing their '70s-era edge, and Chase banks, Duane Reades and Starbucks began sprouting like weeds.
Evan and I might happen upon an episode that gives us a glimpse of our neighborhood a quarter century ago. "There's that bakery with the great oatmeal and terrible service!" "It's our old video store!" "Look, that's back when the reservoir had a chain-link fence!"
I'm hardly alone in my devotion.
Hanging in my bedroom is a framed newspaper article with the headline, "A 'Law & Order' Addict Tells All". It's from more than a dozen years ago (people were obsessed, even then) and has yellowed with age. But the accompanying Hirschfeld drawing of Briscoe and McCoy (what a quartet of eyebrows!) against the backdrop of a courthouse is sharp as ever and brings me as much happiness as it did when I first clipped it.
I'm grateful Law & Order is going strong on several cable networks, each with its own quirks. One runs the closing credits from the previous episode beneath the opening scene of the next, so everything is all squished for a few seconds. Another doesn't end its shows precisely on the hour (which I learned the hard way), so now I always record one minute over.
I get my fix from a bunch of channels – Sundance, TNT –which makes for a nice variety of eras. I'm still having trouble figuring out how Law & Order fits into the WE tv universe – home of Bridezillas, L.A. Hair and Marriage Boot Camp: Reality Stars – but I'm not complaining.
If Lennie were here, he'd come up with the perfect quip to end this on. One of his best was when the redheaded medical examiner, Dr. Elizabeth Rodgers, said, referring to a murder victim, "Tox screen shows she had one drink, tops. No signs of sex." To which he replied, "Sounds like my last date."
It still doesn't get any better than that.