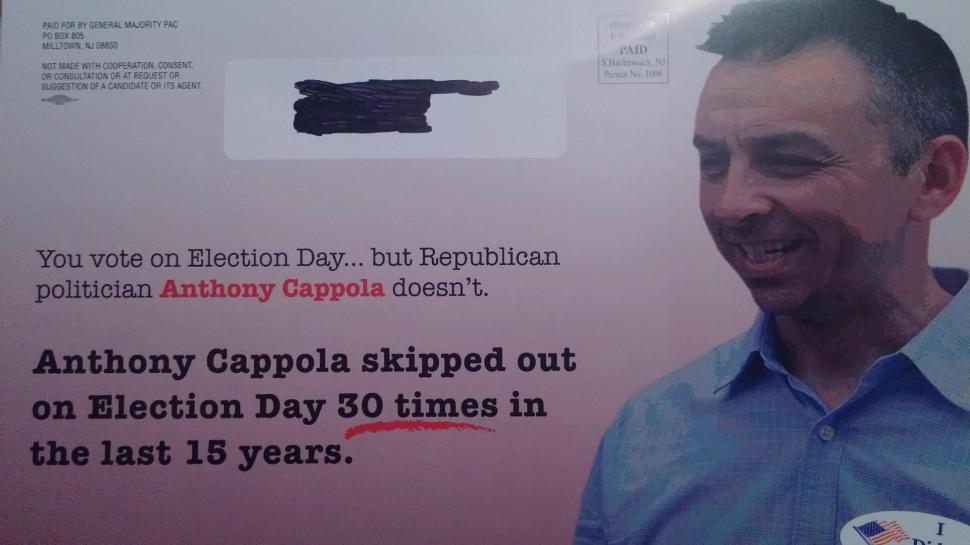 LD38 Republican challenger Anthony Cappola did not vote in any of the 28 elections held between 2001 and 2011, according to a source.
When asked about his decade of uninvolvement in the political process, Cappola did not deny his voter history. Speaking to what makes him qualified to run for office now, Cappola made the following statement:
"Like many residents of New Jersey and our nation, I grew tired of broken promises and empty rhetoric from politicians in both parties. After a decade of Trenton politicians raising taxes on families, I decided to channel my frustration into being part of ending politics as usual to make sure my son had the opportunity to succeed in this state. I'm running because, as a small business owner, I have done what many career politicians in Trenton have no clue how to do: create jobs and make tough decisions to live within a budget."
Cappola, along with his running mate Mark DiPisa, is a challenger for the Assembly seats currently held by Joe Lagana and Tim Eustace.
His statement continues: "Instead of dumpster diving in a desperate attempt to attack my character, Eustace and Lagana should take a look at their votes to raise taxes and make it harder on middle-class families. Eustace spent nearly two decades raising taxes, leaving his hometown of Maywood with a 138% property tax increase to go to Trenton and continue his tax and spend agenda. Lagana's short tenure in local government was plagued with votes for fee increases on things like kids' sports and sewers and more debt for our future generations. When it comes to tax relief, Eustace and Lagana have been useless and their juvenile tactics won't make their failed records disappear."
Democrats have seized on the issue in the battleground district. A general majority PAC sent out a mailer last week (pictured above) noting that Cappola skipped voting 30 times in 15 years.