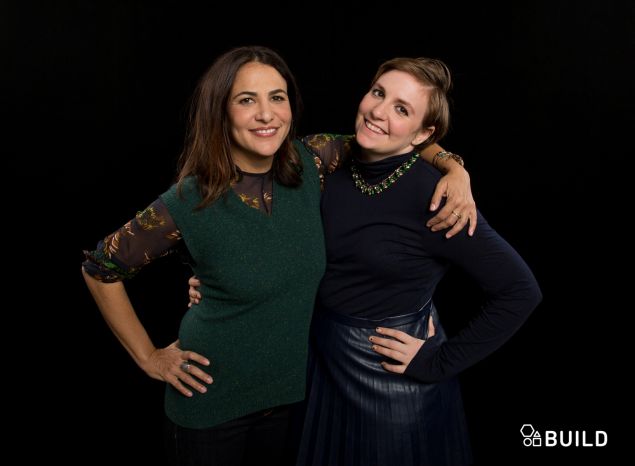 On September 29th, Girls creator Lena Dunham and executive producer Jenni Konner will launch Lenny–an email newsletter that addresses topics like voting, reproductive rights, personal accounts of adversity, and nail art. The two friends, whose chemistry was obvious at the AOL Build interview, hope to create a non-judgmental space for feminist dialogue without the rage brought on by social media. According to Ms. Konner, there's a very negative stigma against feminism because the idea is heavily saturated. Lenny will unload it.
Lenny's lead feature will include a casual interview with Hillary Clinton who Ms. Dunham considers a powerful feminist figure for millennial women. In the interview, Ms. Clinton shares her personal accounts as a twenty-something (like how she turned down Bill Clinton's marriage proposal twice before saying yes) but also answers more serious questions about policy.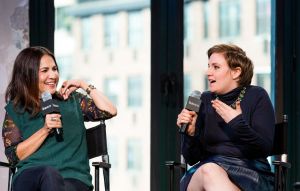 "That duality is very much the Lenny duality too. We can get serious, we can talk politics…but we also really want to talk about that dress and how much of your shoulder it revealed," said Ms. Konner. There will be no high-low distinction, because feminism is good for everyone. Lenny will provide their lens into equal rights, because "everyone alive deserves access to the same qualities of life."
The idea behind Lenny's emails is to connect young, passionate women who desire intelligent and fun, but liberal, content. The medium itself adds to its communal intimacy. Ms. Konner said that, aside from a newsletter's pragmatism, "it's us delivering something personal to your inbox."
It's also something that Ms. Dunham and Ms. Konner can enjoy full control over. They'll contribute their own advice columns and personal essays, and approve any copy sent by their editorial team. "You can trust that everything that comes to you is something that has personally affected us," said Ms. Dunham. While I'm personally excited to have them comedically filter the newsletter (because seriously, they're hilarious), I hope they don't base every newsletter on experiences only they can relate to. If Lenny is to reach a large audience, it will have to include way more than just one socioeconomic or racial lens.
Currently on the website as teasers are #AskYourMother abortion accounts before Roe v. Wade and an interview with Chenai Okammor, founder of Woman4Woman and friend to the late Sandra Bland. Already well on it's way, we just hope that Lenny turns out to be as quirky, witty and cool as its writers.