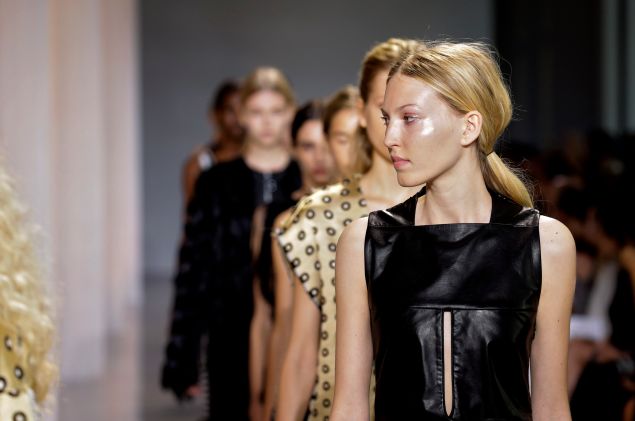 The stylish onesie, otherwise known as a jumpsuit has not been a stranger to the runway in past seasons. In fact, it has been around for quite some time, in nearly every iteration imaginable: short sleeved with long pants, long sleeved with tiny shorts, covered in sparkles, created in denim and so on.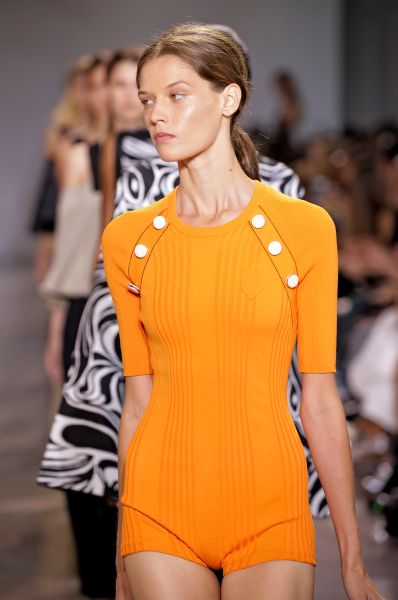 When the first jumpsuit at Edun made a turn on the catwalk in the form of a Creamsicle orange knit number, we perked up a bit. The all-in-one item is sure to be an editorial darling, shot over and over by the likes of W and Harper's Bazaar on a long limbed nymph like Karlie Kloss.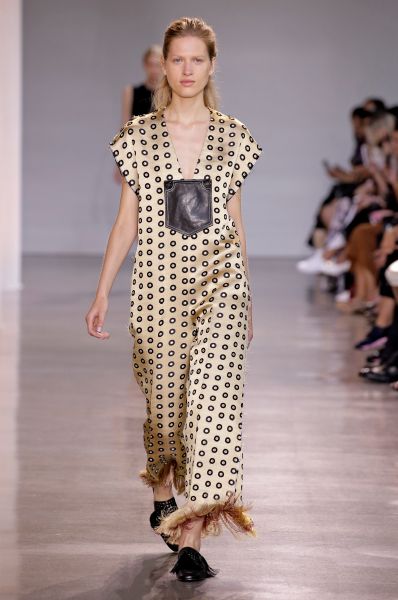 Then came another one-piece. This time it was whipped up in a printed yellow silk with a capsleeve and a fringed hem. The finishing touch was a leather pocket in the center of the chest. At once adorable and functional, we started to notice a strong trend, with creative director Danielle Sherman leaning towards jumpsuits in lieu of dresses or skirts.
There was a jumpsuit for every occasion too. A red tuxedo-inspired version with embroidered pockets and hems that ended in about five inches of fringe would be perfect for a formal Cinco de Mayo fête, while a slinky black onesie, which was entirely smothered in fringe from shoulder to ankle, absolutely must be worn to a dance party.
Plus, seeing as Edun was started in 2005 by Bono and his wife Ali Hewson, with the intention to promote trade in Africa by producing the collection across the continent, these are all-in-ones with good karma built in.
So when in doubt, definitely think like Ms. Sherman and opt for the jumpsuit. And if there's fringe included, all the better.