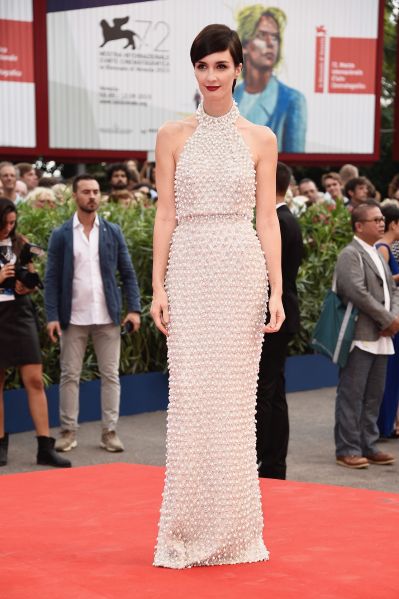 Sound the alarms: It looks like Lupita Nyong'o's memorable pearl-covered Oscars gown has been stolen for a second time. Well, in a sense.
There was something familiar about the Ralph & Russo Couture gown actress Paz Vega wore to last night's Everest premiere at the International Venice Film Festival. Ms. Vega's floor-length halter neck gown, from Ralph & Russo's Autumn Winter 2015/2016 collection, was made from pale grey silk organza and embellished with glass beads and pearl droplets.
Though beautiful in its own right, fashion fans will no doubt detect a resemblance to the Calvin Klein dress worn by Ms. Nyong'o to the 2015 Academy Awards. Who could forget that slinky white gown, reportedly made with more than 6,000 pearls, that rocketed the award-winning 12 Years a Slave actress to the top of many a best-dressed list? The dress continued to make headlines days after the awards ceremony, when it was stolen from Ms. Nyong'o's Hollywood hotel room and recovered three days later.
Ms. Nyong'o and Ms. Vega's dresses do bear small differences; their colors are slightly different, and the former features a V-neck and diamond-shaped cut-out, while the latter is more conservative.
Still, it's safe to say that if imitation is the sincerest form of flattery, Ms. Nyong'o certainly has an admirer in Ms. Vega.