If you were to cast a casual eye over the collections shown at Wednesday night's VFILES Made Fashion presentation, Portugal-born David Ferreira's yellow and black confections would likely be named as the most high fashion or luxury. And with good reason; the couture creations made one's mind go to designs from the likes of Giambattista Valli and John Galliano (from his tenures at Dior and Maison Martin Margiela). Mr. Ferreira himself cited Orlando—which stars Tilda Swinton—and Empress Dowager Cixi, a polarizing figure from nineteenth century China, widely credited with opening the country's ports. "All the inspiration is really in foot binding and mixing in the Victorian corsets from Europe," Mr. Ferriera explained. "All the embroidery is inspired by the 1,000 cuts that Cixi made illegal in China. I really wanted to take that dark and ugly side and make it gorgeous and glamorous."
But to say that he was the only designer of the night with luxury on the mind would be a mistake.
"The definition of luxury is being able to do what you want when you want," Julie Anne Quay, VFILES founder, told the Observer backstage moments before the show. "Right? That's what it's about, being able to wear what you want when you want it. And I think VFILES is exactly that."
In five short years, through the Made Fashion program, Ms. Quay and company have tapped quite a few brands of note. Last season it was Andrea Jiapei Li and Ximon Lee, both of whom were also tapped as semifinalists for this year's LVMH Prize and ran up against one another again in the International H&M Design Award. In that latter competition, Mr. Lee triumphed and is set to reveal a collaboration with H&M next month before debuting the first official range for his namesake brand in Paris this January. Prior to that the VFILES tapped Hyein Seo, a label that instantly caught the attention of not only Rihanna but the Italian label Philipp Plein, who may or may not have knocked off her design. Some of those veteran competitors, like Mr. Lee in particular, sat front row to take in this year's show.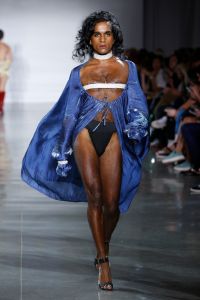 Luxury also cropped up in the collection of Moses Gauntlett Cheng, undoubtedly the buzziest of the five brands going into the event. While one newsworthy aspect of the showing had to do with the diverse model choice from age to body type and race ("It was amazing because we have our friends and family in the show," Esther Gauntlett, one third of the design team, told us after the show, "we had my mom, my brother's girlfriend and all of our friends") stepping the collection up was also of definite interest.
"We just really pushed ourselves for this collection," Ms. Gauntlett explained. "We really wanted to go for this red carpet, Sophia Loren glamour sort of look. We really upped the finishing."
"And the materials" Jenny Cheng added, another designer at the helm of the brand. "We used so much silk and this Japanese paper. There was even a viscose fibers that we added in." Those materials, coupled with the hand beading morphed into button up white overalls left open to reveal crystal encrusted garter belts on men, pajama like, easy silk shirts and flared trousers of the same fabric. The trio (David Moses is the third part of the puzzle) is known for an ecletic eye for styling and gender irreverent tactics. Closing model with a hairy chest, long curly hair and strong, meaty legs teetering on stilettos with a blue cape billowing behind? Definitely wearing what you want, when you want.