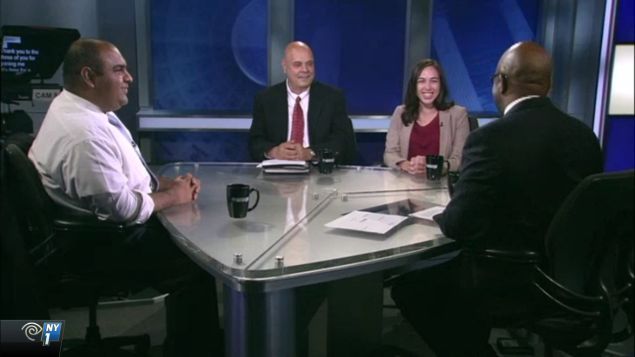 Rebecca Lynch, a former City Hall aide, has the most cash on hand heading into the final stretch of a crowded race for former Councilman Mark Weprin's eastern Queens seat.
Ms. Lynch has $90,215 left in her campaign account for the final week before Election Day on September 10, according to the latest filings with the New York City Campaign Finance Board. Her top rival, former Assemblyman Barry Grodenchik, has only $36,793, though he has outspent Ms. Lynch.
Bob Friedrich, a civic leader and co-op board president, has $56,227 cash on hand. Ali Najmi, an attorney, has $44,418 and Satnam Singh Parhar, a community activist, has $81,121. Another Democrat, Celia Dosamantes, is in debt. With the exception of Ms. Dosamantes, all the Democrats received about $95,000 in public matching funds.
Mr. Grodenchik and Ms. Lynch have dominated the endorsement race. Mr. Grodenchik is the Queens Democratic Party's chosen candidate and boasts the backing of many elected officials, including Mr. Weprin, and was recently endorsed by the United Federation of Teachers, which typically follows the lead of Queens Democrats. Ms. Lynch has the support of the Working Families Party, Hotel Trades Council and several other unions.
Mr. Grodencik is the spending leader, with almost $135,000 funneled into his campaign, but Mr. Najmi is close, having spent about $132,000. Ms. Lynch, in contrast, has spent nearly $97,000 so far.
The advantage of having more cash on hand for the home stretch of a low turnout race is the ability to spend heavily on campaign mail. Ms. Lynch, in addition to the number of labor union members canvassing for her, will have that edge in a contest that is likely to only bring a few thousand voters to the polls next week. Without television ads, mail is still a crucial way for campaigns to reach voters in low profile races.
A bulk of Mr. Grodenchik's spending, as is typical for more high-powered campaigns, has gone to consultants. The firm tied to his campaign manager, Steve Behar, took in $17,500. Red Horse Strategies, a leading campaign and lobbying firm, has been paid more than $20,000. A Los Angeles-based firm, HSG Campaigns, was paid about $18,000 to print and design campaign mail. A top attorney in the Queens Democratic Party, Frank Bolz, collected $528 for petitioning expenses.
Mr. Najmi, who has spent almost as much as Mr. Grodenchik, owes $40,000 to the Queens-based Momentum Strategic Campaigns, a lesser-known firm, and paid them about $34,000 already. He has spent $20,000 on Connective Strategies, a consulting firm run by Tyquana Henderson, a veteran operative. He also paid $7,000 in legal fees to Sarah Steiner, a prominent election lawyer, to defend his petitions and apparently try to drive Mr. Parhar from the ballot.
A major chunk of Ms. Lynch's cash has ended up in the pockets of BerlinRosen, a powerful consulting firm known best for helping Mayor Bill de Blasio win his 2013 mayoral race. For campaign mail and staff, Ms. Lynch has paid BerlinRosen about $52,000. Sally Frank, Ms. Lynch's campaign manager and previously a staffer in the city comptroller's office, has earned about $10,000.
Of the roughly $56,000 Mr. Friedrich has spent, much of it has been for one consultant: the Whitestone, Queens-based North Shore Strategies. The firm has taken in $35,400 for consulting and get-out-the-vote efforts, according to CFB filings. Despite its significant haul, the group is fairly new–state records compiled by Competitive Advantage Research, a consulting firm, showed North Shore was only paid by one other campaign, State Senator Tony Avella's, last year. The firm is tied to a man named Brendan Klein, records show, and appears to be based out of his Whitestone home. Mr. Klein has worked on several local campaigns.
A bulk of Mr. Parhar's $74,000 in spending is classified as "postage mailing." About $30,000 of these postage expenditures were on SSW Printing, which is based in Bellerose, a neighborhood in the district. Expenditures at that high a level are likely on campaign mail, though the firm's website says it specializes in flyers, postcards and business cards for the real estate industry. (A spokesman for his campaign said the postage expenses included campaign literature.) Other campaign and printing expenses for SSW also add almost $20,000 to the amount Mr. Parhar's campaign has shelled out.