Historic images by some of art history's most famous photographers, such as Diane Arbus, Alfred Stieglitz, Robert Frank, Richard Avedon and many more are set to go on sale next week in a series of fall Photographs sales at the three major New York auction houses.
Photographs take the spotlight on the auction circuit every October, but this year's calendar includes special highlights. At Christie's, a "curated" evening sale will take place October 5, and its online-only sale is in full swing, ending October 1. (The Photographs day sale will take place October 6.) At Phillips, a separate auction for an unidentified single owner's collection is happening the same day as its main sale–October 8. And, while Sotheby's isn't adding any sales it has some historically significant and rare works on offer in its Photographs auction October 7.
Here are the highlights.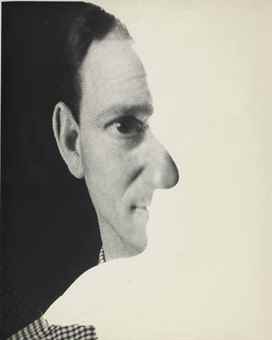 Erwin Blumenfeld, Self-Portrait, 1945. Est. $70,000-$100,000 — Christie's, October 6, Photographs sale
This 1945 self-portrait—believed to be unique—by German-born fashion photog Erwin Blumenfeld goes up for sale October 6. Blumenfeld was known for using experimental techniques such as solarization, multiple exposures, and photomontage in his work—most notably, for Vogue. This image is a double self-portrait, both a side-profile and a straight-on shot of the artist, that depict only half the face, playing on a recurring composition the artist used in shots for Vogue covers and model portraits. The self-portrait's provenance is traced from its current owner, a private European collector, directly to the artist's family.
Man Ray, Untitled (Self-Portrait With Camera), 1932. Est. $200,000-$300,000 — Christie's, October 5, Photographs: The Evening sale
Another self-portrait hit the block October 5, this time from surrealist Man Ray. Ray was no stranger to the self-portrait–he produced many over the course of his career, including some that featured only representational stand-ins for the artist's likeness. This solarized image is perhaps one of his more well known, and depicts Ray in the midst of capturing his own image with a camera in his studio. The rare print is cropped tightly on Ray's face, and was once part of the collection of art dealer, collector and publisher Ambroise Vollard.
Alfred Stieglitz, Georgia O'Keeffe, 1918. Est. $100,000-$200,000 — Sotheby's, October 6, Photographs sale
There aren't many images of O'Keeffe at work in the studio, let alone pictures taken by her lover and mentor, the noted 20th century photographer Alfred Stieglitz. In the picture, O'Keeffe is seated outdoors, painting with watercolor, which she began working with in earnest in 1916. Stieglitz snapped many shots of O'Keeffe throughout their relationship, mostly portraits of her face and body, making this documentary image a rare exception. The photo was given by O'Keeffe to her younger sister, Anita O'Keeffe Young, and was inscribed and dated on the back by the elder "OK507A 1918."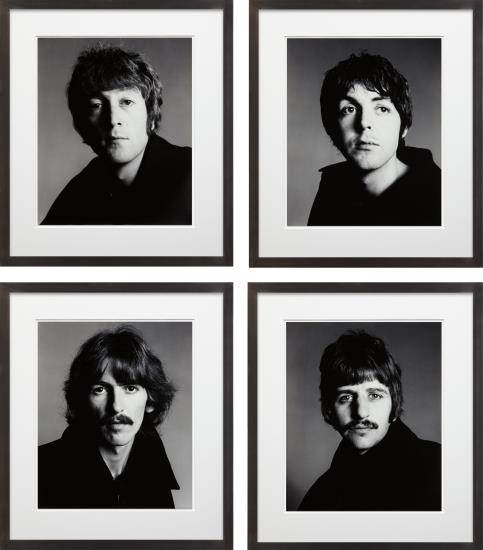 Richard Avedon, The Beatles, London, August 11, 1967. Est. $300,000-$500,000 — Phillips, October 8, Photographs sale
These four portraits of Beatles members John Lennon, Paul McCartney, George Harrison, and Ringo Starr were snapped by Alvedon for Look magazine the same year the group released such classics as Strawberry Fields and Penny Lane. Avedon consciously placed the men against a gray background for the shoot, like he had done with a selection of other notable figures like Marilyn Monroe and Andy Warhol. These prints were produced in 1988, and are believed to be some of the first pictures of the group in this format.
William Eggleston, Memphis, 1969-1970. Est. $250,000-$350,000 — Phillips, October 8, Innovators of Photography: A Private East Coast Collection
Memphis native Mr. Eggleston is known for his documentary images of the American South, which often feature a central horizon line and a flat composition. He was also a pioneer of color photography. This dye transfer image of a tricycle is among his most famous pictures and was featured in his breakout 1976 exhibition at MoMA, for which the accompanying catalogue was the museum's first publication on color photography. On this particular image, Eggleston is quoted saying, "It was not so interesting to stand at normal standing-height and look down at this thing, so I got down low with it."