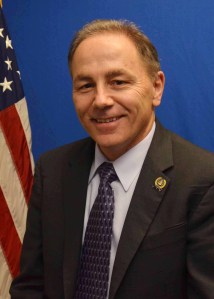 The Senate Environment and Energy Committee voted Monday to release a trio of bills that would oblige the Board of Public Utilities to provide more information on the rates and terms of customers' choices of gas providers in New Jersey. All three of the bills were sponsored in part by Assemblyman Vince Mazzeo (D-2), who is running for reelection in one of the state's few competitive contests this November.
The troika of consumer protection bills would make significant changes for the state's gas customers, and offer Mazzeo a chance to make hay of the bill's progress as his campaign alongside Atlantic County Freeholder Colin Bell accelerates and voters prepare for temperatures to drop with the memory of 2015's record-breaking cold snap in their minds.
Though the bill will not see a vote from the Senate until after the election, the bills address precisely the sorts of issues that budget-conscious voters will be watching for when they tally up candidates' legislative records, and could do a small part to drive turnout in what is slated to be New Jersey's most poorly attended election on record.
The bills could also reflect well on Assemblyman Sam Fiocchi (R-1), who co-sponsored them and is also facing reelection in a competitive district. Like Mazzeo, Fiocchi serves an area of the state with some of the worst poverty and unemployment in the country, where the constituency will likely be drawn to candidates who demonstrably stick out their necks for consumer protections in areas like gas and heat.
The measures would impose a period during which customers can cancel their existing contract no later than 20 days before their next meter reading and require the BPU to display certain information on pricing and plans on their website.
The bills would also mandate that gas companies print their contracts in 12-point font, along with an explanation of the difference between a fixed and variable rate and a statement of which kind applies to the customer. Suppliers would also be required to provide a one-page summary of the contract in both English and Spanish.
The bills passed unanimously in the Assembly last spring, and met with little opposition as they went before the committee.
"Numerous consumers in New Jersey have testified that they were unaware that they had variable rate contracts and that such contracts could result in them paying rates double or triple what they believed they had agreed to," said Mazzeo's fellow sponsor Assemblywoman Eliana Pintor Marin (D-29).