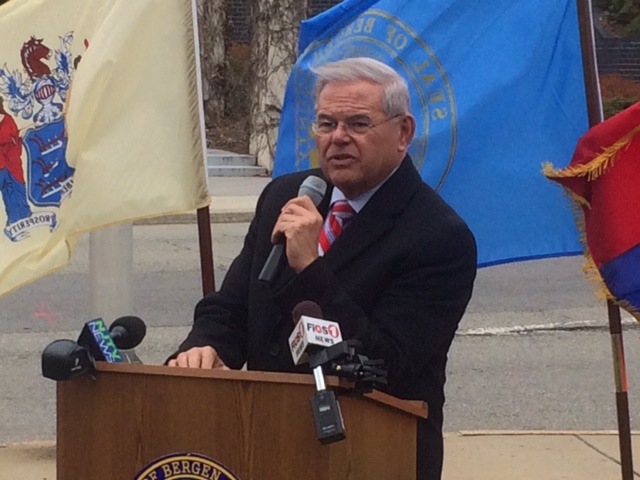 EAST ORANGE – At a Monday press event Senator Bob Menendez reflected on the recently announced resignation of Speaker John Boehner and how he was motivated by the recent Papal visit to make his choice.
On Friday, Republican Boehner announced he was resigning after serving six years as the House Speaker. The decision came just one day after Pope Francis visited Congress. Boehner, who is Catholic, was visibly emotional during the Pope's remarks and had his six-month-old grandson blessed by the Pope during his visit. On Sunday's Face the Nation, Boehner confirmed that the Papal visit helped "clear the picture" for him in terms of his resignation.
Reflecting on those statements Menendez said that Boehner "was moved by the Holy Father's words about people coming together in common cause to achieve greater things and just felt 'I can't do that anymore here and I don't want to continue to be in the position that I am against what I would like to do."
Menendez said that he believes the move will lead to a short-term continuing resolution to keep the government open but that a "major fight" is still ahead to determine what the long-term budget should look like.
"The Republican right wing wants to cut out assistance for family planning," said Menendez of the Planned Parenthood funding disagreements that would be a root cause if a shutdown were to happen. "At the end of the day, all their ideological views they want to make a reality for all of us in this country through the budget. That is just not going to happen."
As for Speaker Boehner, Menendez said that the Speaker's ability to act in line with his values was hampered by those in his party during his tenure in the position.
"I have often times said that, left to his own devices, he is someone you could strike a reasonable deal with," Menendez said of Boehner. "But of course, he was never left to his own devices, his own ideas because of that hardcore right-wing Tea Party group in his caucus."
According to Menendez, it was the right-wing ideology that pushed Boehner to step down. Menendez's comments came after an East Orange press conference focusing on police funding for the municipality and Essex County. Funding for grants like those are also potentially on the chopping block in budget negotiations.
"We have seen a speaker fall as a result of those who try to push their ideologies," Menendez said.
The budget process is supposed to be completed by October 1.