Watches are one of the few accessories a guy can use to truly express his personality. Personal enough to be worn on the wrist, perhaps instead of a tattoo, many guys feel as passionately about their watches as they would for ink. Whether they are gifts from lovers or family, or self-gifts of congratulation, watches definitely hold meaning for most guys. Now, as fashion relaxes toward more unique, individual looks, the potential to branch out a little style-wise has had a positive effect on the men's watch market.
Colorful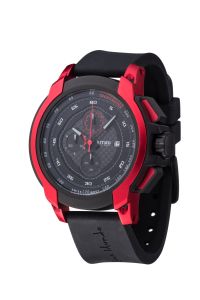 Color is one way to stand out from the crowd. Ali Soltani, the owner and founder of Ritmo Mundo, started his brand after years of retailing in Beverly Hills, offering watches not available in the mainstream watch industry. Ritmo Mundo plays with color and designs, sure to make a statement of difference to the rest of the crowd. The pictured Quantum 1 Red is colorful and sporty. $1,195. Ritmomundo.com
La Difference!
If you are interested in something completely different, consider the QlockTwo Golden Words. Displaying the time the way we say it (e.g. "It is 10 past 10"), QlockTwo is designed by the German firm Biegert & Funk and is out to revolutionize how time is read. The dial of the watch is a grid of 110 letters, and the watch comes in English, German, Dutch, Arabic, French, Spanish and Italian.
The Golden Words version of the QlockTwo watch features a square gold PVD stainless steel case and a gold PVD Milanese bracelet, for a cool look. $1,450. http://qlocktwo.com/
Sporty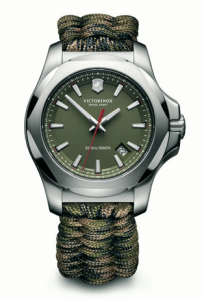 Victorinox Swiss Army is best known for its iconic Swiss Army knife. In the same spirit, last year Victorinox introduced the I.N.O.X. timepiece, designed to withstand just about anything. Having undergone 130 separate tests (you can run over it with a 64-ton tank and put it on an hour cycle in the washing machine and it will still work), the rugged I.N.O.X. is made from reinforced stainless steel and is water resistant to 200 meters.
This fall, Victorinox adds a special paracord strap to the I.N.O.X., making it even more versatile. Paracord is an extremely resistant nylon cord consisting of seven interwoven internal strands, initially used as parachute suspension lines. Paracord is popular in the outdoor/adventure community for its multiple uses in the wilderness. $625. Victorinox.com
Cutting Edge
Hautlence is an independent brand based in Neuchatel, Switzerland, celebrating its 10-year anniversary. The brand offers three distinct lines—Signature, Atelier and the complicated Concepts d'Exception—all designed to play with the way time is displayed. In August, Hautlence introduced the new Vortex, the latest in its highest end, Concepts d'Exception line.
Limited to 88 pieces, Vortex displays its handcrafted architectural movement in its case fitted with a custom sapphire crystal. The watch effectively changes constantly, as the entire mechanism rotates 60 degrees every 60 minutes. $168,000. Hautlence.com
Giving Back
Many watch companies are involved with charitable activities, and most recently, Graham introduced a new Chronofighter Oversize limited edition that benefits the Navy SEAL Foundation. A portion of every sale goes directly to the Navy SEAL Foundation, which works to sustain warrior support, family service programs, tragedy assistance, survivor support, educational opportunities and legacy preservation.
This watch features a chronograph activated by Graham's signature trigger system on the left side of the 47mm black PVD steel case. $8,050. graham1695.com
Elegance
Elegance, and a corresponding smaller size, is making a comeback. The new Patria from Tutima, a handwind 43mm timepiece in Rose Gold, is an excellent example of understated elegance. Perfect for under a suit jacket, or great for a casual fall party wearing jeans and a button-down shirt, only those in the know will recognize this unique German brand from Glashütte. $21,500. Tutima.com