With the New York Football Giants having already blown consecutive late-game leads, the professional football season is now in full swing. The NFL might do well to pause in counting its television billions and instead focus on why fewer and fewer fans are actually attending its games.
Since peaking in 2007, attendance at NFL games has dropped every single year. The high cost certainly plays a role – ticket prices have risen more than 50% in 10 years and parking more than 100%, according to Team Marketing Report's "Fan Cost Index." And the awesomeness of HDTV surely factors in. But those looking specifically at Met Life Stadium would do well to consider one additional cause: Fans are treated horribly.
The Giants clearly couldn't care less about the hassles endured by their fans.
This past Sunday, my 13-year-old son and I packed the car for a day of tailgating and football action. We had been invited to be guests in a luxury suite and wanted to arrive in plenty of time to enjoy all the festivities. We pulled up to the Stadium at about 11 am. It took us 45 minutes in line to get to the booth to pay our $30 to park. And then we crept forward for 90 exasperating minutes, winding through the entire lot without a single spot being available, and unable to turn around or ask anyone for assistance. Finally, some yellow-vested cretin told us "No more parking, go to outer loop."
I implored that we'd been driving for 90 minutes and hadn't seen any spots—was there anywhere to go?
"I don't have a radio. Go to outer loop."
We went to the outer loop. At the booth—precisely the same booth at which I had paid $30 to park an hour and a half earlier—the fellow tried to charge us $30 again. I showed our receipt. He said well, it's after 12:30—you're late. I told him it wasn't late when I got here at 11 and finally entered the parking lot at 11:45. He said, "Well, then you don't have to pay again, but there's no parking here."
Why he was willing to take our second $30 when there were no spots I guess I'll never know. We turned around and looked for an off-site lot for about another half hour. And then we surrendered. Like more and more football fans every week, my son and I watched the game on tv at home.
We wasted about three hours, $30 in cash, and of course had to eat the tickets as well, to the disappointment of our would-be hosts.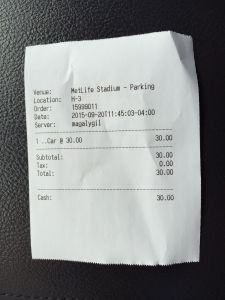 The Giants clearly couldn't care less about the hassles endured by their fans. The 631,738 people who attended their eight home games last year represent the lowest total since 2009, down more than 10,000 since peaking in 2012, the year after their victory in Super Bowl XLVI. 10,000 missing fans is no more than a rounding error to any NFL team, who now derive revenue in ever more creative ways. (If there is anyone out there not yet ready to puke from the onslaught of FanDuel and DraftKings ads, know that the former sponsors 16 teams while the latter sponsors 12.) But it's hard to root for a team that displays such indifference to its fans.
It used to be that giving a buddy a pair of football tickets was a special gift. Now, it's like giving someone a puppy – the recipient can count on tons of hassle, plenty of expense, and maybe some sort of memorable experience when it's all over. It's a problem very much on the NFL's mind. Eric Grubman, the NFL's executive vice president of ventures and business operations, told the Wall Street Journal, "The at-home experience has gotten better and cheaper, while the in-stadium experience feels like it hasn't. That's a trend that we've got to do something about."
Exactly. And Big Blue is already looking like a team that prefers its fans not witness its performances. After two games, they're a team that plays with little heart, perfectly in keeping with an organization that is run with little heart.