(Portions of this article, which ran in the 9/09/15 issue of the Observer, can be found in an earlier blog post, "For Your Consideration: Michael Kelly, Ubermensch of Hench.)
Despite what David Simon of The Wire might have you believe, residents of Baltimore—the home of Crabby Dicks, the Ravens, John Waters and Divine—aren't well-known for their discernment and nuance. Yet on a recent sunnyThursday afternoon at Fell's Point Oyster Bar,I witnessed a perhaps singular experience of fandom when a man approached actor Michael Kelly during our lunch interview.
After asking for a photo op with his son and bragging about the other son already at Georgetown, the man clapped Mr. Kelly, a lean and sinewy 47, on the back. "I love your acting, man," he announced. "It's really…subtle,"
Later, the Georgetown son for whom the photo was taken will look at it and probably feel, fora moment, disconcerted. Mr. Kelly, who plays the murderous, poker-faced Doug Stamper on Netflix's House of Cards, gets this reaction I got from fans who meet him.
"People say it's creepy to see me smile," he said, smiling.
In a period marked by a cultural obsession with the inner lives of fixers—Ray Donovan, Olivia Pope and Rachel Goldberg on UnREAL—actors are put in a tough spot. On the one hand,their characters need to be defined by their ability to keep a cool head and calm voice in the most stressful of situations—Olivia Pope helped plan the bidding for her own hostage negotiation, for Christ's sake. On the other, we demand they feek real—that we see their icy exterior crack, that gruesomely visceral yolk of humanity run hot and slimy across a series of conflicting expressions: hysteria, rage, horror, doubt, sorrow and yes, love.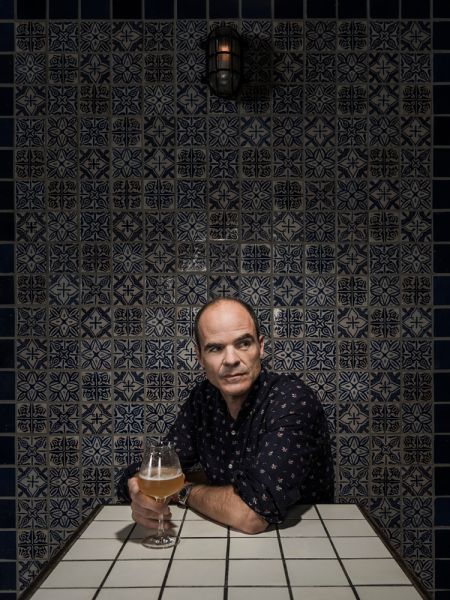 At molding these two disparate parts of a char actor together, there is no better actor right now than Michael Kelly. As Doug Stamper, the president's chief of staff on House of Cards, Stamper acts as the white space between the show's glacial blue aesthetic and the red splashes of paint used to render a portrait of Frank Underwood and his wife, Claire. Stamper's all brutal efficiency—lacking in any theatrics, a determined loyalist to his boss/master Frank.
On the page,Stamper doesn't stand out much, but his surprise turn last season made him less government bad guy and one of the show's most empathetic anti-heroes. Now he is up for an Emmy for Best Supporting Actor in a Drama (the Emmys are September 20), and about to co- star in two huge cinematic vehicles. He is Jon Krakauer in the IMAX panic attack Everest, and in Secret in Their Eyes, alongside Julia Roberts, Chiwetel Ejiofor and Nicole Kidman he plays—what else?—an FBI agent.
If acting was to be judged by how far a person's own personality is subsumed to inhabit a character, Mr. Kelly is an obvious choice to win his Emmy for his portrayal of an increasingly conflicted fixer whose feelings never quite reach the murky surface of his expressions. Loose-limbed, laid-back and with a constant cock-eye grin, Mr. Kelly is the kind of guy who, when telling a story about his friend Woody Harrelson, makes you think "Of course this guy is friends with Woody Harrelson."
"When I first met Michael in person he was all smiles—gregarious and warm," said House of Cards' show runner, Beau Willimon. "Almost the opposite of Stamper. It still amazes me four years in that he can switch on a dime from one of the most fun and generous and decent people I know to such a cold, ruthless and tortured character."
The Observer was able to witness this transformation in late August, when we were invited on location to a Baltimore diner where Mr. Kelly was shooting a scene for the upcoming season. Standing under the daily specials menu and by the rotating pie case, I was able to watch the monitors as Michael became Doug: his back straightened, his jaw clenched and his bushy eyebrows came down, hooding his eyes from any rogue expression that may flicker imperceptibly past.
"There's this one note I took away from my first call with Beau," Mr. Kelly had recalled at lunch earlier, cracking open a lobster claw and sucking down the meat. "He said, 'Look, the main thing is that in the first season, I don't want you to emote.'" Kelly punctuates the story with an easily ready, lackadaisical Southern chuckle most associated with a pre-2014 Matthew McConaughey.
"I was like 'All right, I can definitely do that. I can 'not emote.'"
That night, after the shoot, Beau, Michael and a couple friends all went back to the Baltimore waterfront suite where the NewYork-based actor spends most of the year. We were there to watch the dailies from last season: that final moment after Doug kidnaps, threatens and then wavers on killing Rachel Posner. He has developed feelings for the young woman, and she has become his obsession. The former prostitute had been conscripted by the Underwoods to help bring down Congressman Peter Russo, but now she's a loose end.
Yet we see Doug release her from the nondescript van after already digging her grave; he gives her water and directions back into town. He's going to let her disappear, despite the President's wishes and imperatives. In a season marked by his own personal recovery and expelling of demons, this decision would have to be made.
In Mr. Kelly's Baltimore kitchen/living room, the white and chrome decor is as starkly minimalist as the show itself. It was here that I sat and watched three different versions of how Kelly played that short, completely silent scene in the van, the one where Rachel's fate is sealed. In the next scene, she is walking toward the camera with a wide angle of the desert road, allowing the audience to see, chillingly, what she can't: Doug's van, reappearing over the crest of a hill.
Originally, Mr. Willimon told me, the script had intended to let Rachel live, "to suggest he had tapped into his humanity during his long rehabilitation." When it was decided, the night before they shot the scene, that Rachel had to die, Mr. Willimon reported that Mr. Kelly was "electrified by the idea."
In the dailies, I see Stamper pull over and stop the car after releasing Rachel: in one version he makes a motion to restart, hesitates, winces and turns around. In another, he is more resolved: his pulling over is merely the steeling of the man's resolve before sacrificing another soul at the altar of Underwood. The third take, he narrates: "I think this is the one where I take off my hat."
On-screen, Doug paws at a conspicuously inconspicuous baseball cap in frustration before resettling it—brim low—on his head.
"We decided the hat thing was too much."
It is those subtleties that have made Kelly the new go-to guy for grim stoicism in Holly- wood. Graduating with the first-ever theater degree from Coastal Carolina University in Conway,
South Carolina, Kelly moved to New York and became a mentee of Arthur Penn, the former artistic director at the Actors Studio. His breakout role came playing a sheriff's stooge, which he underlined for.  You can see him playing some agent of law and/or order in The Adjustment Bureau, Changeling, Now You See Me, Generation Kill, Dawn of the Dead, The Good Wife, Criminal Minds: Suspect Behavior and seemingly all the various Law & Order franchises. He conveys menace simply by being nondescript.
When he auditioned as Krakauer for Everest,he asked his agent if casting wanted him to "doJohn." No, she explained. "They want you to DIY." He sent in an audition tape where he kept his real-life vibrancy: those loose limbs, relaxed shoulders and easy smile. The actor heard back an hour later. "That was great, but we really want to see more Michael Kelly."
"That makes no fucking sense!" Mr. Kelly recalls telling his agent. "I've never done me, and that audition tape was me! But then we found out: they were talking about the 'me' thatI always do."
Everest director Baltasar Kormakur​ responded to the Observer's inquiries via email. "(Michael) is one of those interesting late bloomers like Bryan Cranston and Chris Cooper who get better and better. I thought he was really believable and had a quiet observational quality to play a writer who was part of the expedition but also slightly removed from it. We were looking for he actor who had the right essence."
The irony being that the excited, dynamic actor is now preceded and somewhat defined by his career playing dispatched lackeys, shadowy government agents and tight-lipped men shaded entirely by that one character note: "Don't emote."
And that's the silver lining in the Emmy nomination for playing Stamper: recognition that he's the ubermensch of hench.