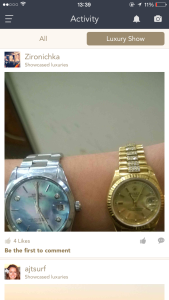 So you want to date a fellow millionaire, because regular people just aren't good enough. How can they understand what it's like to be born into money, after all? Where can a busy millionaire turn to meet another busy millionaire? Just click over to MillionaireMatch.com, a site that describes itself as: "the world's largest dating service for single millionaires and attractive people."
The site has been up since 2001, so you can trust that it really is full of millionaires. They've got that business sorted out.
"But wait," a potential user might wonder, "I believe that this profile is a true millionaire, but how can I know he's also a genuine d-bag?" MillionaireMatch feels you.
Yesterday, it announced a new feature on the site to help guarantee that one reprehensible human being has found another: Luxury Show. We all know that dating apps have gotten tiresomely superficial. Peoples' photos are the number one indicator of how likely people are to match or message with someone on all the other sites. Luxury Show creates a photo feature that turns users away from less meaningful indicators like looks and empowers seekers of love to focus on what really matters: possessions.
MillionaireMatch is available as a web, iOS and Android app. Free to join—messaging gets quite expensive, however. Passes to initiate messages start at $69.99 per month, but the company goes the extra mile. It has a "certified millionaire" program, and users can upload scans of their official identification to the site and be verified as real people.
Which shouldn't make anyone nervous at all, right?