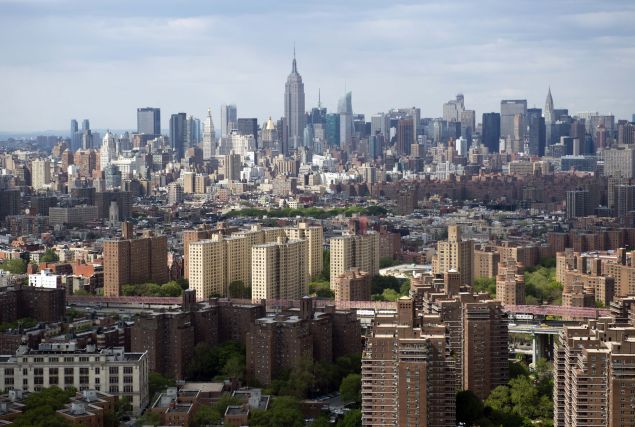 New York City's minimum wage workers have officially run out of neighborhoods to come home to, with a study out yesterday confirming that their earnings are unfit for rent across New York City.
The data, compiled by web-based real estate mogul StreetEasy, found that to afford the city's current median asking rent of $2,690, a worker would need to earn at least $38.80 an hour. With the minimum wage set right now at a much-contested $8.75, StreetEasy's data shows that workers would need to earn more than 4 times as much to live comfortably in the city they work in. Breaking it down by borough, Manhattan renters must earn $44.60 hourly, with necessary earnings in Brooklyn ($35.87), Queens ($29.67), Staten Island ($26.21), and the Bronx ($21.26) following closely behind.
Now that rent costs consistently outpace both income growth and inflation, many New Yorkers find that "there are no neighborhoods in which median asking rent could be paid affordably," the study states.
While Governor Cuomo agreed to raise the wages for fast food workers to $15 an hour just two months ago in an apparent victory for protestors and employees alike, StreetEasy's data proves an unfortunate point: even if the Fight For $15 became a success across industries, "the rent affordability landscape would be largely unchanged," the study explains. Workers earning that amount could only afford to live in Throgs Neck, where the $946 median monthly rent costs $13.64 an hour—and with roughly 267,000 New Yorkers earning the minimum wage, concentrating everyone within just one neighborhood would be far from feasible.
When looking at upscale areas within Manhattan and gentrified parts of Brooklyn and Queens, StreetEasy's findings echo the "tale of two cities" Mayor de Blasio sought to rectify in his 2013 campaign. In Central Park South, the study proves that there are quite literally not enough hours in the day for low wage earners to make rent, where it would take 389 hours of minimum wage work to afford the median rent. This impossibility holds true for 46 other neighborhoods as well, including DUMBO, Tribeca and Long Island City.
Data scientist Alan Lightfeldt offers three possible solutions for the unfortunate gap between low earnings and high rents. Barring a substantial increase to the minimum wage itself, workers are expected to find roommates, take on a second job, or simply "move out of New York City." In light of the city's current affordable housing crisis, these are quickly becoming the only practical options. After publishing the study, Mr. Lightfeldt stressed to the Daily News that "What really sticks out here is the number zero," before adding of his own findings: "I was taken aback by that."
StreetEasy's interactive graph offers further insight to neighborhood costs, with the highest rent neighborhoods clustered around lower Manhattan.