[youtube https://www.youtube.com/watch?v=-SJjtUvGIQE&w=560&h=315]
Creative director of All Saints, Will Beedle, took a distinct approach when planning the All Saints spring 2016 presentation.
"A week ago, in New York City we didn't know what kind of story we wanted to tell. What we did know is that we wanted to connect with a new generation," Mr. Beedle told the Observer.
What makes this presentation incredibly unique? The models for the video and portraits styled themselves. Mr. Beedle said that he was not worried about the idea of losing control by turning over the stylistic aspects of the presentation to the models.
"We need to trust and empower the individuals to express themselves," he insisted.
Mr. Beedle shared that the video that came about after All Saints scouted for participants on Monday, met them on Tuesday and, then, stationed a rack of clothes on a street in the Bowery and allowed the people to dress themselves. "They didn't need to be told what to do; no one wants to be told what to do," he said. He shared an example of a model disagreeing with a stylist about whether or not an ensemble's shirt should be tucked in and said he enjoyed the freedom the models were given.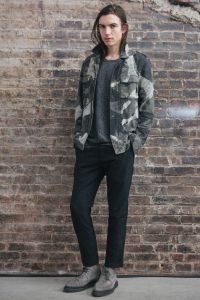 Mr. Beelde shared the empowering results of the experiment, saying, "What we have here is people expressing themselves. We deliver people the ingredients to express themselves in their own identity. The more we work at scale, the less didactic they can be. People need to interpret things individually."
He elaborated on the different aspects of the concept of freedom that the presentation brought to the surface. "We have a double presentation in a way. We have a formal lookbook but we also have something which is much more real almost in a way. Something that is out of our control from the get go. And I want to present that as being equally valid. The way these kids articulate themselves, the way they wear our t-shirts—these people express themselves in a way that fits them. And I think that's equally fundamental."
Regarding themes of the collection, Mr. Beedle said, "We started designing the collection with a clear sense of what we wanted to articulate and express. Denim is consciously deconstructed, suede is toughened up. Formal menswear is shrunk, feminized and elaborated. Prints are consciously collaged."