The Sky Room at the New Museum was packed Monday night, as lawyers, supporters, investors and others came out to see the launch of Monegraph, a new marketplace that also establishes the provenance of digital works and clarifies the rights buyers have when they purchase something.
On the museum's balcony, the Observer spoke to one artist, Whitney Mallett, who works in both documentary and video. She believed Monegraph was a means to start pushing the purchasers of works to ask the right questions, like whether or not it is O.K. to remix a work after it has been sold. She said the prior era of Creative Commons was a bit too hopeful to be helpful over time.
"I think people were really utopic about the Internet, but then these big vacuums sucked up all the content," Ms. Mallett said. 
Digital artwork, from digital music to fine art, has been a growing area for a while now. If a work is infinitely reproducible at no cost, however, how can a collector establish that they have an original or one of an edition? Monegraph takes advantage of the bitcoin database, the block chain, to log each transfer of a work (just as the database does for bitcoin), so that it really is set in stone who owns a digital piece at each moment.
"It's not about stopping piracy. It's about facilitating legitimate commerce," Kevin McCoy, co-founder and CEO of Monegraph, told the Observer in an interview before the night's presentations. He pointed to iTunes as an example of a marketplace for digital music. He said people might have their complaints about how Apple did it, but it was a way for people to know they were purchasing authorized work. There hadn't been a good way to do that before. Once there was, people did it.
He hopes the same will happen with Monegraph. To that end, the company will be purchasing $25,000 worth of digital work for use in its upcoming advertising campaign, Mr. McCoy announced. Artists should add the work to the system, authorize remixing in the rights and share it on social media with the hashtag #thisismymonegraph.
Other companies are entering into a similar space, such as Fresco, as the Observer previously reported, though Fresco aims strictly at the newsroom market.
Rock star Imogen Heap also envisions using the block chain so that someone who purchases a piece of digital music could then sell it on to someone else.
Art buyers and sellers have been skeptical about selling art using Bitcoin, but it may not be the digital money that turns out to be powerful for artists. It might be the block chain, that makes it work.
By documenting provenance using a distributed database that—so far—no one sees a way to hack, Monegraph will probably see its strongest success in artistic works. "How transformational will it be to this $13 billion market?" Carlos Mendez, a board member, asked during the presentation. "We don't know."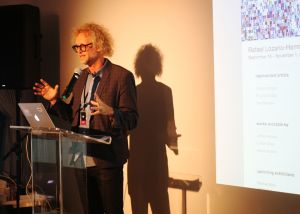 "If you're selling a $90,000 piece of art that's entirely code based, for a lot of people, that's a reach," Steve Sacks, founder of the Bitforms Gallery, said during his part of the night's presentation. Pointing out that collectors can't know that they have the original, now, but Monegraph's system could help. "Once it comes to the fine art realm, it will make a huge difference for my business."
Mr. McCoy did a live demo of the web and mobile app's key features at the event. Another staff member, Roxana Vosough, tweeted this photo of Mr. McCoy announcing the company's launch:
Mr. McCoy then purchased the work live on stage, as the Monegraph page for the digital item shows. The site's "Monegraph Inspector" allows users to check the specific bitcoin address that documents the current owner of the work. The page for Ms. Vosough's photo is here.
Mr. McCoy called its plain language rights feature the heart of the system. The company worked with law firm Pryor Cashman to square away the legal language the underlies those plain language rights. Bill Charron, an IP attorney and partner at the firm, said he envisioned a day when Monegraph's stylized 'M' will be the same as the copyright symbol. He said, "It strikes me as analogous to licensing directly from the US Copyright Office."
The next features that the company wants to incorporate include video support, social media playback and consignment and representation, Mr. McCoy said.
A stealth mode startup launching in Noveember, Nameless (also known as NYCTV), has already incorporated Monegraph into its system, Alexandra Serio, the new company's chief creativeofficer explained. "Nameless is a marketplace for premium video works," the Vice Media alum explained. She has been searching Vimeo for creators making high end work and giving it away for free, and recruiting them to the site for its launch.
The app went live on iOS and Android on Monday. The Android version had only been pushed three hours before the event, Mr. McCoy confessed from the podium. Monegraph was born at a New Museum hackathon in 2014, as its other co-founder Anil Dash wrote on Medium.