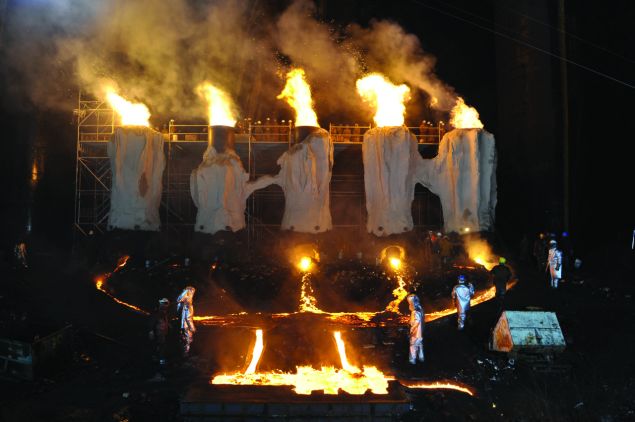 You may have seen Matthew Barney's film River of Fundament at BAM, where it premiered in February 2014, or elsewhere (hint: 5-hours and 52-minutes of rites, rituals, intrigue, cringing). You surely read about it (hint: an unwatchable adaptation of an unreadable 1983 book by Norman Mailer). If you're in a certain set of well-traveled art worlder, you may even have seen the exhibition in Munich's Haus der Kunst or Tasmania's Museum of Old and New. Either way, get to The Geffen.
Mr. Barney's first major solo show in Los Angeles opened earlier this week, Sept. 13, at The Geffen Contemporary at the city's Museum of Contemporary Art. It is based loosely on the Mailer book Ancient Evenings, an epic of life, death, sex and violence in ancient Egypt. The title comes from the Mailer quote: "Is this is the fear that holds the universe? Is pain the fundament? All the rivers veins of pain?"
"This exhibit illustrates the sex, violence and power that structures civilizations across the world," Lanka Tattersall, MoCA's assistant curator, told the Observer. Mr. Barney's film was developed in collaboration with composer Jonathan Bepler and the exhibition is both screening the film and offering a show of related art. "Matthew Barney is known as a filmmaker who makes sculpture," she explained. "He's really a great storyteller."
She coordinated the current presentation. "People who think they know his work will really be surprised," she said, referring to the eight "water castings" created by pouring molten bronze into a pit of loose, watery clay. "The result couldn't be predicted. They're really astounding. This is ancient and primeval in a way." The exhibition highlights include a 25-ton metal piece cast during a live performance in Detroit that is featured on the film.
The six others in this water castings collection–14 total, a nod to Osiris, god of agriculture turned god of the afterlife, who was cut in 14 pieces by his jealous brother–are simultaneously on display at Regen Projects Gallery on Santa Monica Boulevard.
In the museum show, take your time. The best path to take through this exhibition, said Ms. Tattersall, is a slow one. "This exhibit rewards close looking."
Then, enter the cinema, where the film will screen Thursdays, Saturdays and Sundays. "Watch the film!" said Ms. Tattersall. "Having watched the film you can really appreciate the intricacies of the sculpture."