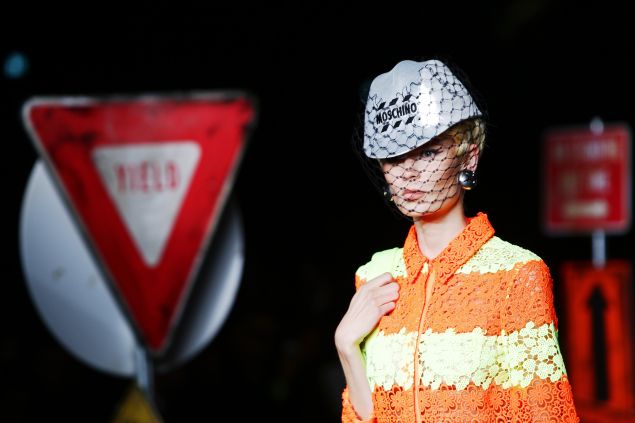 To be frank, there are very few designers in fashion who seem to be having as much fun as Jeremy Scott. Each season his runway shows tend to be more like productions, with entertaining antics and dramatic details. Whether that includes a Barbie-inspired collection where a model roller skates down the catwalk or he uses a forest backdrop to accompany snow that fell softly from the roof, Mr. Scott guarantees to show his audience a good time.
For spring, the designer took two stressful urban topics, traffic and constructions, and turned them into couture. Bright flashes of neon orange and neon yellow were combined on lace and silk suits, while nods to the inner workings of a carwash were presented in dresses that seemed little more than feathered pouf balls. The runway was dotted with traffic cones and weathered signs, while a dotted yellow line ran down the center of the runway. A steady stream of bubbles added to the playful scene as well.
Dresses inspired by street signs yelled "Shop" instead of "Stop" and one sleek black jacket notified wearers with "Caution, Dangerous Couture."
With the help of milliner Stephen Jones, hard hats and traffic cones were repurposed into stylish chapeaus. Perhaps the next time Prince William and Harry don construction hats, they will opt for this refined version.
Never one to miss a great pop culture reference, Mr. Scott included a few images of The Powerpuff Girls, splashing the pint-sized superheroes across a ruffled skirt and a slick swimsuit. Even a classic cardigan was given a pop culture punch.
Below, here are our favorite looks of the show, ranked in no particular order. These sure beat a basic little black dress, right? Plus, a small capsule collection from this range is available for purchase right now on Moschino's website or on Stylebop.com.