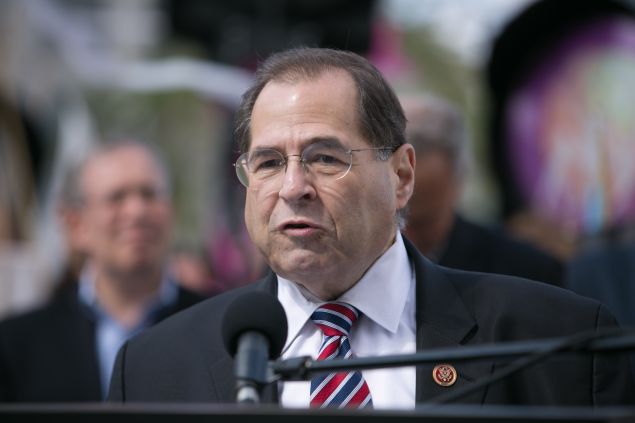 Congressman Jerrold Nadler said today he was disturbed and surprised by the "viciousness" of attacks against him after he announced last month he would support the Iran nuclear agreement.
Mr. Nadler, a Democrat who represents heavily Jewish sections of Manhattan and Brooklyn, added that the harsh criticisms from elected officials in his own district disappointed him.
"I'm obviously disappointed with the rancor. I'm upset with the viciousness of some of it; that people would disagree is obvious," Mr. Nadler told the Observer following an unrelated event in Manhattan. "I expected people to be upset but what I didn't really expect were people to say immediately, 'Well if I disagree with you it must be not because you're wrong or because you're mistaken, but because you know you're wrong and you're doing it for ill motives.'"
Mr. Nadler, a staunchly pro-Israel lawmaker, angered many Orthodox Jews in the Borough Park, Brooklyn portion of his district when he decided to back the Joint Comprehensive Plan of Action, which will ease economic sanctions on Iran in exchange for regular inspections on their nuclear program to ensure they never develop a weapon. The agreement, negotiated by Iran, United States, France, Russia, China, the United Kingdom and Germany, is vigorously opposed by Israel and most Republicans, as well as Sen. Charles Schumer and some other New York Democrats.
While backers of the accord like Mr. Nadler believe it is the only realistic way to curtail Iran's ability to build nuclear weapons, critics say it does nothing to keep Iran from funding terrorist organizations or eventually develop a weapon after the accord expires in 15 years. Mr. Nadler's decision in late August to support the Obama administration's agreement appeared to tip the balance, at least in the New York delegation, in favor of the deal.
Since then, several representatives in Brooklyn and the Bronx have come out in favor of the deal, joining many other House and Senate Democrats who will likely ensure the GOP can't kill the agreement in a vote later this month.
Assemblyman Dov Hikind, a conservative Democrat in Borough Park, promised last week a primary challenger would emerge to take on Mr. Nadler. At a Brooklyn rally, he chided the veteran lawmaker for previously lamenting how he's been attacked. "Jerry Nadler's upset. Congressman Nadler's upset … he's upset that people are upset with him. He's upset that people are angry at him. He's complaining all over the freaking place," he said, later mailing Mr. Nadler a mock sympathy card.
Mr. Nadler said today politics could factor into his decision-making, but did not matter here.
"I'm in politics, I don't think political considerations are illegitimate, they are," he said. "But sometimes a vote comes along when potentially thousands of lives are at stake and you just have to try not to think of the politics, try not think about how this will affect the next election or anything and just try and figure out what the right thing is and do it and this was one of them."