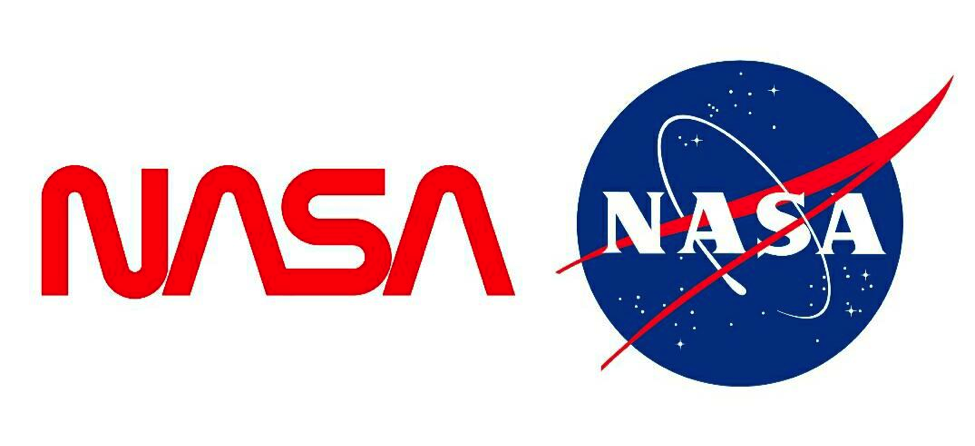 Earlier this month, a young maker named Ahmed Mohamed was arrested while wearing a NASA t-shirt after bringing a homemade clock to his high school. Photographs of Ahmed in handcuffs circulated around the globe along with the space agency's logo creating a new context for its design and purpose.
NASA tweeted a response to the arrest with a STEM-related message of support and for a moment, the agency's brand became a symbol of social progress.

NASA's logo is known world-wide and has evolved into a representation of all things space rather than the agency itself. It's a brand as recognizable as Coca-Cola or Apple and its utility can be both fashionable and cultural. The blue spherical design or "meatball" has been transformed into a universal marketing tool for NASA and an icon for advocating STEM education.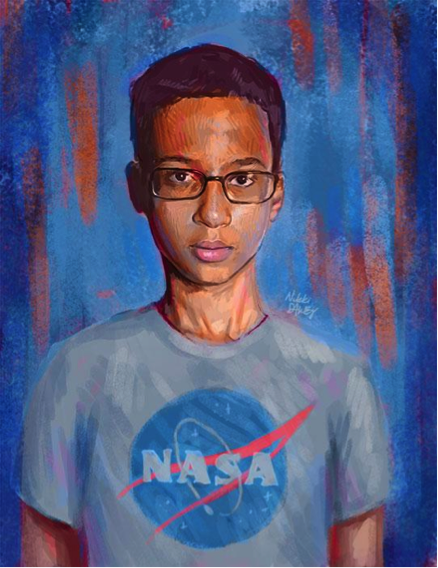 Hollywood has regularly made good use of the agency's logo and are doing so again in Ridley Scott's much anticipated The Martian – a film that many are calling a love letter to science and a huge public relations boost for NASA.
Before the current incarnation of NASA's logo, was a far simpler representation of the agency's efforts. In 1974, NASA hired Richard Danne and Bruce Blackburn to design a modern logo and in 1975 a red, worm-like rendering of the National Aeronautics and Space Administration's acronym was adopted.
The "worm" logo along with the graphics manual for integrating it were both retired in 1992 with the introduction of NASA's current design but through a new Kickstarter, the manual is being re-published into a 90-page illustrated hardcover for a price of $79.
Because of the open usage rights for all of NASA's written and design material, NYC-based graphic designers Jesse Reed and Hamish Smyth are able to legally repurpose the publication and even turn a profit from selling copies. NASA caught on to the project about a week after launch and released the manual online for free.
I spoke to Hamish Smyth as well as two prominent designers about the Kickstarter and the appeal of NASA's logo design.
Why did your team decide to publish the NASA Graphics Standards Manual?
Well we did a similar project last year, the Subway book and it went really well. We knew about the NSA Graphics Manual and it was on our wish list. So after the subway campaign we decided to contact the designer of the NASA book who was still alive – Richard Danne.
Where did you find the original copy?
Well we contacted Richard. He was visiting New York and brought his copy with him for us to check out. We held onto it and used it to take photographs. We'll be using those to make the scans for our book.
Having already exceeded your target on kickstarter, do you have a new crowd-funding goal?
Basically we just keep going. The minimum print was 2,000 books and we reached that on the first day lucky enough. And since then we've just been selling more books. We'd love to get to 10,000. I think we just passed 7,000 and 10,000 would be really cool.
I think that makes it a New York Times Bestseller but unofficially.
NASA released a lower quality, PDF version of the manual. Did that hurt the speed of the kickstarter at all?

I don't think so. We've continued to get more backers since that was released. There was actually already a version online available on archive.org. I actually tweeted that a few days after our campaign launched. NASA tweeted their version to a huge following and it got a lot of attention. The quality is pretty poor but all the information is there and it's totally readable.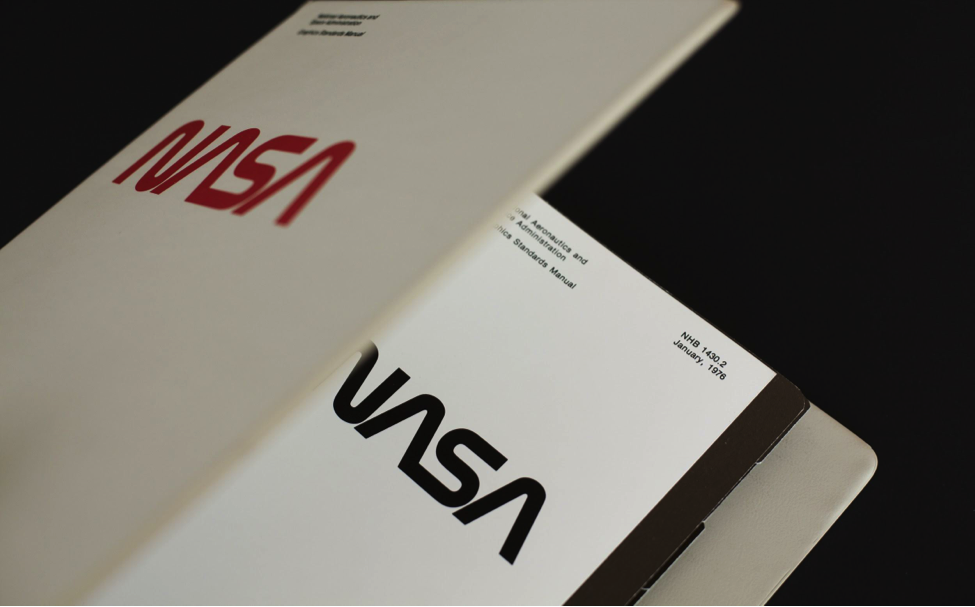 Steven B. Wheeler, who I met at NASA's Kennedy Space Center last December, designed the Men's Space-Inspired Primaloft Down Jacket for Betabrand which became a success after an online crowd-funding effort. Today, now a lead designer for The North Face, Wheeler decided to purchase the Manual through Kickstarter.
Why did you back the NASA Graphics Manual Kickstarter?
I stumbled across the original spiral-bound manual that someone had taken photos of and posted to Flickr maybe a year or two ago, and wanted a copy of it even since! The Flickr gallery didn't have every page, so I wanted to see the rest of it.
What's special about this book?
As a professional designer, I love this publication not only because it's a terrific example of a style manual, but also because it's a clear set of branding guidelines for the agency responsible for America's legacy of manned spaceflight. It combines two of my favorite things; one professional, one personal.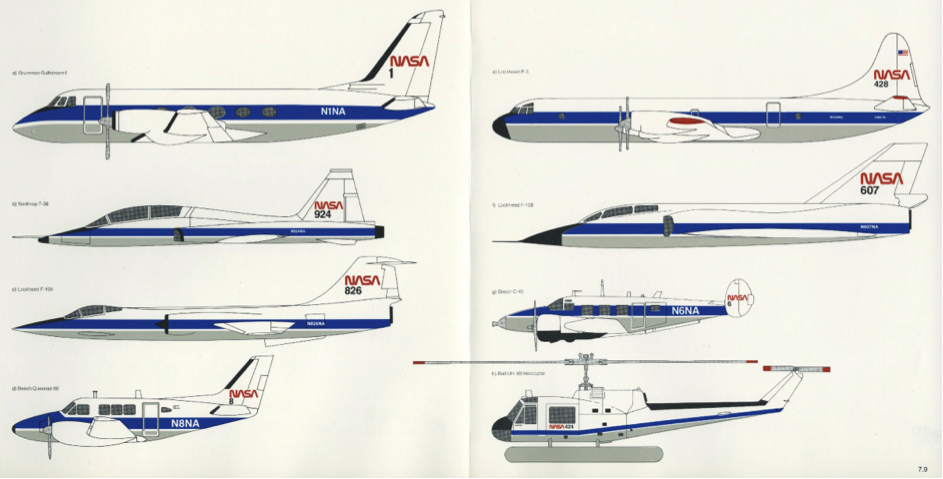 To get an idea of the social impact of NASA's design, I spoke to the co-leader of the Designer's Guild For Justice and founder of BearBear Inc, Marissa Louie, whose career at Apple, Yahoo and Ness Computing make her the go-to for design consultation.
Do you think Ahmed Mohamed wearing a shirt with NASA's logo during his arrest could alter the public's perception of it?
Definitely. In NASA's heyday, from 1958 through the 1970s, many children were captivated by stories of space travel and wanted to be astronauts just like Neil Armstrong and Buzz Aldrin. Yet that excitement fizzled over the following decades, and fewer students studied science, technology, engineering, and math.
Ahmed, and the NASA logo, have catapulted the topic of STEM education in America back into the spotlight. And now, children will be inspired to study STEM thanks to Ahmed's continued interest in it beyond all odds.
As a seasoned designer, what do you think of the current "meatball" as opposed to the "worm" logo of NASA's older days?
The current 'meatball' logo attempts to accomplish too much and is quite cluttered. It has a whopping five elements: White stars, an orbital path, a red airfoil, the NASA letters, and a round blue background. It also doesn't print well, is costly to print since it has so many colors, and it doesn't reduce down to a small size very well—so people sometimes alter the logo to fit their needs—a nightmare for a brand manager. Lastly, the typeface looks outdated.
Although I'm a fan of the elegance and simplicity of NASA's red 'worm' logo of 1975 and beyond, I'm even more excited by the idea of NASA returning to prominence, as symbolized by the 'meatball' logo. And if that happens, our next generation of children will be captivated by science and technology.
Robin Seemangal focuses on NASA and advocacy for space exploration. He was born and raised in Brooklyn, where he currently resides. Find him on Instagram for more space-related content: @not_gatsby
Update (October 2, 2015): An earlier version of this article referred to the NASA Insignia as "free-to-use" but that is incorrect. NASA has the right to use and authorize use of the NASA Insignia (also informally known as the NASA "meatball").  Those rights are set out in a number of laws and regulations in the United States, including 51 USC § 20141, 18 USC § 701, and 14 CFR § 1221.110.  Unauthorized or improper use of the NASA Insignia is objectionable since, in addition to being prohibited by Federal law and regulation, the same is likely to cause mistake, confusion, and or deception on the part of the public.