Catering to two different types of oceanic fantasies, the runways in Milan were ablaze with nautical references for spring 2016. For those who dream of growing a tail à la The Little Mermaid, Emilio Pucci had some elevated options, while those who prefer to spend their free time rigging sails, Max Mara has some luxurious shapes to consider.

Spring 2016 was a pretty big deal for Emilio Pucci, as it was the first runway collection to debut under creative director Massimo Giorgetti's tutelage. So how did he fare? While it was a total 180 degree change from the creations of the erstwhile Peter Dunas, the entire thing was eerily similar to Mr. Giogetti's creations at his own brand, MSGM. Which isn't necessarily a terrible thing, but it is definitely a departure from the label's previous dependence on overt sex appeal.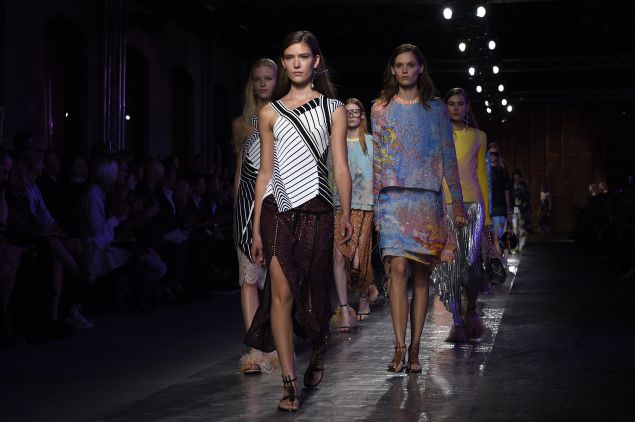 Perhaps that has something to do with the playful features of the collection, from the delicate feathers that swayed like seaweed from shoe heels or the unexpected pairing of a sweatshirt with a sequined and slashed skirt. Regardless, the concept of a mermaid was a cheery one for spring, if a little literal.
A fishnet dress was made to look as if it were dragged through the ocean, capturing a school of sparkling sea creatures.
The most memorable looks here were ones that lacked an obvious reference to the ocean, particularly those that ushered in the new Pucci era with refreshed logos. In addition to sheer pieces that screamed "Emilio" over and over in a scrawled font, a mashup of the letters "P" and "E" were turned into a motif that festooned purses.
And we'd be remiss not to touch upon the accessories, including the oversized glasses that were fashioned after underwater goggles. This was a rather chic, and welcome, interpretation, though.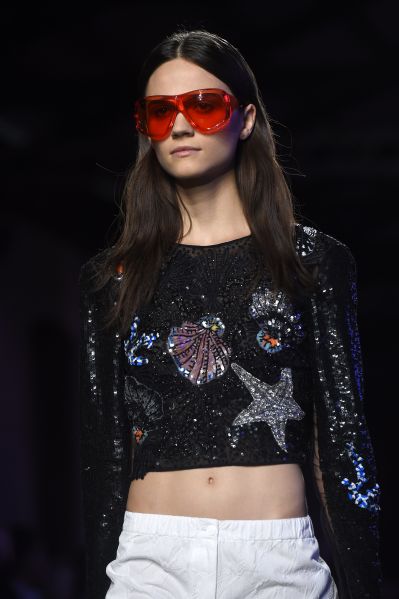 For fall 2015, the muse at Max Mara was the voluptuous and ladylike Marilyn Monroe, but spring received a hefty dose of masculinity in the form of classic silhouettes that are often associated with sailors. Everything here was askew, as if a drunken sailor had dressed himself in the dark. Striped sleeves lingered past the fingertips and sharp suits were buttoned in a haphazard manner.
Big stripes emblazoned sailor pants and cropped trench coats. Other obvious nods to the nautical life appeared in the form of rope prints on silk separates.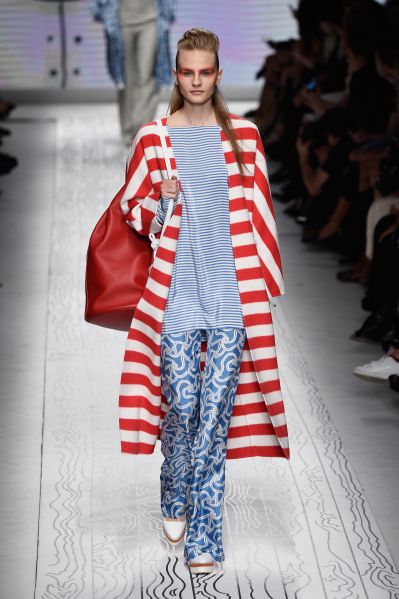 The range could have easily read as a rather boring homage to the all-time best nautical designs, if it weren't for punk elements scattered throughout. In the form of over-the-top bouffants, strangely colored eyebrows and platform oxfords, the collection retained a playful touch. Duffle bags, casually slung over one shoulder also had a little message in a bottle motif. So if there were any questions, this is definitely a collection inspired by the high seas.