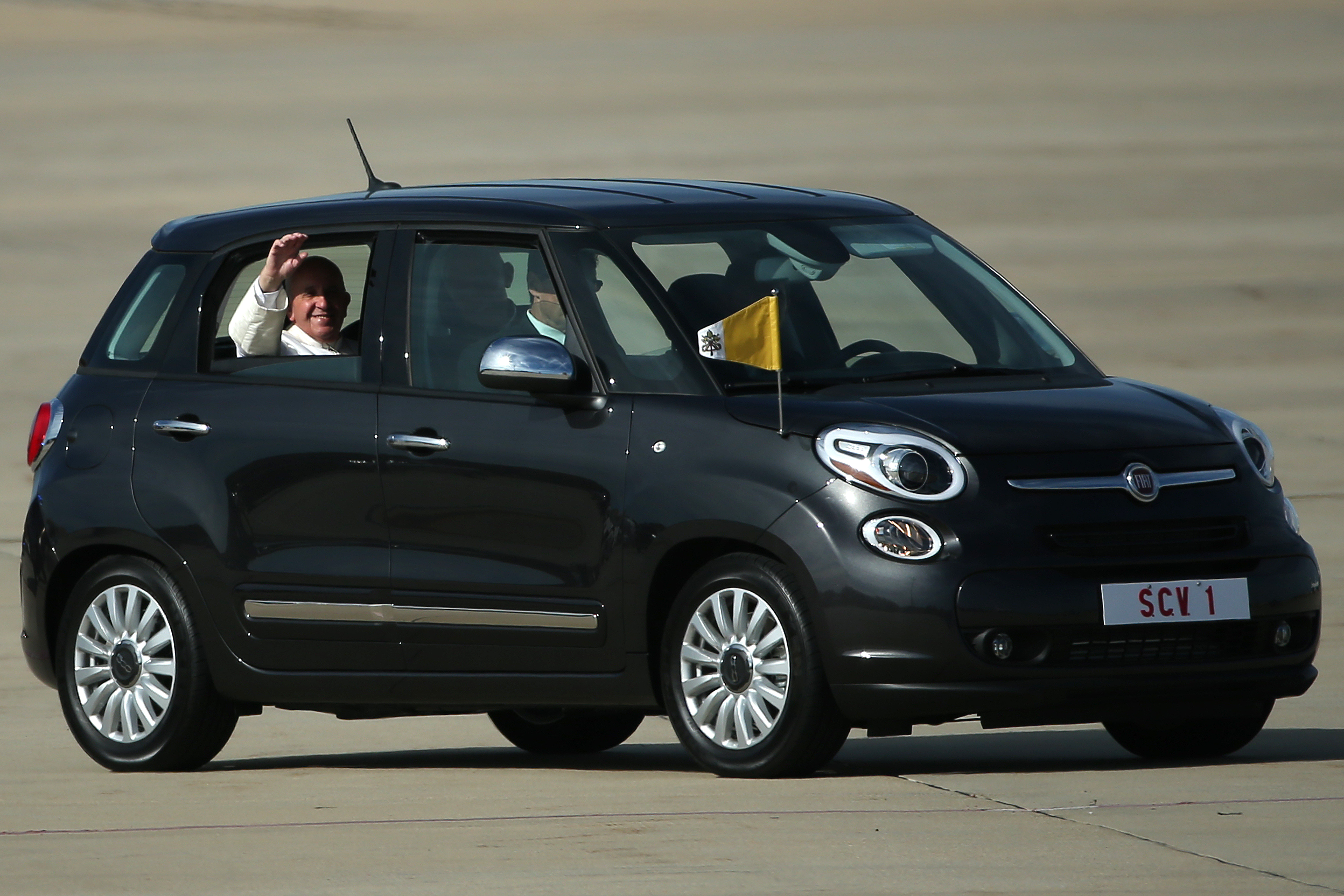 WHO HAD A GOOD WEEK?
Fiat: You can't buy the good press Fiat is getting this week. The humble Italian car has gone from being derided—remember the old joke that it stood for Fix It Again Tony?—to being to preferred method of transportation for a beloved world religious leader who eschews more flashy rides for something simpler. There was something incredible about watching a black Fiat pull up to the White House (behind a giant SUV probably full of security types) and seeing Pope Francis step out of the diminutive ride. That the word fiat has a Latin meaning—a decree or an order—just makes it more fun.
Cardinal Timothy Dolan: What a week to be a Catholic in New York City, and Cardinal Dolan is our top Catholic. Wednesday he appeared alongside his best buddy Mayor Bill de Blasio to announce the Catholic Church would take in 150 homeless people—the kind of thing it seems like Pope Francis would be into. Now he gets to welcome Francis to his turf, turning over St. Patrick's Cathedral for vespers last night and tonight celebrating mass with the pope at Madison Square Garden. All frenzy surrounding the pope has got to put a few extra people in the pews on Sunday, right?
Bill Bratton: There was the potential for Mr. Bratton to have a pretty lousy week—considering on Monday he sat down with Mr. de Blasio and James Blake, the retired tennis pro who was thrown to the ground by one of Mr. Bratton's cops outside a nice midtown hotel. But Mr. Blake emerged from the meeting singing the praises of Mr. Bratton and Mr. de Blasio, saying they'd all be working shoulder-to-shoulder and he probably wouldn't file a lawsuit. Later, Mr. Bratton was adoringly received by the Association for a Better New York, where he also scored a victory against Comptroller Scott Stringer—taking a minute to "punch back" after the comptroller dinged NYPD statistics as "politicized." And now Mr. Bratton gets to show off all his fancy anti-terror equipment in keeping Francis safe during his stay, without worrying about even an estimated pricetag.
WHO HAD A BAD WEEK?
Scott Walker: Once thought to be among to top tier of the giant sprawling circus that is the Republican presidential field, Mr. Walker made an unceremonious exit this week, becoming the second person after Rick Perry to call it quits. He couldn't pay his campaign staff. His lackluster debate performance was completely overwhelmed by spotlight-hugging opponents like Donald Trump and breakthrough pols like Carly Fiorina. Mr. Walker never really seemed to have a breakthrough of his own. Being a great candidate on paper just didn't translate to the real world.
Commuters: Don't try to cross town today. Definitely don't try to go anywhere near the United Nations. To play it safe, probably don't go east of Fifth Avenue. Definitely don't take a bus. Stay away from Madison Square Garden—Penn Station's open, but all the entrances and stairways you usually take are subject to closure at any time. Don't drive, or take a cab, or an express bus, or a regular bus in Manhattan. Better yet, if you can manage it, just don't leave your house. Every single thing the pope does during his brief stay in the city will be on television, anyway.
Anyone Besides His Holiness Who Is Trying to Get Press Coverage Today: Is your name Pope Francis? No? Are you standing near Pope Francis? No? Are you saying something about Pope Francis? No? Then the press corps does not care what you are doing. Let's talk next week, maybe.
WHAT HAPPENS NEXT?
Just about every constituency is likely to look for a way to tie the pope to its message of choice after his speech to Congress Thursday and to the United Nations today. Democrats will probably have the easiest time of it—they will point to Francis' appeal to help immigrants and especially Syrian refugees; to his strong call for environmental protection to forestall climate change; to his criticism of unbridled capitalism. Locally, Mr. de Blasio in particular is enamored of the pope—seeing in him the global messenger for the progressive politics the mayor so clearly wants to espouse beyond just the five boroughs. But the pope threw a few bones to Republicans, too, even if his references to gay marriage and abortion were more oblique: he said "fundamental relationships are being called into question," like marriage and family, and said the Golden Rule called for people to "protect and defend human life at every stage of its development." Each side and each individual candidate will find a way to make it seem as if they agree with the pope, and to try to squirm their way out of questions about the subjects on which they disagree.
WHO WAS LAST TO THE TABLE?
Everybody's been falling all over themselves to greet Pope Francis, from the moment he landed in Washington, D.C., Tuesday around 4 p.m.. So it was a little bit funny when Congresswoman Yvette Clarke got around to saying hello—with a press release sent at 5:08 p.m. Wednesday afternoon, many hours after the pope spoke at the White House Wednesday morning and a full 24 hours after he landed on U.S. soil Tuesday.
WHAT ARE WE HOPING HAPPENS NEXT WEEK?
His Holiness performs a miracle—the reunification of Gov. Andrew Cuomo and Mayor Bill de Blasio. The day shall forever be known as the Feast of the Dueling Executives. #Blessed.
WHAT WILL ACTUALLY HAPPEN NEXT WEEK?
New York City will shake off its pope-hangover and get back to business, and Mr. Cuomo and Mr. de Blasio will get back to arguing.