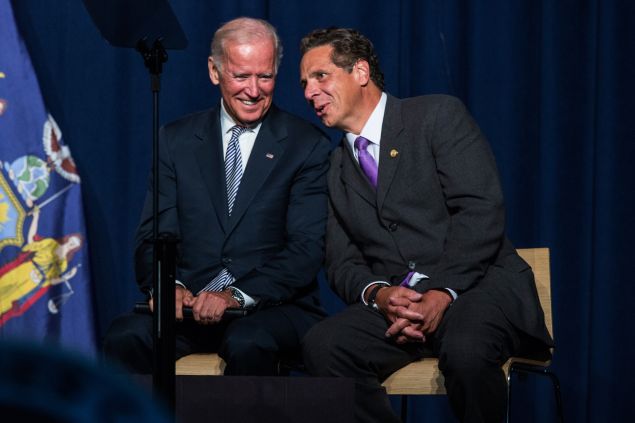 WHO HAD A GOOD WEEK?
1. Joe Biden: The vice president made a curious two-day stop on Thursday in ex-Secretary of State Hillary Clinton's home state (New York) to appear with one of her supporters (Gov. Andrew Cuomo) and to deliver a very stump speech-esque address about his history advocating for her presumed core constituency (women). In short, he gave all the appearances of a man dabbling his toe in the swift-running waters of the 2016 election—a current that seems to be carrying Ms. Clinton's own candidacy closer and closer toward the rocks of scandal. As a result, more and more eddies of speculation began to swirl that he will soon launch a campaign to finally move the foot bath and box of assorted desktop tchotchkes everybody knows he owns into President Barack Obama's office. By evening, Mr. Biden was telling Stephen Colbert he wasn't sure if he was "there" for kicking off a run for the nation's highest office (something he's done twice before), but the veep continues to enjoy impressive poll numbers for a man who has spent zero time and money campaigning. A national survey released Wednesday showed him stealing second place in the Democratic primary from insurgent Sen. Bernie Sanders of Vermont. And Mr. Biden's plainspoken—sometimes too plainspoken—off-the-cuff style might just be a perfect fit for a season that has seen both Mr. Sanders' breathless Brooklyn-accented tirades against the ultra-wealthy and Republican real estate magnate Donald Trump's populist promises of a "yooge" wall on the Mexican border command massive crowds and impressive levels of support.
2. The Queens Democratic establishment: Keeping former Councilman Mark Weprin's seat in their hands wasn't exactly a make-or-break situation for the Queens machine: the borough-spanning Progressive Caucus and its Speaker Melissa Mark-Viverito will continue to dominate the Council until at least the next citywide election cycle. But county-backed candidate Barry Grodenchik's victory in the special Democratic primary yesterday saved the party from the embarrassment of losing to either the Working Families Party/Progressive Caucus-backed Rebecca Lynch or to cranky co-op leader Bob Friedrich. The county operation and its chairman, Congressman Joseph Crowley, needed to preserve its prestige after a string of losses to both WFP-backed contenders (see: Assemblywoman Nily Rozic, Councilman Daniel Dromm, Councilman Jimmy Van Bramer) and to loud outsiders (see: State Senator Tony Avella), and following its failure to prevent Ms. Mark-Viverito from becoming speaker last year. It also increases the chances that Mr. Crowley and co. will have a hand in picking the next speaker once Ms. Mark-Viverito is term-limited out of office in 2017. And given that Mr. Grodenchik is eligible not just complete the remaining two years of Mr. Weprin's term (he left early to take a job with Mr. Cuomo), but to run for two full terms of his own—and given the re-election rate for incumbents—it's likely that the party establishment will continue to control the seat through 2025.
3. People who hate Chris Christie: The New Jersey governor's presidential poll numbers continue to hover around two percent—high enough to keep him in the debate scheduled for next week, but low enough to keep anyone from seriously believing he will ever make it to the White House. Those who dislike the famously brash Republican, which at this point is most residents of his home state, got to hear NYPD Commissioner Bill Bratton call him "a fool" and warn him to "stay in your own neighborhood" on live television on Wednesday for his criticism of the city's handling of crime. And the unceremonious removal of United Airlines CEO Jeff Smisek on Tuesday amid a federal probe into the corporate exec's potentially inappropriate dealings with Mr. Christie's former Port Authority Chairman David Samson could reopen a Pandora's bureaucracy that might finally sink the titanic candidate.
WHO HAD A BAD WEEK?
1. Brooklyn's Caribbean community: The Labor Day Brooklyn West Indian Day Parade and the pre-dawn festivities of J'Ouvert—which mark the start of Carnivale season—have become one of Brooklyn's most popular and most notorious events. Thousands turn out for the colorful cultural cavalcade down Eastern Parkway and for the dozens of parties surrounding it. But police dread the gang-related violence that breaks out each year, which resulted in tragedy on Monday when gunfire left one man dead and Cuomo administration attorney Carey Gambay in critical condition after being shot in the head. The police department announced it would be reconsidering its handling of the event, which takes 1,500 cops to patrol.
2. The NYPD: The chaos around the parade might have tamped down a bit on some of the calls for police reform if a cop hadn't tackled biracial retired tennis star James Blake and slammed his skull into the sidewalk on Wednesday. Mr. Blake, in town for the U.S. Open, was waiting for a car outside the Grand Hyatt when a white plainclothes officer on a sting operation mistook the athlete for the target and took him down. It was such a bad look Commissioner Bratton even made the uncharacteristic move of personally calling Mr. Blake to apologize—though the NYPD chief denied the incident had anything to do with race.
3. Hillary Clinton: Never mind the Biden buzz, the former First Lady suffered yet another week of ugly headlines, declining poll numbers and questionable campaign judgments. After months of denying anything wrong or remotely questionable, the bruised frontrunner decided Tuesday the time had come to admit she had made "a mistake" in using her "homebrew" email server, based in her house in Westchester, to handle both matters relating to national security and questions about gefilte fish. The apology came as questions continue to fly over whether the private server violated State Department policy and compromised classified information, and whether all of the 30,000 emails she deleted from the system were really 100 percent personal in nature.
Surveys released this week showed Sen. Sanders leading Ms. Clinton in both Iowa and New Hampshire, the first states to cast votes for the party nominee. Losing both the small, low-delegate states certainly wouldn't doom Ms. Clinton's campaign, but it would be an ill omen for a candidate who once seemed destined to top the Democratic ticket next November.
Meanwhile, news broke Thursday that her former deputy chief-of-staff and current campaign vice chairwoman Huma Abedin—known in New York as the bride of aptly-named ex-congressman and mayoral candidate Anthony Weiner—had been the subject of a criminal probe at the State Department for allegedly over-billing the agency while on maternity leave. Ms. Clinton team argued that the Justice Department's decision not to pursue the case exonerated Ms. Abedin, but it didn't help the image of campaign rapidly taking on water.
WHAT HAPPENS NEXT?
The door for Mr. Biden to put together the funds and campaign infrastructure for a White House bid is rapidly closing. If it's going to happen, he needs to do an Indiana Jones-style barrel roll under it, grab his hat from the other side and get running before the end of this month or the next. Otherwise, he will have waited too long, as he's already crucial months behind both his prospective Democratic and Republican rivals.
WHO WAS LAST TO THE TABLE?
Days and weeks after Sen. Kirsten Gillibrand, Sen. Charles Schumer, Congresswoman Grace Meng, Congressman Steve Israel, Congressman Eliot Engel, Congressman Jerrold Nadler, Congressman Jose Serrano, Congresswoman Carolyn Maloney, Congresswoman Nydia Velazquez, Congressman Hakeem Jeffries and Congresswoman Yvette Clarke all announced their positions on the Iran nuclear deal, Congressman Crowley finally stuck his head out on Thursday, looked around and decided it was safe for him to announce his position on the accord. What was that position? For. Did anybody care anymore? No. It was clear a week ago Congress didn't have the votes to override a presidential veto should they pass a bill opposing the Joint Comprehensive Plan of Action, making it more or less a fait accompli. Harlem Congressman Charles Rangel, who is retiring next year and has nothing at stake, waited even longer—announcing his support for the deal this afternoon, sending out a statement on the same day Congress was holding a (largely symbolic) public vote on the deal.
WHAT ARE WE HOPING HAPPENS NEXT WEEK?
Mayor Bill de Blasio will finally give Ms. Clinton's campaign the kiss of death. Which is what we call his endorsement around here.
WHAT WILL ACTUALLY HAPPEN NEXT WEEK?
Mr. de Blasio will continue his media blitz of the past two weeks in the hopes that it will make people like him again.
Disclosure: Mr. Trump's son-in-law, Jared Kushner, is publisher of Observer Media.
This post has been updated to reflect Mr. Rangel's support for the Iran deal.