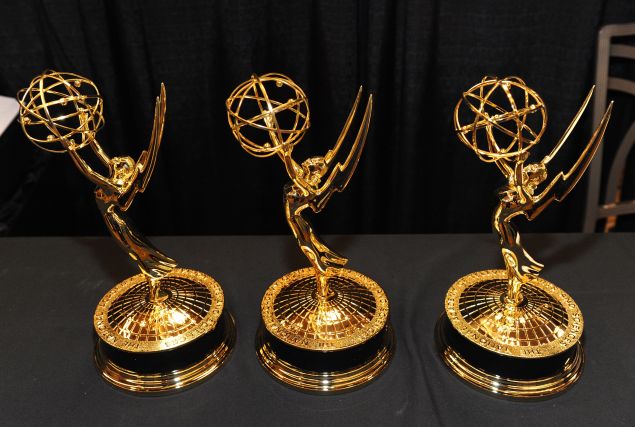 Even though the Emmys are just pointless parsing between increasingly obsolete categories, we're going to cover them anyway. Because who doesn't like to argue over what constitutes a "comedy" these days? Today: our grab bag of random selections from the lesser known categories that we've chosen to weigh in on. (Tomorrow: come for our fantasy draft!)
Outstanding Music Composition For A Series (Original Dramatic Score) 
Chef's Table (
"Francis Mallmann") 
Duncun Thum, Netflix
House of Cards 
("Chapter 32) Jeff Beal, Netflix
Outlander (
"Sassenach")  
Bear McCreary, Starz
Penny Dreadful (
"Closer Than Sisters") Abel Korzeniowski, Showtime
The Paradise (
"Episode 8") Maurizio Malagnini, PBS
Tyrant (
"Pilot") Jeff Danna and Mychael Danna, FX Networks
Drew: Ooh, I know the answer and it's Outlander! A 6'4 man who I sat next to on the plane yesterday turned out to be a physicist/ keyboardist who managed to miss the draft because he was three months too young. Sorry, long flight: I tend to get seatmate Stockholm. (His daughter is getting married. She works at Paramount.)
ANYWAY! He told me the same Bear guy that did Battlestar does Outlander. Which makes sense about why I haven't heard either theme yet. But I love bears, so there you go. Aquarius was straight robbed though.
Vinnie: I know nobody watches Black Sails on Starz but me and a couple of Captain Jack Sparrow cos-players, but the music in that show is so good. Seriously, the opening theme makes me want to ride shirtless on the bow of a ship through a maelstrom, and I'm not even sure what the bow of a ship or a maelstrom even are. It's THAT good. Black Sails is the one who was robbed here.
Chef's Table is a documentary series about famous chefs making delicious food, so I don't know who the hell is listening to the music. The rest are a crap shoot, so I'm going to second your pick for Bear McGreary, if only because I picture his artistic process exactly like this.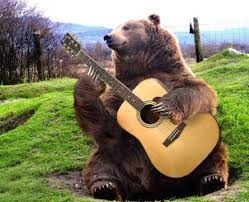 Outstanding Writing For A Variety Special
Key & Peele SuperBowl Special — Written by Brendan Hunt, Keegan-Michael Key, Jordan Peele, and Rich Talarico
Louis CK: Live at The Funny Store — Written by Louis CK
Mel Brooks Live at the Geffen — Written by Mel Brooks
The 72nd Annual Golden Globe Awards — Written by Barry Adelman, Tina Fey, Amy Poehler, Jon Macks, Dave Boone, Alex Baze, Robert Carlock, Sam Means, Seth Meyers, Michael Shoemaker, Eric Gurian, Meredith Scardino
The Saturday Night Live 40th Anniversary Special — Written by James Anderson, Fred Armisen, Tina Fey, Steve Higgins, Chris Kelly, Erik Kenward, Rob Klein, Seth Meyers, Lorne Michaels, John Mulaney, Paula Pell, Jeff Richmond, Andy Samberg, Akiva Schaffer, Tom Schiller, Sarah Schneider, Marc Shaiman, Michael Shoemaker, Robert Smigel, Emily Spivey, Kent Sublette, Jorma Taccone, Bryan Tucker
Drew: Key and Peele's major contribution to current athlete culture parody is their infamous East Coast/ West Coast Bowl sketches. Since the recurring bit got so much attraction, Comedy Central was like "It is obvious that these two men are good at sporr….good at making fun of sports. Obviously. Let's give them an hour of programming to fill right before the Super Bowl."
It turns out, Key and Peele don't seem to know or give a shit about football parodies. There are a couple of good physical bits on the field, but most of the action takes place inside the commentator's studio, where two former SB champions slowly learn that the singularity has arrived, robots have become sentient, and they now must worship Allyson Janney.
So yes: this is absolutely the right choice.
Vinnie: It's nice to see the names of the Golden Globes writers written out like that, because now I know exactly who is responsible for my three and a half hour long systematic boredom-torture from which I have yet to recover. What I'm saying is, I'm not picking the Golden Globes.
You know who I'm picking? SNL's 40th Anniversary Special. Why? Because in that giant list of names is John Mulaney, and I just really feel like John Mulaney could use a win right now.
Outstanding Animated Program
Archer, "Pocket Listing" (FX)
Bob's Burgers, "Can't Buy Me Math" (FOX)
Over the Garden Wall (Cartoon Network)
South Park, "Freemium Isn't Free" (Comedy Central)
The Simpsons, "Treehouse of Horror XXV" (FOX)
Drew: I did not know they had an award category for Archer! OF COURSE ARCHER! That's how you get ants!
Vinnie: I want Over the Garden Wall to win, whatever that is. I hope all the other categories are all obvious gimmes, and the only major upset all night is Over the Garden Wall takes Outstanding Animated Program. Like, the director of Over the Garden Wall takes the stage and is like "fuck you, The Simpsons!" and that's the big story coming out of the 67th Annual Emmy Awards. That's what I want.
But yeah, no, Bob's Burgers is going to win, because life is never fun.
Outstanding Character Voice-Over Performance
The Simpsons — Hank Azaria as Moe Szyslak and Pedicab Driver
Bob's Burgers — John Roberts as Linda Belcher and Tim
Family Guy — Seth MacFarlane as Brian Griffin, Dr. Hartman, Peter Griffin and Stewie Griffin
Robot Chicken — Seth Green as Batman, The Count, Bryan Mills, Liam Neeson, Pirates, Quarterback, and the Nerd
The Simpsons — Dan Castellana as Homer Simpson
Drew: Again, how do you say "Well, this is The Simpsons episode where Homer DEFINITELY out-shined the collective Hank Azaria menagerie? Seems pointless: just say which one was better for the whole season!
That being said, we're definitely going to give it to Seth MacFarlane, right? I mean, LOOK AT HOW MANY VOICES HE'S DONE! He's so talented. I acually downloaded his classic standards album on Spotify. Everything till that last sentence was a joke.
Vinnie: My only request is that the Emmys at least strike Brian Griffin from Macfarlane's character list, because the voice of Brian Griffin is literally just the voice of Seth MacFarlane. That's like walking up to a random dude on the street and being like "hey guy, you got a cool voice. Here's a shiny trophy."
As for the winner, well, let's just give this one to Hank Azaria, and then bring in some new quality voice-over talent for god's sake. Bob's Burgers is the freshest name on this list, and it debuted four years ago.
Outstanding Interactive Program
@midnight With Chris Hardwick, Comedy Central
Talking Dead, AMC
Last Week Tonight with John Oliver, HBO
Saturday Night Live's 40th Anniversary Special, NBC
The Tonight Show Starring Jimmy Fallon, NBC
Drew: Wow, I feel like we've got a real difficult one here. On the one hand, I hate Chris Hardwick's voice. Nothing against him. It's just jarring. But I do like his co-opting the model for Andy Cohen's Watch What Happens Live and bringing it to AMC. It's a nice nod to the superfan community, and obviously people turn out for that show. Last year, The Walking Dead's season finale drew a record-breaking number of viewers in the history of television, but considering Talking Dead is a Sunday night show where nerds discuss the program you saw immediately prior to them, 7.34 million viewership kind of makes it a winner in my book. BASED ON RATINGS AND SUPERFANDOM ONLY, THOUGH.
Otherwise, John Oliver.
Vinnie: I like Chris Hardwick, but I have a serious problem with @midnight. Every single night around 12:16, thanks to the show's Hashtag Wars thing, my Twitter blows up with horrible, HORRIBLE jokes all followed by the same hashtag. Guess what people? IT'S NEVER GOING TO BE YOU. HARDWICK WILL NEVER NOTICE YOU.
Sorry. But seriously, my hatred for Hashtag Wars is also why I think @midnight should win this category. It isn't Outstanding Program, it's Outstanding Interactive Program, and @midnight is seriously the only show on this list where people actually interact with it every night. No, throwing a brick through your TV during SNL40's Californians sketch does not count as interacting with it.
Outstanding Special Visual Effects In A Supporting Role
American Horror Story: Freak Show, 
Boardwalk Empire, "A Golden Time for Boys and Girls" (HBO) 
Gotham, "Lovecraft" (FOX) 
Marvel's Daredevil, "Speak of the Devil" (Netflix)
The Walking Dead, "Conquer" (FX)
Drew: Sorry, I don't think I understand the concept here. So like…did the Smoke Monster from Lost win an Emmy one year?
Vinnie: Drew, I don't think you understand what's happening here. I think in terms of visual effects playing a role, in Boardwalk Empire's case they are actually talking about Young Nucky's prosthetic teeth. That's amazing! Remember that time we became best friends with that actor by making fun of his teeth?
But ugh, even then I can't say I hope Boardwalk Empire wins. Any chance that Gotham — poor, stupid, unloved Gotham — wins an Emmy, I have to pick it.
Outstanding Unstructured Reality Program
Alaska: The Last Frontier (Discovery Channel)
Deadliest Catch (Discovery Channel)
Intervention (A&E)
Million Dollar Listing: New York (Bravo)
Naked and Afraid (Discovery Channel)
Wahlburgers (A&E)
Drew: WAHLBURGERS WAHLBURGERS WAHLBURGERS! *Makes siren sounds, goes around room like an airplane* But seriously, how is that any less structured than Antiques Roadshow? (One of the Structured Reality Series.) They are basically making art out of the same pendulum of Americana that dangles, tantalizing, over us all.
Vinnie: First of all, "unstructured reality program" sounds like a term that would be thrown around casually on Minority Report or something.
Reality TV is amazing, though. Listen to this argument: "Which show is better? The one where the guy almost dies in Alaska, the one where the guy almost dies on a boat, the one where a guy almost dies in the wilderness, or the one where Mark Wahlburg and his family make hamburgers?"
How am I supposed to decide, Drew! Closed eyes, randomly pointed fingers….Deadliest Catch wins. Sorry, fishermen who value their lives!