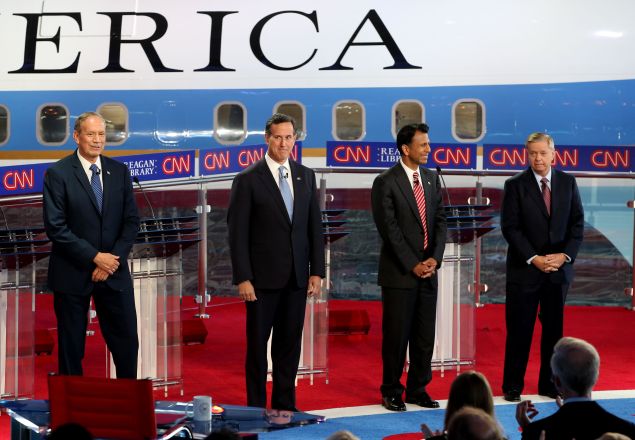 Perhaps nothing was more indicative of the state of play in the Republican presidential primary than two current or former senators and two current or former governors standing on a televised debate stage far removed from prime time, talking about Donald Trump. Mr. Trump, the bombastic billionaire real estate developer, has of course never held elected office. But he leads in all the polls while Louisiana Gov. Bobby Jindal, South Carolina Sen. Lindsay Graham, former Pennsylvania Sen. Rick Santorum and former New York Gov. George Pataki barely register, forced from the packed main stage of 11 candidates.
But the four Republicans met at the Ronald Reagan Presidential Library tonight to do battle on CNN and hope for the breakout moment that, in this social media era, is increasingly critical for any second-tier presidential candidate.
So what exactly happened? Too tired to just check Twitter? The Observer has your back.
THE DONALD, LIKE THE MATRIX, CANNOT BE ESCAPED 
Jake Tapper, the CNN moderator, opened the debate with a barrage of Donald Trump questions. Mr. Jindal took the lead on Trump-bashing, accusing the single payer healthcare-loving mogul of not being a real Republican. "Let' stop treating Donald Trump like a Republican," Mr. Jindal, once a GOP rising star, begged. "He's not a conservative, not a liberal, not a Democrat … he believes in Donald Trump." Mr. Graham said Mr. Trump gets his foreign policy positions from television and is nothing more than a "cartoon character."
The traction-starved Mr. Pataki was just as blunt. "Donald Trump is not going to be the Republican nominee period flat out." He later complained: "This is an important election with an enormous number of challenges facing the American people and the first four questions are about Donald Trump."
"WE'RE GONNA DRINK MORE"
Mr. Graham, a veteran lawmaker, is known for reaching across the aisle in the Senate, pairing with Democrats on immigration reform and even once offering praise for Hillary Clinton when she was secretary of state. Mr. Graham seemed to be vying for the John Kasich medal–a relative moderate hunting for a TV moment to buoy his lagging campaign. Whether he found it or not is up for debate, but Mr. Graham's folksiness and deft command of policy helped him draw a contrast with his rivals. Citing Ronald Reagan's penchant for having drinks with the Democratic House Speaker at the time, Tip O'Neill, Mr. Graham drew laughs when he said that, as commander-in-chief, "we're gonna drink more." He also chastised Mr. Santorum, a fierce opponent of illegal immigration, for shutting the door on Hispanic votes. "Hispanics are Americans," he said.
THE HAWKS STILL FLY 
Mr. Graham wants 20,000 ground troops in the Middle East to fight the Islamic State. Mr. Santorum pitched 10,000. Jindal lashed out at President Obama for not invoking "radical Islamic terrorism" enough. All the candidates agreed Mr. Obama's foreign policy is feckless and empowering America's enemies. All hate the Iran nuclear deal. All railed against the Islamic theocracy. "President Obama has made one mistake after another," Mr. Graham said.
Judging Judges
Mr. Graham underscored the stakes of the 2016 presidential race well enough: a Republican president can appoint conservative justices to the Supreme Court. With several judges north of 70, the next president will likely get to stack the court with justices who can reshape America's legal landscape. Both Mr. Santorum and Mr. Graham defended their votes as senators to confirm Chief Justice John Roberts, who helped save Obamacare twice, and Mr. Jindal lacerated them both. The Rhodes scholar also mocked senators with "big bladders" who make long-winded, meaningless speeches in Congress.
Mr. Pataki took the unconventional approach, for a Republican at least, of criticizing Kim Davis, the Kentucky clerk who refused to marry same-sex couples. "There's a place where religion supersedes the rule of law. It's called Iran."
DON'T FORGET ABOUT THE DEMS
Mr. Jindal, who aggressively positioned himself as a Washington outsider and a social conservative, was the only Republican to knock around Sen. Bernie Sanders. The Vermont independent is a proud socialist–and is rapidly gaining ground on Ms. Clinton. "Hillary Clinton is gift-wrapping their election to us. A socialist is gaining on Hillary Clinton," Mr. Jindal said.
The Republicans, Mr. Graham and Mr. Pataki included, also blamed the instability in the Middle East on Ms. Clinton's tenure as secretary of state.
STRANGEST PROPOSAL 
Mr. Jindal pitched per diems for members of Congress for not traveling to Washington, D.C.
OUT OF CONTEXT, THIS IS PUZZLING
"I just want to say, I've had seven kids. I've done my part." -Rick Santorum
Disclosure: Donald Trump is the father-in-law of Jared Kushner, the publisher of Observer Media.