If you know anything about tennis, you know you always RSVP "yes" to invite-only events involving top-ranked players and wine.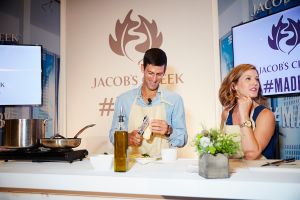 That's how I ended up sipping (read: drinking from an ingenious funnel-cup attachment to a mini Moët bottle) champagne with Roger Federer (read: he was not drinking and also in a private pen). And, later that night, how I ended up tipping a cabbie 200 percent (see: funnel-cup; don't see: touch-screen extra zero). And it's also how I ended up sipping pinot grigio and cabernet sauvignon with Novak Djokovic (read on).
Three days before the start of the U.S. Open, the world's No. 1 ranked men's singles tennis player and the tournament's top men's seed was holding court in a private space at the Astor Center, teaching a cooking class. Obviously. Famous for the five-year-old diet (no gluten, no dairy) that's credited with catapulting his career, Djokovic takes his eating seriously. Even—or perhaps especially—when he's aiming for his third major title of the year.
The 28-year-old Serbian grew up in a restaurant. He describes his parents' place in Belgrade as a mix of Italian (lots of pizza) and Serbian cuisine (lots of meat). "We were famous around Serbia for pancakes. Whenever you want to have pancakes come to my mom's house."
Serbian pancakes are crepes. Either way, wheat was a part of Djokovic's life, majorly: "We have bakeries on every corner in my country." And then it wasn't. And then he was hosting a "master class" featuring "healthy eating tips" and "his own recipes."
Struggling to tie his apron, the otherwise dexterous Djokovic joked, "Well, let's be honest. I'm great at consuming good food." The crowd of about 60 fans didn't mind. He could have been watching a cooking class and he'd still have an audience.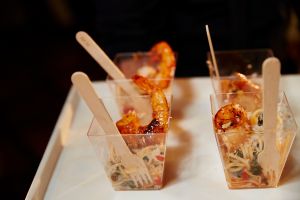 Andrew Thornton (college tennis player) and Haydn Lewis (Davis Cup player) came up from Barbados for the event. Mr. Thornton won a two-night trip to New York City in a contest sponsored by Jacob's Creek, the Australian mega-winery and host of this event, which began with a wine tasting. "I saw a poster of Novak in the supermarket and bought a bottle of chardonnay," said Mr. Thornton. The two friends nod in agreement as Djokovic explains that the physical demands of tennis call for carb consumption throughout the season. Yes, that means he eats bread. Real bread.
The professional chef/MC sharing the stage asks Djokovic to season the shrimp. He approaches tentatively. The heads are still on. The eyes disarm him but he's a good sport, doing his job, recovering quickly. "Poor shrimp," he said before closing his own eyes and playfully humming a meditative chant to continue the task.
"This is probably the most pressure I ever had in my life," Djokovic said, stepping back when the shrimp hit the pan of hot oil, noting the audience size, cameras and the microphone inhibiting his breathing.
"Can I just say something? I notice that I'm doing everything here." The crowd goes wild. He's entertaining, holding his own and more in a place he'd rather not be. Breakfast, in fact, is his favorite meal and cereal is his specialty. "Everything else I leave to the professionals." A dinner reservation at an undisclosed location awaited. In the meantime, Djokovic did have some words of food wisdom to share.
On garlic: "Please do moderate depending on who you're kissing or not kissing that night."
On chiles: "You'd see me more off the court than on if I had chiles before a match."
On mushrooms: "You can get a lot of great protein from them."
On super-foods: "I'm into them."
On chickpeas: "I love."
On waiters: "They're underestimated."
These days Djokovic moderates his diet as he goes along. He tries to balance plant-based, vegan food and animal-based food, leaning vegetables. And he does eat gluten occasionally. (You can take the boy out of the pizza place but you can't take all the pizza out of the boy.) Plus, now that his body is a nutrition temple, his allergic reactions are less severe. On this night he even said yes to extra dried red pepper and no to cheese.
And about the Open? "I'm feeling great. Otherwise I would not be here," he said. "Let's have some pasta and play some tennis." Sounds like a date.