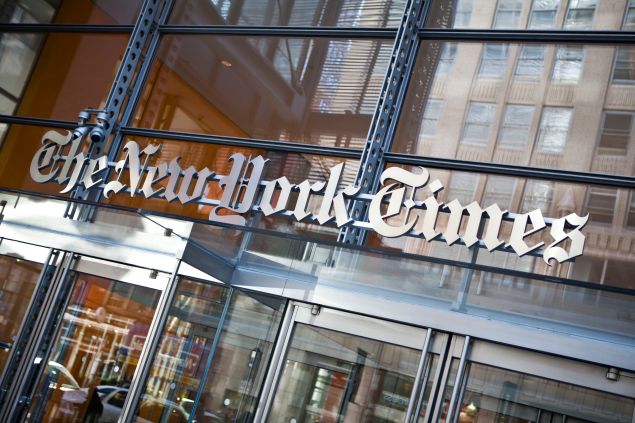 The New York Times changed an interactive graphic yesterday about Democratic lawmakers who oppose the Iran nuclear deal after facing criticism for including a column noting whether the lawmakers were Jewish.
It wasn't a great look and was, not surprisingly, met with swift criticism on social media and from Times readers. Later that evening, the controversial column headlined "Jewish?" was deleted from the online chart and, today, an editor's note was added.
"A chart published on Thursday about Democrats in Congress who opposed the nuclear agreement with Iran oversimplified a complex aspect of the debate — the views of Jewish members of Congress and the divisions among American Jews over the deal," the note read. "In one version, which ran in print and for part of the day online, a separate column in the chart noted which congressional Democrats who opposed the deal were Jewish and which were not."
Although, as the editor's note explained, Times standards state that "the religion or ethnicity of someone in the news can be noted if that fact is relevant and the relevance is clear to readers," that was not exactly clear in this case.
"But the chart did not include this context, or make clear that Jewish voters and lawmakers, like other Americans, were sharply divided on the issue. Its emphasis may have left the impression that their Jewish identity was a decisive factor for Democrats who opposed the deal, an assumption that was not supported by reporting," the editor's note said.
This afternoon, Times public editor Margaret Sullivan weighed in on the situation. She concluded that the editors made the right decision in removing the section of the chart that noted whether a politician who opposes the Iran deal is Jewish but that the explanation for removing the column should have been added earlier.
The graphic, as almost everyone now seems to agree, was insensitive and inappropriate. I would add that it was regrettably tone-def. It shouldn't have appeared in that form to begin with. Given that it did, Times editors took the right action in listening to the objections and changing it. But that change should have been accompanied sooner by an explanatory editor's note. It's appropriate that a note has been added now and while — given the fraught topic — it surely won't satisfy everyone, I think it addresses the matter in a responsible and reasonable way.
In addition to the editor's note explaining the decision to change the graphic, there is now a factual correction to the story. Turns out, when tallying up the number of Jewish lawmakers who oppose the deal, the Times was off by half. There are eight democratic Jewish opponents, not 15 as originally reported.
If a publication is going to make a list of Jews, already a controversial decision, the least they could do is try and be accurate.