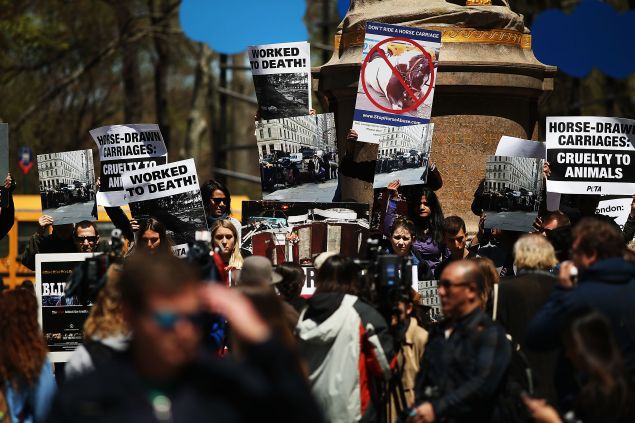 Almost two years after they hoped Mayor Bill de Blasio would sign a bill banning horse-drawn carriages from city streets, NYCLASS has tapped a new high-powered consultant to lead their fight: Mercury Public Affairs.
The consulting and lobbying firm, known for working with Republicans and Democrats alike, has been in talks with NYCLASS for several months and a source close to the animal rights group said the deal is now final.
Spokespersons for NYCLASS–short for New Yorkers for Clean, Livable and Safe Streets–and Mercury did not immediately return requests for comment.
Mercury, which employs former de Blasio administration staffer Rachel Noerdlinger, has their work cut out for them. Mr. de Blasio, a Democrat, had vowed to ban the carriages from city streets on "day one" of his mayoralty and enjoyed the support of Council Speaker Melissa Mark-Viverito in this effort. But momentum in the 51-member City Council is now lagging.
A bill to ban the horse carriages, which animal rights activists say are inhumane, was introduced last December and only garnered a handful of sponsors. It has never been voted out of committee.
NYCLASS, who employed the consulting firms Goldin Solutions and the Advance Group in the past, tapped veteran Democratic consultant Hank Sheinkopf to lead a PR blitz for them last year. But council members and political observers said the effort, which included grisly mailers sent to the offices of undecided council members, unequivocally failed.
Horse carriage drivers, with the help of their Teamsters union, have marshaled an effective counterattack, joining with traditional de Blasio allies like the Working Families Party and the Central Labor Council to fight a ban. The Teamsters have argued a ban would put about 300 drivers, many of them immigrants, out of work, and with poll numbers consistently showing a majority of New Yorkers want to keep horses around Central Park, council members have less incentive to side with NYCLASS.
To the consternation of NYCLASS, Mr. de Blasio is no longer pressuring lawmakers to back the bill. In an August radio interview, he told NYCLASS to "go get the votes in the City Council and solidify the support in the City Council so we can make this change."
How Mercury can help NYCLASS do that remains to be seen.