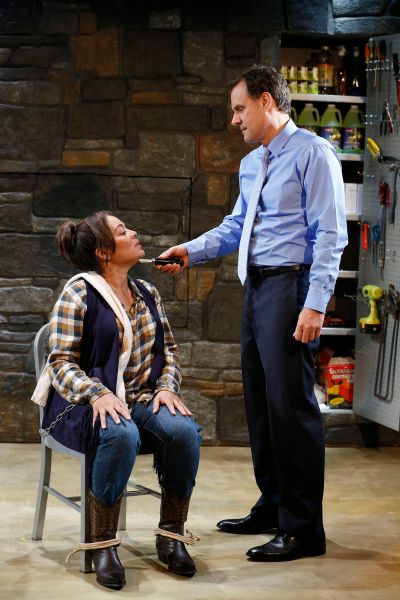 In the movies, serial killers are a dime a dozen. But on the stage, you rarely get a chance to meet one. Down at the Cherry Lane Theatre in Greenwich Village, Catch the Butcher, a curious, neatly directed and wonderfully acted new play that defies category but keeps you riveted, changes all that. This is a new one to me: a play about a mass murderer who kills women, cuts them up and throws them, piece by piece, into the river, written and performed in the style of a sitcom. Don't be put off by the subject matter. The play is never remotely gory. In fact it is, if you can believe it, delightfully different.
The killer, played with appealing cheerfulness by Jonathan Walker, has been immortalized in the Dallas Morning News as the "Butcher of Harbor Park," but he actually moves around, scoring victims all over Texas. When the play begins, he has abducted his latest, a pretty girl named Nancy (Lauren Velez), and carried her home to his dimly lit, genuinely creepy basement, where he does his best work. But this time he's unprepared for what happens next. Nancy is different from the others. She actually seems intrigued by the idea, and fascinated by the killer's elaborate ritual of stripping to his underwear and donning rubber gloves, rubber boots, a white uniform and a helmet.
Most of all, she has become a fan of the poems he leaves behind on each body. At first, the play promises cheap thrills as the killer sorts through an assortment of tools—screwdrivers of various sizes, a rusty hack saw, a hammer for bludgeoning—and stabs her in the leg. But after Nancy pleads for him to read the poem he's written about her and then declares it "not your best work," his curiosity changes his demeanor. He sutures and dresses her wound, then softens when she confesses she's so lonely that being in his company makes her feel special. In the next 100 minutes without intermission, the killer (whose name is Bill) cottons to the idea that maybe she's the girl who can make him happy, and his captive learns to make a vodka martini and have his newspaper ready when he comes home every night. He loses the urge to kill. She loves playing Ozzie and Harriet. Then the play changes gears.
Suddenly Nancy misses the adrenalin rush of Bill's old ways. The more normal he gets, the less she likes him. What happened to the promise of danger and torture? "I want to give you a future and I can't be a serial killer and do that," he pleads, while the confused but highly entertained audience roars. Then she ignores Bill's warning not to speak to strangers and invites their next-door neighbor, a blowsy, drawling busybody loudmouth named Joanne, to dinner. Joanne talks about the serial killer terrorizing Texas and predicts an end to the epidemic soon. Her husband is a cop. This is the last straw. Nancy is not the savior Bill thought she was.  After he throws the neighbor out, showing some of his original violent nature that attracted Nancy in the first place, out comes the mask and the white apron and it's time for one last embrace—on the way down to the dark basement. Nancy is happy at last.
Unconventional, to be sure, but Adam Seidel is a persuasive and self-assured writer. His killer eschews all clichés. His motives for slaughter have nothing to do with any specific anger or revenge against women. He doesn't have any issues with authority, religion or sex. He kills because he enjoys it. It also gives him the opportunity to write bad poetry that would otherwise never get published and have it read by a tabloid-hungry public. Nancy just wants some excitement and is crazier than he is.
As good as the two leads are, it's veteran actress Angelina Fiordellisi (last seen as the religiously hysterical wife in the revival of Joe Pintauro's Snow Orchid) who steals the show. She can chew a comic line three different ways and reduce you to awesome laughter without moving her head. It's fascinating to watch her brainless Southern belle talking up a storm about a psychopath on the loose and slowly suspecting she might have ended up in his very own living room. All three actors excel in the simplicity of Valentina Fratti's staging and the narrative thrust of Mr. Seidel's writing. Catch the Butcher is the first play I've ever seen that dissects the lighter side of a monster and makes you like him, too.
I had less fun at the new musical version of Daddy Long Legs, a well-intentioned but ultimately drab and tedious dusting off of the 1912 novel by Jean Webster about an orphan girl who falls in love with the dashing man of her dreams without knowing he's her anonymous benefactor. It's a sweet and timeless story with heart and a heightened sense of romanticism, dragged down by a tuneless score without catchy lyrics or hummable melodies and plagued by memories of the vastly superior 1955 Technicolor movie musical with Fred Astaire, Leslie Caron and Thelma Ritter. That's the one with spectacular dance numbers and a sparkling score by Johnny Mercer, including the classic tune "Something's Gotta Give."
Nothing gives this time around, as the story reverts back to period costumes, with no dance numbers and dull staging by John Caird, who wrote the numbing book. Megan McGinnis is no Leslie Caron, but as Jerusha, the disenfranchised waif rescued from a hopeless future by a playboy who sponsors her education without knowing she will some day teach him more about life and love than anything in a textbook, she sings with wistful spirit and acts with a winning inner glow.
As Jervis Pendleton, a stuffy trustee of the orphanage who poses as the Daddy Long Legs of the title Jerusha knows only through letters, handsome Paul Alexander Nolan has strength and presence, and sings with power. They are both good enough to make you hope to see them again, in something better. Unfortunately, most of the music and lyrics by Paul Gordon (who also composed the score for the ill-fated Jane Eyre) are sung in the form of correspondence between Jerusha and Daddy Long Legs, with references to Michelangelo, Henry VIII, Chopin's "Moonlight Sonata" and other subjects she is studying in her classes, which makes for a very limiting song list. There's not much structure to the score. The songs just ramble without central harmonies, and they go on too long, with too many choruses and so many repeated stanzas they lose lyrical potency. It's too bad, because a lot of work went into Daddy Long Legs for it to end up such a yawn.