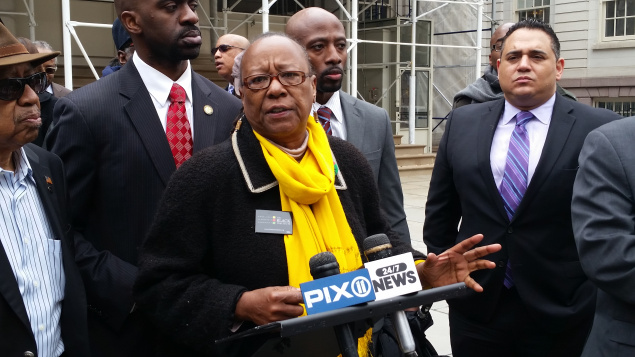 Bertha Lewis, the prominent liberal activist and founder of the Black Institute, was so fed up with Gov. Andrew Cuomo last year that she decided to support the long-shot Democrat trying to take him out.
Zephyr Teachout, despite a valiant try, ultimately failed, and it appears Ms. Lewis is ready to give Mr. Cuomo, a fellow Democrat, a second chance.
In a statement to the Observer, Ms. Lewis said she would be one of two dozen or so activists and civil rights groups to join Mr. Cuomo's campaign for a $15 minimum wage.
"By fighting to raise the minimum wage to $15, the governor is tackling New York's poverty problem head-on and I am proud to stand behind him in this effort," Ms. Lewis said. "This is a turning point in the fight for economic justice and a true sign of New York's leadership."
Ms. Lewis is a close ally of Mayor Bill de Blasio, the liberal Democrat who has been embroiled in a feud with the more moderate governor. Last year, while campaigning for Ms. Teachout, Ms. Lewis was irked that Mr. de Blasio endorsed Mr. Cuomo's re-election bid, though she referred to the mayor as "family."
"At some point, we're either gonna stand on integrity or stand for what's right and you know what, whether you support Zephyr or [lieutenant governor candidate] Tim [Wu] or not, there needs to be a public debate," she said. "You don't just, sort of, crown someone. We don't have a king of New York. We have a governor of New York."
She also lashed at Mr. Cuomo for taking the votes of blacks for granted.
While liberals continue to remain skeptical of Mr. Cuomo, his sudden push for a $15 statewide minimum wage has garnered significant praise. At a Manhattan rally in front of labor unions and elected officials last week, Mr. Cuomo appeared with Vice President Joe Biden, who called him the "best darn governor in the country." In a nod to his governor father's liberal pedigree, Mr. Cuomo christened his campaign the "Mario Cuomo Economic Justice Campaign."
Mr. Cuomo has thrown cold water on past proposals to raise the minimum wage and pitched a much more modest plan–$10.50 statewide, $11.50 in the city–in January. Even with the fanfare surrounding his latest push, a $15 minimum wage probably isn't coming to New York State anytime soon.
Republicans who control of the State Senate are outright opposed to any hike, let alone to $15. New York State's minimum wage is set to rise to $9 at the end of the year.