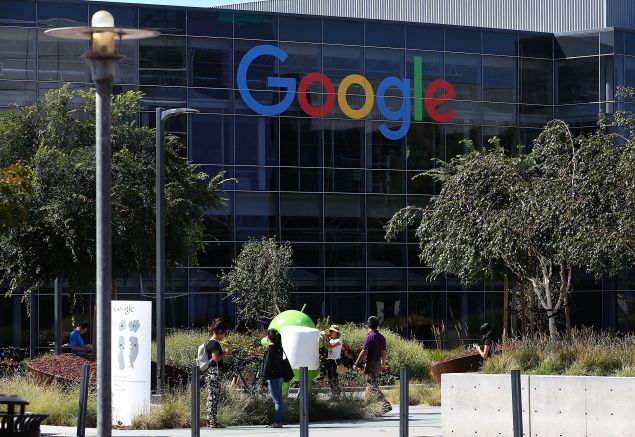 The New Yorker's Sarah Larson wrote a clever post on Google's fancy new logo, which is basically just thicker and sans serifs. It's titled "Why You Hate Google's New Logo."
In the last paragraph, she concludes:
We loved the old logo, and we loved what Google was. Whatever it's up to, whatever its intentions, Google should want to keep our love. So in the name of love, Google, give us back our serifs. Let this sans-serif building-block refrigerator-magnet silliness be the New Coke to your Coke, the Qwikster to your Netflix, the Freedom Tower to your One World Trade. Go back to your beautiful old serifs, and we'll be that much likelier to let your self-driving cars drive us around.
But this seems overly anxious. It's not a new name; it's just a typographic modification that may look childish to some but says Bauhaus to others. As modern web surfers, do we even encounter the Google logo that often anyway? If you're a Google Chrome user, you can simply type your query into the search bar of the web browser and be on your way; you're directed straight to the search results page, where the logo sits, unimposingly, in the top left corner. I can't remember the last time I even thought about Google's logo; the doodles get way more attention.
There is a real problem here, though: Google has changed its browser tab icon along with the logo (which, as it happens, is a word contained in the middle four letters of the word Google—talk about synergy). If you're a modern web surfer, you probably keep a lot of tabs open, and the new icon—a large, rainbow-colored "G" set on a white circle—looks unfamiliar. This is disorienting when you're deciding which tab to go to next and you look up and see what looks, to uninitiated eyes, like an oddly-shaped color wheel.
I can't even remember what the old logo looked like—just that this one looks different. So I'm sure we'll get used to it. But after a few days of dealing with the new icon, it seems that the mental adjustment we'll have to make as a result of this seemingly minor change is the most annoying aspect of Google's facelift.