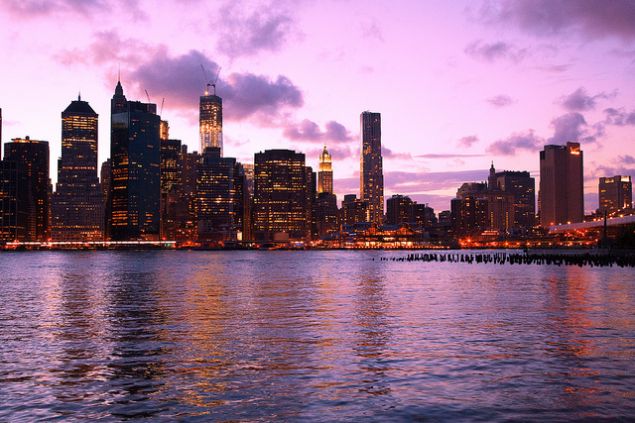 Two Brooklyn Bridge Park board members, David Offensend and Henry Guttman, were among the first to buy in the controversial Pierhouse development, which exceeded height limits, DNAInfo reports. Both received clearance from the city's law department to do so; "but Brooklyn Heights neighbors said even if the board members followed the law, their move to buy condos betrayed the neighborhood's trust."
And in allowing the Pierhouse development to rise 100 feet higher than it was allowed to, The Brooklyn Bridge Park Corp. broke its promise to limit the height of luxury development in the park, opined former parks commissioner Adrian Benepe, according to Crain's. "A commitment was made; there is no question about it," he told the paper (he was head of Parks when the promise was made. "And I'm afraid they've lost the faith of an important part of the community." A state judge ruled in favor of the development earlier this week.
Meanwhile, in Los Angeles, Frank Gehry's recently revealed involvement in restoring the blighted Los Angeles River, "a bleak and dispiriting 51-mile channel that winds its way through fields, suburbs, dark city corners and industrial wastelands from the San Fernando Valley to the Pacific Ocean" has been met with controversy as well, The New York Times reports. Fears of gentrification, among other things, seem to be driving opposition to having a starchitect on the case. Mr. Gehry, meanwhile, who is not being paid for the project, has pronounced himself perplexed by anyone being opposed to improving the unlovely landscape: "I'm doing something that's going to be good and trying to be inclusive, and they are trying to cut me up before I even get out of the gate. That's not nice. I don't want to create a fight with them, but they should grow up."
Also on the West Coast, the home of late Simpsons co-creator Sam Simon in Pacific Palisades has hit the market for $18 million, according to The Wall Street Journal.
The white guy who "settled" Downtown Brooklyn speaks to Gothamist about the stroller altercation. He admits he may have overreacted after the couple bumped into him with the baby carriage, but is a life-long New Yorker and maintains that his initial "excuse you" response was dickish, but well within the realm of acceptable New Yorker behavior.
A 10-year-old boy died in a fire in an East New York public housing complex known as the Pink Houses, The New York Times reports.
And Reggie Bowman, the longtime president of NYCHA's tenant association, is being forced out, according to City Limits.
Meanwhile, most of Manhattan's top all-cash buyers have Chinese last names, according to The Real Deal.
Friday is the second day of his holiness's visit to the city and not even the subways will be spared; Gothamist has a list of what stops to steer clear of for those hoping to avoid Pope delays.