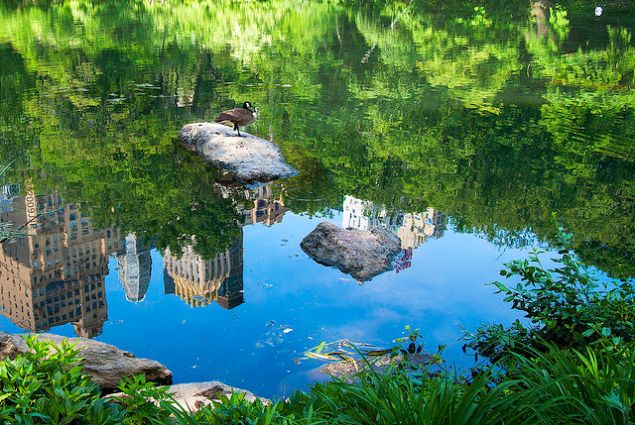 Developers are playing up North Brooklyn's brewing history to appeal to residential buyers, The New York Times reports. None of the old breweries in existence, but that doesn't mean one can't install a marble pediment in memory, as Eliot Spitzer says he might do, at the Schaefer site where his father's company is building a residential development. As for the existing breweries like Brooklyn, they're already looking elsewhere for new facilities.
In Bushwick, Cayuga Capital Management has secured a $28 million loan for a luxury rental at 600 Bushwick Avenue, according to Crain's. The co-founder and principal claims you can get to Manhattan in 15 minutes (in a car?) and professes to love "the vibe there."
If you've been priced out of Williamsburg and Bushwick, you probably live in Ridgewood, but if not, you might try applying for one of the microuints in Kips Bay. Curbed reports that those who earn between $34,000 and $48,000 a year can apply for one of eleven $950-a-month studios. Just don't get your hopes up as each affordable unit in the city averages more than 600 applications.
But as even Staten Island penthouses are selling for upwards of one million dollars these days, as Curbed reports (but it's right near the ferry terminal! and there's landscaping! and on-site parking!), those who qualify should apply as much as possible.
Not even Victoria Secret models can afford to live here anymore! Well, not really. Photographer Ken Nahoum and angel ex-girlfriend Basia Milewicz have been sparring in court over their penthouse conglomeration at 95 Greene Street, and now the condo board is moving to foreclose, the New York Post reports—the famously delinquent couple owe $100,000 on their common charges.
Meanwhile, public advocate Letitia James has come out against the mayor's plan to put affordable and luxury housing on Pier 6 in Brooklyn Bridge Park, according to the Post. Opponents of the plan point to the park's budget surplus as evidence that more housing is not needed.
In other parks news, the administrative head of the North Brooklyn Parks Alliance is leaving his post to work for the Madison Square Park Conservancy, DNAInfo reports.
Also leaving, Liza Minelli has sold her Imperial House co-op for $8.4 million, according to The Real Deal. No word on whether apartment comes with the Andy Warhol-style painting of Ms. Minelli, or where the actress/singer is going.
Would setting a deadline for the landmarking process be a good thing? Preservationists say the proposal, which is up for a vote next Wednesday and would limit the review process to one calendar year, would weaken the law, The New York Times reports. But proponents of the bill point the the commission's decades-long backlog as proof that a prod to timeliness is necessary.
In case you hadn't heard yet, the taxi of tomorrow has become the taxi of today, Curbed reports. Yay to better accessibility, if not to the aesthetic of more minivans cruising city streets.
The mayor, after contesting that street homelessness was rising, is finally admitting that the numbers are growing, according to The New York Times. As Brian Lehrer said it when the mayor was on his show Tuesday, "When The New York Post and the Coalition for the Homeless agree about something, it's probably happening."
Sadly, Gothamist reports that it is no longer avant-garde to take your giant snake on the subway.