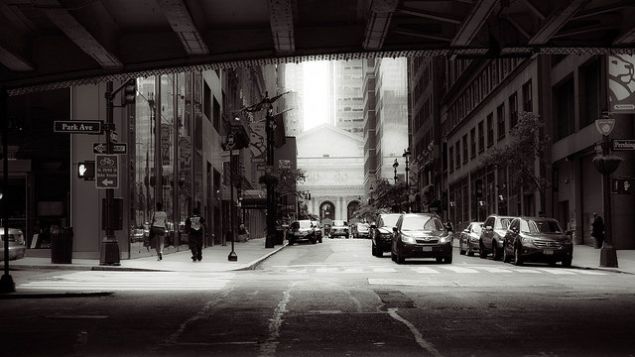 Construction has begun on the Santiago Calatrava-designed Greek Orthodox church at the World Trade Center,  whose walls of Pentelic marble are intended to glow softly at night, The New York Times reports. At least the church seems to be prepared for the project running over the $20 million budget, as Calatrava's projects are notorious for doing. Via the archbishop: "We know in principle there is no way, even in building a cottage, that you stay within budget."
The city has selected Holmes towers in Manhattan and Wyckoff Gardens in Brooklyn as the first NYCHA developments to host market-rate housing, Capital New York reports. The two developments are in the highly marketable neighborhoods of Yorkville and Boerum Hill, respectively and are "the only ones where construction is now planned, though the city could add more sites later."
The EB-5 visa-for-cash plan intended to create jobs in poor rural areas largely funds developments in affluent urban ones, The Wall Street Journal reports.
City landlords are sinking hundreds of millions of dollars into subterranean space, Crain's reports, banking on the assumption that retail tenants will be willing to go underground to avoid surging rents, as we noted they have been several months back.
Speaking of a project with a lot of subterranean space: Brooklyn borough president Eric Adams wants the Brooklyn Heights library project, in which the Hudson Companies would pay the city $52 million for the highly desirable parcel where the library now stands, to include a new public school and more low-income housing, Capital New York reports.
The New York Public Library, meanwhile, has received a small windfall in the form of $43 million of additional funding, according to DNAInfo, which will allow libraries to be open longer hours six days a week.
Five blighted buildings that have been boarded up since the 90s on Ninth Avenue between 37th and 38th will be torn down, according to DNAInfo.
Meanwhile, in Ditmas Park, tenants of 410 E. 17th Street are suing their landlord over mold, mice and exploding electrical outlets, Gothamist reports.
No, you're elitist! The New York Post editorial board calls the City Club of New York elitist for filing a lawsuit to block elitist media mogul Barry Diller and "fashion goddess" wife Diane von Furstenberg's Pier 55 park.
How many vegan cheese shops does Brooklyn need? Not one and certainly not two, Gothamist opines.
On the topic of hipster magnets: Bed-Stuy's Do or Dine has closed suddenly for reasons that appear to be financial, according to Brokelyn.