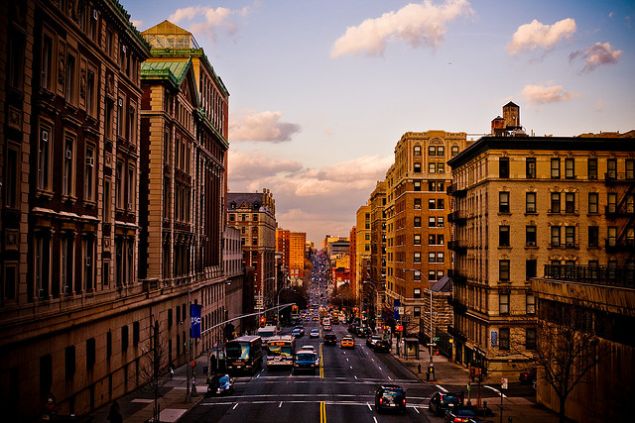 Credit unions are warning of a potential, Uber-induced taxi "bloodbath," as many medallion owners may not be able to pay up on the huge sums they owe on loans maturing in the next few months, Crain's reports. If the city does not intervene with Uber app hails, foreclosures are all but certain, a lawyer for Melrose Credit Union warned the city, noting that "medallion-loan delinquencies surged from $32,000 in January 2014 to $168 million at the end of May 2015. Two months later, they stood at $206 million."
Upper East Siders have Nello, Fred's and of course, Kappo Masa, but does Vaucluse, chef Michael White's new Upper East Side restaurant where one of the cheapest items on the menu is a $24 burger, out Upper East Side them all? Gothamist thinks so.
Meanwhile, The New York Times breaks the news that the West Village's bohemian past and quaint streets are belied by truly lofty prices.
It's not the only place: while Crown Heights may have been quasi-affordable a few years back, it's certainly not anymore, as two college friends who tried to relocate from Hamilton Heights, and ultimately turned right back, discovered, according to The New York Times.
Most college kids are stuck sharing a dorm, but some get their own apartments, courtesy of their parents, The Wall Street Journal reports. While some might see dorm life as, well, a big part of the college experience, one mother said her decision to buy a co-op was partly motivated by the fact that her daughter's first year in an NYU dorm involved "activities that perhaps aren't conducive to a healthy lifestyle."
That $1 million penthouse on Staten Island? Gothamist is not impressed.
Some people fuss over their kitchen cabinets or bathroom tile, but others are just worried about how they can install slides into their homes, The Wall Street Journal reports. Because what's the point of having a lot of money if it doesn't buy the happiness of a slide?