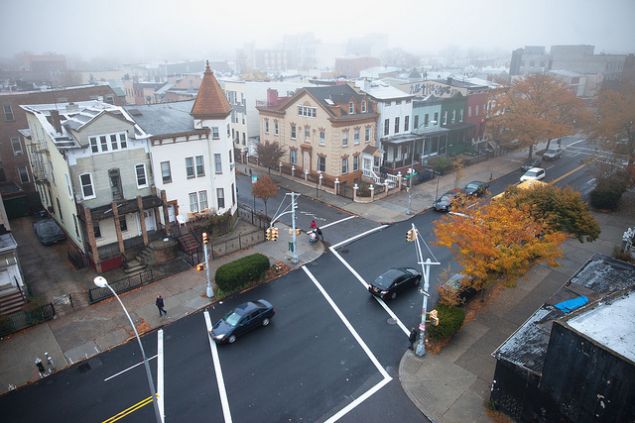 Yes, homelessness has, as Bill de Blasio claimed, been getting worse for years, Crain's reports. But the shelter population has climbed under the current mayor as well as his predecessors.
A 15-foot-high Wes Anderson-inspired crochet mural on the side of a Bushwick building is inspiring extreme gentrification anxiety, Gothamist reports. The mural is by a Brooklyn artist named London Kaye who put it up on the side of a building that abuts the recently-opened Bushwick flea market after asking the flea market owner's permission, but not that of the building's owners. The owners complained, sparking a rather nasty back and forth with the flea market founder, who told the website. "I'm culpable in taking a junkyard that was horrible and disgusting with rats. It took weeks to clean up, so I don't know how anyone could object to that."
Also on the topic of gentrification, the East New York rezoning is controversial and, quite expectedly, some people took issue with Crain's pro-rezoning editorial. As one local resident wrote: "Stating, 'Let the market work its magic,' is trickle-down economics by any other name. 'Market magic' doesn't address the thousands of residents that will undoubtedly be pushed out of the area because of rising rents and escalating home purchase prices. These are my hard-working neighbors, many of whom stuck it out through the long period of disinvestment, high crime, and pervasive unemployment."
Moving on to the rarefied air high above those battles: CNBC has more details of billionaire hedge funder Ken Griffin's alleged $200 million triplex combo at 220 Central Park South. "The triplex, which will be located on midlevel floors of the 65-story building, includes a main residence as well as separate units for staff, household help and guests. Altogether, the various units will total more than 18,000 square feet." Mr. Griffin's hedge fund Citadel also signed a lease of unprecedented expense for 425 Park Avenue.
And a state judge is overseeing the forced sale of two apartments at the Dakota owned by Alphonse Fletcher Jr., the hedge fund manager whose fund filed for bankruptcy protection in 2012, according to The Wall Street Journal. Mr. Fletcher also recently had his lawsuit against the building's board dismissed by another judge, which claimed that the board's refusal to let him purchase another unit in the building was racially, not financially, motivated.
Meanwhile, a developer is touting his Yorkville tower as "affordable luxury" because a one-bedroom could be had for less than $800,000, DNAInfo reports. Prices are expected to be around $2,000 per square foot.
Anyone with less money should probably just move to Chicago right now, as The New York Times reports that there are now all-cash bidding wars for co-ops on the South Bronx's Grand Concourse.
Police commissioner Bratton has back tracked on his plan to rip out the Times Square pedestrian plazas, which was almost universally maligned, Capital New York reports.
There's really no reason to visit the construction site that will someday be Hudson Yards, but The Wall Street Journal recommends checking out the spotless new 7 train station before it's pockmarked by gum and grit, like every other thing in this city.
Finally, for $15 million, de Blasio's Rockaway ferry plan won't include service to much of the Eastern peninsula, DNAInfo reports.