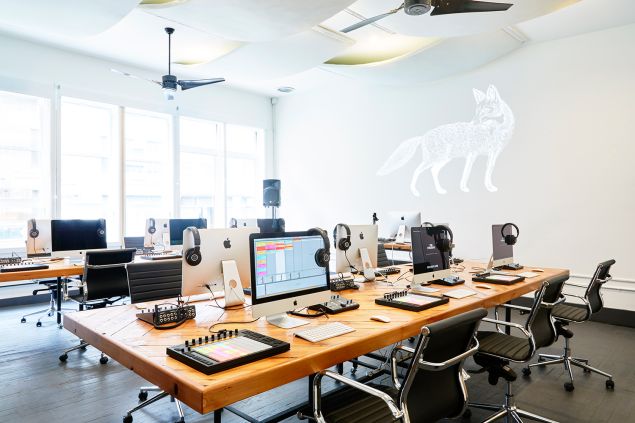 I feel I've dabbled in a lot of things in my life. Growing up, I played nearly every sport from cheerleading to softball to ultimate frisbee. I danced. I rode horses. I was in countless clubs and did the Girl Scout thing for a bit. One thing I regrettably never tried, however, was learning to play an instrument, or do anything musical, for that matter. Other than my attempt at humming along to the radio with a semi-professional kazoo my extremely musical friend once gifted me, I'm about as musical as a wine cork.
This didn't matter when I stopped by The Foxgrove, a new boutique DJ and music production school opening this October in Manhattan near Madison Square Garden. During my visit, I learned how to use the very programs and equipment the world's most famous artists and producers use, and by the end, I had even made my own track.
SEE ALSO: How 3D Printing Is Changing the Guitar Forever
I was there for An Introduction to Electronic Music Production, a three-hour class that includes an overview of electronic music from past to present, a walkthrough of the equipment and software and a chance to create your very first remix, no experience required. Although I learned a lot, my time at The Foxgrove felt less like a class and more like a fun experience. The school's co-founder, David Maurice, a famed songwriter and record producer who's worked with artists such as Jay Z and JC Chasez, said that's exactly how it's supposed to feel.
"I want to get bachelorette parties in here making mixtapes for weddings," he exclaimed. What he's hoping to do at The Foxgrove (which is named after the street he grew up on in London) is not launch professional careers, but give hobbyists and people just interested in learning about music a bite-sized taste of it.
He compares it to going to the French Culinary Institute for the afternoon to learn to make a soufflé. "You don't want to be a chef. You just want to learn to make a soufflé and have more knowledge about cooking," he told me.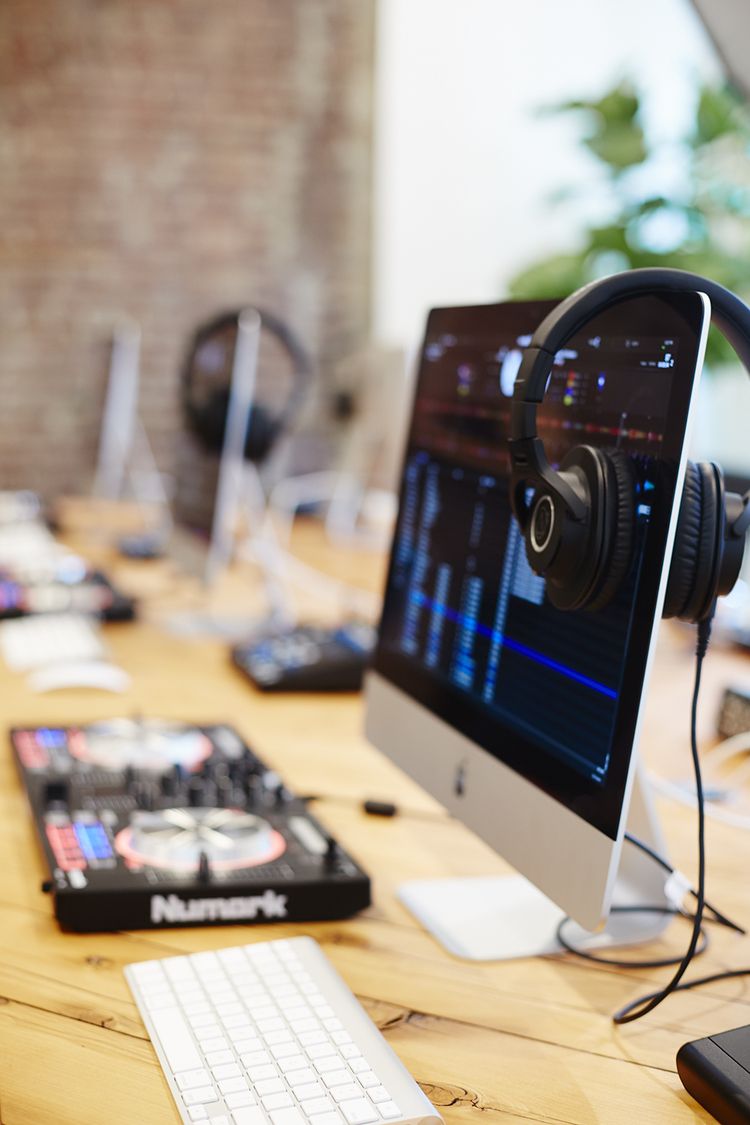 If a beginner is still intrigued after An Introduction to Electronic Music Production, The Foxgrove will also be offering Music Production Level 2 and Beyond, which will cover additional techniques and include more sophisticated tasks. There will also be one-on-one sessions, private rentals of the in-house recording studio and DJ classes, which will cover skills like beat matching and programming that are specific to DJing. What Mr. Maurice is really excited for though, is hosting private events (bring in those bachelorette parties!). A lot of people have already inquired about bringing their companies in for a session that will act as team bonding and a creative outlet.
The equipment
Each participant has a station with a new iMac and a piece of physical music-making equipment, which varies depending on the class. The DJ classes use Serato DJ, while the music production classes use the same controller with light-up squares that you've seen the biggest names in EDM use.
On the computer, you use Ableton Live 9, which again, is used to make most of the songs you hear at concerts and on the radio. While producing my song, I was able to use either the controller or the on-screen Ableton program, or both. The controller is just the hardware version of the program, and basically every task that can be completed on one can be completed on the other—it's just up to how you prefer to work.
"Imagine if you had an Excel spreadsheet, but then you had a piece of hardware that represented every square," Mr. Maurice said. "That's basically what it is."
There is a lot that can be done with this technology, and in the basic class, we learned only about 1 percent of what it's capable of doing. Still, though, that was enough to create a half-decent remix.
"As in-depth as those programs are—everyone from Skrillex to Steve Aoki is using them. They're professional music programs—you can also use them on a very amateur level because they're so simple," Mr. Maurice said.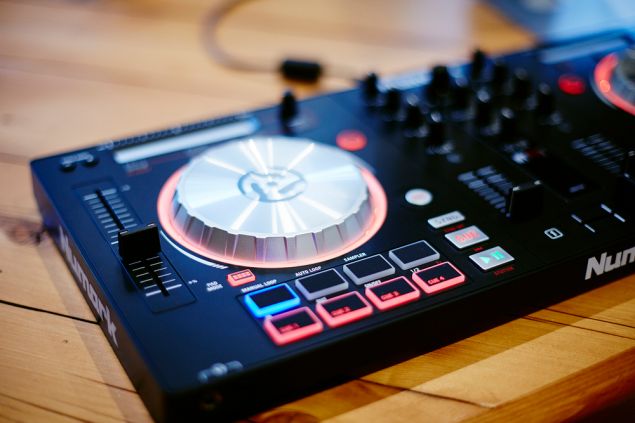 The class
Class began with a short history lesson on electronic music. We looked at early machines that made electronic music (the first one was the size of a few rooms and didn't record or amplify), listened to clips of landmark electronic songs (a song from an early band who Daft Punk resembles closely and "Livin' la Vida Loca," the first U.S. No. 1 hit to be recorded completely electronically) and learned some interesting facts (the first television song recorded electronically was the Doctor Who theme).
Next, it was time to learn about the technology. We threw on headphones and Ben, the instructor, began to tour us around Ableton. There was a selection of beats, effects and popular song clips we could use to remix our own track including The Weeknd's "Can't Feel My Face," Taylor Swift's "Bad Blood" and Beyoncé's "Crazy in Love." (When we chose songs to work with later on, I went for Tiësto & KSHMR's "Secrets.")
After touring the software, we switched gears and focused on the controller. We learned how to use it to make our own beats (Ben said mine sounded like some "real, classic '80s stuff. Like Madonna") and understand how what we were doing on the controller corresponded to the program onscreen. We then took a short break to eat some snacks and debrief, and then we headed in to begin making our own tracks.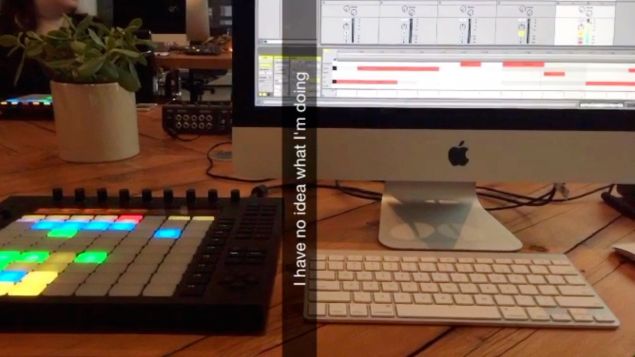 I sent a jokey Snapchat that pictured the equipment and said I didn't know what I was doing, but in reality, I wasn't intimidated at any point. We were encouraged to just play around and experiment with everything the program had to offer. Ben and another assistant were walking around helping and answering questions while everyone was concentrating, and laughing a bit, too. It was pure creative fun, and I never felt any pressure to have everything under control or produce something amazing.
As mentioned, I was working with "Secrets," which I was trying to make into a hardcore dubstep song. It was going pretty well at first, and I even managed to make a pretty solid stutter that lead to a drop (although I couldn't get the drop as intense as I wanted). Further along in the track, I was messing around with some different techniques and ended up with some sounds that were pretty odd, a bit glitchy (which I was going for but failing to deliver successfully) and arguably really terrible.
I was still attempting to sort out that part when it was announced that time was up—we had to save our files and get ready to play them for the rest of the class. Even though my weird glitch monster of a song turned some heads (not necessarily in a good way), this was one of the highlights of the class. Everyone took a completely different approach and produced something unique. Everyone had a good laugh and left with a track all their own as well a new outlook on their ability to interact with music.
"We're the first people to be able to use it in a basic, amateur way, have fun with music and take away this myth that you have to be a superstar professional to interact and play with music." Mr. Maurice said. "We're just trying to break down that barrier, open it up and say, 'anyone can do this.' "
Oh yeah, here's my remix:
Update: