In response to a new state mandate of a $15 per hour minimum wage for fast food workers, an advocacy group for fast food companies has responded that they can't afford such a wage. Yet somehow it can afford expensive media buys to lambast the pay hike.
A new billboard advertises what appears to be a teenage slacker, declaring that with the prospect of $30,000 a year, there's no reason for him to acquire formal skills or an education. $30,000 a year. That's, like, a whole notch above the poverty line.
The comes form the Employment Policies Institute, a product of Richard Berman, a notorious anti-union public relations guru who works on behalf of the restaurant industry.
For years, the whining against a higher minimum wage is that it would destroy the very businesses necessary to employ people, based on a patronizing mantra that simple economic understanding trumps a well-intentioned effort to bring workers out of poverty. Yet, despite what these Chicken Littles say, the sky never falls. Data show that restaurant growth in Seattle, which adopted a $15 per hour minimum wage, has remained steady. And studies show that San Francisco's paid sick days protection, which became a template for the measure in New York City, did not have an adverse affect on employment.
This latest salvo against a living wage shows that fast food industry's argument isn't economic but moralistic. They don't think that unskilled workers earning more money is bad for business.
Of course, there are other easy counter-arguments to this silliness. For one, raising fast food wages actually can make for a better workforce: people are more likely to take their jobs seriously if they have a decent wage to lose, rather than pennies for crappy job.
Furthermore, the ad's main premise seems to advocate for an emerging conservative argument. Not everyone in this country has skills or has access to high quality education. Indeed, television personality Mike Rowe has become a darling for libertarians and free-marketers, as he advocates that college is expensive and doesn't prepare many people for the real world workforce, and that there should be more opportunities for those who are not academically inclined. One would think the right wants unskilled people and those cut off from an exclusive education system have better jobs rather than, say, sitting idly collecting welfare benefits.
This latest salvo against a living wage shows that fast food industry's argument isn't economic but moralistic. They don't think that unskilled workers earning more money is bad for business, but rather it disrupts a kind of cosmic balance, wherein someone earning $30,000 per year at a job most Whopper-eaters hope to never do seems outlandishly high from the vantage point of the 1 percent.
Interestingly, even Diana Furchtgott-Roth, a fellow at the conservative Manhattan Institute, said the ad was ill conceived. Her take wasn't that youngsters would opt out of education, but rather that they would be forced out of the labor pool, since higher-skilled workers would be more likely to get fast food jobs, while the unskilled labor in that sector would eventually be replaced by automation.
Ms. Furchtgott-Roth pointed out that President Obama's first job was scooping ice cream, noting that teens need what might be perceived as meaningless retail work to learn early how jobs function. "We need to be careful that we don't lose the work ethic of the summer job," she said.
As an advocate for higher wages across the board, I don't necessarily believe those with industrial skills will start flipping burgers, leaving more precious job seekers out in the wind (It's also just not true that the workforce is entirely teenagers doing summer jobs, but that's another story). And even if that trend did happen that would only amplify labor advocates' calls for more public works projects to employ industrial skilled workers who are being squeezed out by offshoring and automation. Further, the end goal for labor activists isn't a $15 per hour wage for just this sector, but across the board. To borrow a phrase from the Reaganites, they hope to lift all boats.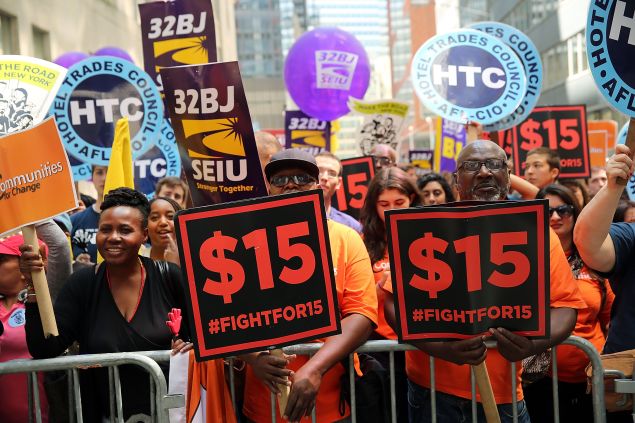 But her response is still a lot more thoughtful than the industry's response, and based more on worries about economic consequences rather than raising unwarranted fears from parents that their teenagers will forever seek comfort in a $15 per hour job as their highest ambition.
That gives the higher-wage advocates a lot more leverage if the companies further paint themselves into a corner of absurd rhetoric. If McDonald's and Burger King really do have a grievance with mandates like the one here in New York, there's a simple solution: Meet with the unions that are advocating for these wages and negotiate a workable agreement.
The longer it takes for the companies to take the high road, the more intense fast food worker organizing will likely become. If anything, they're helping fast food worker organizing, not hindering it.
Ari Paul has covered politics for the Nation, the Forward, the Brooklyn Rail, Jacobin and VICE News.