Here's a new hack for private investigators in Northern Virginia: when looking into someone, get a copy of any records the Fairfax County Police have of their car's movements around the county. Police in Fairfax County use automatic license plate readers to capture records of all the cars that pass in front of their cameras. The cops may have records of your subject at times and places that could be of interest. All it takes to get them to share where and when their cameras have seen a given license plate is to write to Fairfax police, claim the vehicle belongs to you and ask for records.
The police won't double check. They'll send whatever records they have for that plate, along with a modest invoice for their trouble.
At least, that's how a motion to dismiss by Assistant County Attorney Kimberly Baucom makes it sound. Filed in Fairfax County Court in Neal v. Fairfax County Police Department, the court denied the motion this past Friday. In that case, the plaintiff, Harrison Neal, has sued the local police, asking that it stop passively keeping records of cars seen by automatic license plate readers that are not relevant to an investigation.
In fact, not only does the police department hold onto data of all license plates, it also lets police in Washington and Maryland have a look at its license plate record database whenever they want. The various Capital-area departments have a memorandum of understanding with regard to their license plate reader data, according to the state's ACLU.
"The fact that the data was being shared across several jurisdictions heightened the privacy concerns for us," Rebecca Glenberg, the ACLU of Virginia's legal director, told the Observer in a phone call.
After inquiring of local law enforcement, Mr. Neal learned that his car had been identified twice by police cameras, but Ms. Baucom says the only way officers knew it was his car was because he said so. Based on her motion, the department just trusted him.
Mr. Neal had, at the behest of the state chapter of the American Civil Liberties Union, filed a Freedom of Information Act request with the local police department, asking if his car had ever been identified by its license plate surveillance system. It had. The police sent Mr. Neal two records where his car had been photographed by their system, on April 26 and May 11 of 2014. The case was filed in May 2015.
'The fact that the data was being shared across several jurisdictions heightened the privacy concerns for us.'
The Fairfax police throw out datat older than 364 days. California law currently permits much more expansive data collection, but the state Supreme Court is set to review the current policies.
In the Virginia case, Mr. Neal is represented by the American Civil Liberties Union of Virginia. In its complaint on his behalf, the organization asks for relief in the form of a prohibition against the passive collection of license plate records. The ACLU-VA bases this case on the Virginia Government Data Collection and Dissemination Practices Act. In short, that law says that government agencies can't hold onto records of citizens that could identify them without the need for the information having been "clearly established in advance."
For example: if a car is known to have been stolen, then the need to collect a record of any sighting of its license plate subsequent to the car having been reported stolen is fair under the law. That's active collection. The need for that data was "clearly established in advance."
On the flip side, the law, the ACLU argues, doesn't permit keeping data on all cars everywhere, in case one of those cars is seen on a camera subsequent to its theft but before the victim has managed to report it. It's the difference between active and passive data collection, or between surveillance and investigation.
The Virginia data law specifically governs the maintenance of databases of personal information. A reasonable person's understanding here is that these are records in which a person could be associated with a given kind of identification. The law gives some examples of the sort of records it has in mind (Social Security numbers and personal property information make the list) but explicitly says that the law isn't limited to that list.
Most reasonable people would think of a license plate as a personal record, though it is true that your wife, your son or your neighbor Bill could all, in fact, be the person driving your car at any given time. Ms. Baucom disagrees. Her motion to dismiss the case makes it interesting when it argues that a license plate is not a personal record. She writes:
Unlike all of the specific terms contained in the definition of 'personal information,' the license plate number of a vehicle says absolutely nothing about an individual, his personal characteristics such as his fingerprints, or his membership in an organization. Indeed, assuming the truthfulness of the Plaintiff's contention that he owns the vehicle to which the license plate 'ADDCAR' is registered, the only way that Colonel Roessler and the FCPD have this information is because the Plaintiff himself furnished his name and address to the FCPD in his May 9, 2014, FOIA request, which connected his name and address to the license plate number.
The two implications of what she writes are, first, that it isn't easy for the police to see who a car is registered to based on a license plate and, second, that the Fairfax PD didn't verify that Mr. Neal really did own the car in question before responding to his FOIA request.
Maybe they didn't? So, private investigators, jealous spouses and stalkers: have at it. This is a quick and easy way to get an idea about the comings and goings of someone you're interested in. Ask the police south of D.C. where they've seen the person's car. It may cost you about $11.17—that's what they charged Mr. Neal—but they'll tell you.
On the other hand, those two implications might sound silly. If they do, a reasonable person would come to the conclusion that a license plate number is a personal record. Odds are, the police did check that the number Mr. Neal sent them really did belong to him. Because, for officers of the law, that check is simple.
Ms. Baucom did not respond to a request for comment for this story.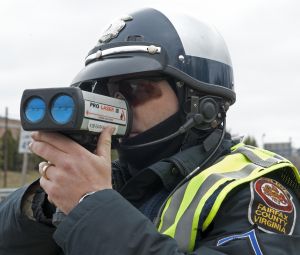 Automatic License Plate Readers were recently used by state police to locate Vester Lee Flanagan, the suspected assailant of two reporters who later took his own life. As Ms. Glenberg explained, that kind of use, in an active investigation, is nothing that civil liberties advocates object to. If records collected by police using this technology were thrown out in a few days, for example, after failing to match against a list of plates of interest in an investigation, then the organization would have no objection. It is holding onto the records for so long that's troublesome.
In fact, the state police, at the advice of Kenneth Cuccinelli, the attorney general at that time and former Republican nominee for Governor of Virginia, throw out license plate records that don't match a current list of plates of active interest. As Attorney General, Mr. Cuccinelli wrote in February 2013 that when a license plate isn't specifically named in an investigation, "it may not lawfully be collected through use of LPR technology."
In Ms. Baucom's motion, she contends that license plate numbers are not personal records because they can only be attached to personal information with reference to another database held by another agency. It's up to the court now to decide whether Ms. Baucom or Mr. Cuccinelli understands the intent of the law correctly.
An attempt by the state's legislature to clarify the state's data law so that it explicitly limited the holding of license plate records was vetoed by Governor Terry McAuliffe in May. That said, Virginia's law is stronger than protections citizens of most states enjoy. "Virginia's statute is not typical," Ms. Glenberg said, "It seems to be better."
The ACLU does not know how many cameras Fairfax County police have, nor do they know which vendor the department uses for the technology. Ms. Glenberg hopes to learn that and more in the discovery phase of the trial.