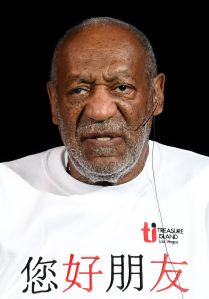 When scandal strikes prominent philanthropists, nonprofits suddenly face an embarrassing branding problem. New York University, for instance, had to scramble recently to delete Bill Cosby's name from one of its programs.
"The Future Filmmakers Workshop has removed the Cosby name in light of recent events," the school's director of public affairs, Matt Nagel, said by email. "The university is not commenting further. By way of background, the Future Filmmakers Workshops—which serves high school students—received early support from Bill Cosby in the form of a series of benefit concerts in the mid to late 1990's. The workshops predate the concerts."
What follows is a partial list of other disgraced donors, whose names are no longer are immortalized in bronze.
Zayed bin Sultan Al Nahyan, the late president of the United Arab Emirates, donated $2.5 million to the Harvard Divinity School, but when he was later associated with anti-Semitism, the school returned his donation to him after years of debate over what to do with the money he had given them and his name was removed from his endowed chair in Islamic studies.
John Eleuthère du Pont, heir of DuPont chemical company's fortune, donated money to Pennsylvania's Villanova University, and, in turn, the school's basketball pavilion was named after him. After du Pont, who was recently portrayed in the film Foxcatcher, was convicted of murdering Olympic wrestler David Schultz in 1997, the school removed his name from the pavilion.
Bill and Nancy Laurie, the latter an heir to the Wal-Mart fortune, donated $25 million to the University of Missouri in 2004, prompting the school to name their new arena after the couple's daughter, Paige. After it was discovered that Paige Laurie cheated while she attended the University of Southern California—she eventually returned the degree she'd received from the school—the University of Missouri's arena was renamed due to the academic controversy.
After David Radler, Canadian businessman and partner of Conrad Black, pleaded guilty to charges of fraud in the midst of a newspaper scandal, the Board of Trustees at Queen's University in Ontario returned a $1 million donation that Radler had given to the school, and scrubbed his name from a wing of the university's business school.
Elroy Stock, an alumnus of Augsburg College in Minnesota donated $500,000 to the school in 1986 as part of a campaign naming gift. When Stock's identity as a racist surfaced, as the public learned that he was the author of thousands of letters that were mailed to people in an attempt to promote his ideas about racial purity, the college decided not to name a building after him, but they kept the money they had received, which later resulted in a lawsuit against them.