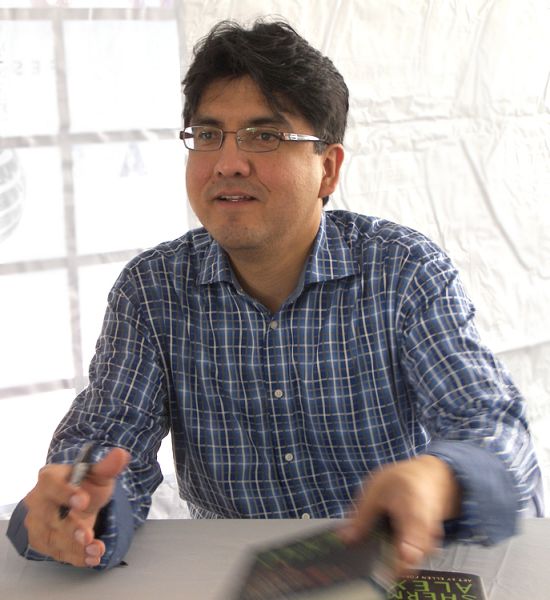 Nothing like a Twitter controversy to get the juices flowing after a long weekend—especially when its a controversy about poetry.
Poetry Twitter came to life Tuesday morning when The Guardian revealed that an entry in the recently published anthology of The Best American Poetry 2015 was written by a white poet using a Chinese pen name. Award-winning author and poet Sherman Alexie, who guest edited the anthology, knew about the deceit before the book was published, and decided to include the poem anyway.
The author biographies at the back of the anthology disclose that Yi-Fen Chou, the ostensible author of "The Bees, the Flowers, Jesus, Ancient Tigers, Poseidon, Adam and Eve" is actually a white Indiana man named Michael Derrick Hudson. Mr. Hudson submitted the poem 40 times under his real name, and nine times under the pseudonym, before his poem was chosen from over a thousand entries to be among the 75 featured in the collection.
Mr. Alexie wrote a lengthy blog post explaining his decision, saying that he was "angry at the subterfuge" and considered removing the poem from the collection. Upon rereading, however, he found the poem compelling and funny, and decided to keep it in to avoid accusations of identity politics (which he acknowledged would probably come anyway).
"I realized that I would primarily be jettisoning the poem because of my own sense of embarrassment," Mr. Alexie said. "I was practicing a form of literary justice that can look like injustice from a different angle."
Some journalists and academics on Twitter applauded Mr. Alexie for his honesty:
Others, however, thought Mr. Alexie should've jettisoned the poem right away:
This controversy, and the passionate online response, have taken on their own poetic resonance. How fitting.