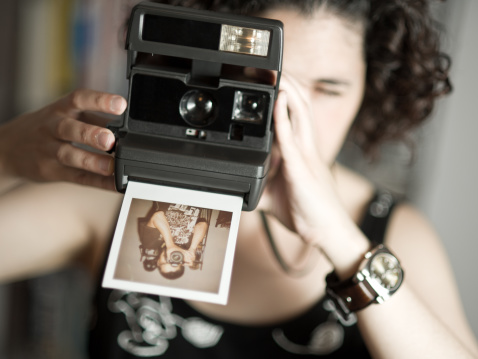 Among Instagram-crazed, Smartphone-addicted consumers, Polaroid has launched its newest camera, the Snap, in an effort to prove its relevance in a progressively digital world. The rectangular, round-edged point-and-shoot is small enough to fit in your palm and, more importantly, your back pocket. Oh, and it's completely ink-free.
Made by the Silicon Valley company Ammunition, the Snap ($99) is sleek white with a rainbow stripe—a nod to the original Polaroid camera design. With a sense of nostalgia on the exterior of the device, the interior is all 21st century. Storing 32GB of photos on a Micro SD card, the Snap instantly prints full-color 2×3" photos on ZINK (zero ink) paper. The paper's material consists of colored-dye crystals; when a photo is taken, the printer heats the clear crystals and melts them into the cyan, magenta, yellow and black (CMYK) colors—all without the use of ink.
The former reign of instant photography is attempting to pry its way back into millennial lives—but of its own accord. Robert Brunner, the camera's designer from Ammunition, told Wired that Polaroid's Snap is not about competing with iPhones and social media, but rather allowing people to appreciate a physical print in their hands.
"Photography used to be about that sense of joy and the physical artifact," Mr. Brunner told Wired. "It's not trying to compete with other cameras or your iPhone."
But not all of the Snap's features are a far cry from platforms like Instagram. The Snap gives users three formats to choose from: color, black and white or a vintage sepia tone, along with the choice of Polaroid's iconic black border. So even if looking through a viewfinder might make it seem like you're back in the 90s, choosing one of these three filters will bring you right back to the digital age.
Scott Hardy, a spokesperson from Polaroid, said the Snap is a combination of the old and the new for both millennials (generation Y) and digital natives ("Generation Z").
"It's really about bridging the gap between the digital and the analog worlds," Mr. Hardy told the Observer. "To Gen Z, the idea to be able to print a photo you just took is very novel, retro and cool. They want to do something that's more innovative than sharing something to your Instagram or Snapchat account."
The Snap follows the 2014 debut of Polaroid's "Cube," a 35mm tall camera with a 124-degree wide-angle lens—both are competing with the wildly popular GoPro. Now, with The Snap to add to Polaroid's lineup of in-demand products, Mr. Hardy is confident that the brand's vintage feel will not succumb to digital pressures.
"Polaroid has stood for sharing, fun and easy to use," Mr. Hardy said. "The Snap truly embodies these attributes that are such a key part of our DNA."
The Snap is expected to hit stores like Best Buy, Target and Amazon in mid-October.