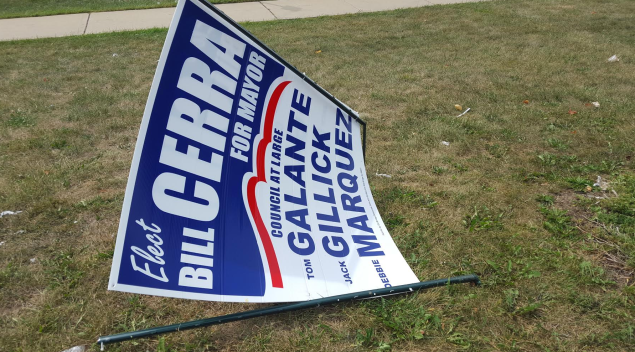 Police reports from this month confirm Old Bridge Democratic mayoral candidate Bill Cerra's claim that there has been a pattern of vandalism directed at his campaign signs in the area. Though staff at the campaign headquarters of Republican incumbent Owen Henry reported one instance of a sign being destroyed to police and described the vandalism as an isolated incident, there has in fact been a pattern of signs for Cerra being stolen or damaged.
"I had two that day just drove up on the lawn and ran them over with their car," said Cerra. "The incident that they, that happened right across from their headquarters, where a gentleman tore it down and threw it in front of his car and ran over it, and I got three more where they just knocked the sign down and broke the poles."
The police reports provided by the Democrats corroborate the details that Cerra gave, describing seven separate incidents this month. Only two so far have had witnesses, the first outside the Republican headquarters and the second involving two women who saw a man get out of his car and take a sign down in broad daylight.
Witnesses described a white man, in his most likely in his forties and driving a black two-door car.
Cerra and his campaign staff told PolitickerNJ that they are not blaming the Republican campaign for the incident, but said that they want for the public to be aware of the pattern of disappearing or being destroyed.
"I'm not accusing anyone of doing it. Someone is obviously doing it, I'm not accusing anyone. It's happening, that's all," said Cerra.
GOP Executive Vice Chairman Tony Paskitti previously said that the last local elections in 2011 became similarly heated, though the rancor was mostly directed at Republicans at the time.
"Last election cycle four years ago they smashed the campaign headquarters window, a plate glass window," said Paskitti. "And then they smashed the windshield of the campaign manager and they smashed tires. And one of the chairwomen, Anita Greenberg, got her car keyed.
"These types of things have happened to us in the past, and we would never allow anyone within the Republican party to do this, it's absurd. We told them that we would file a complaint against the person if the person got caught."