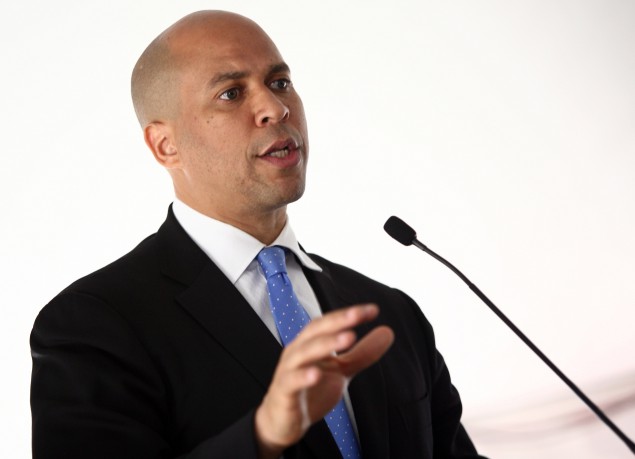 Earlier today, U.S. Senator Cory Booker released a lengthy statement coming out in favor of the Iran nuclear deal supported by President Barack Obama. In New Jersey, this puts Booker against fellow democratic U.S. Senator Robert Menendez who has been staunchly opposed to the Obama administration's deal.
For Booker, the decision was one that was weighed carefully. It set two of his main interests against one another: the young, progressive voter base that expected him to support the deal and the strong political and financial ties he has with the Jewish community where support for the deal was weak (and where many powerful groups were opposed).
According to Brigid Harrison, Montclair University political analyst, Booker's choice has "solidified his position in the national Democratic Party."
"I think that given the president's stance on this, this has become a litmus test for Democrats," Harrison told PolitickerNJ.
Monmouth University pollster Patrick Murray believes that Booker "is a team player" and decided to follow the lead of President Obama.
"His gut instinct is to follow the call his quarterback made," Murray said of Booker. "Now, he has to turn around and explain that to his constituents in New Jersey."
According to both Murray and Harrison, the fact that the next election for Booker's senate seat isn't until 2020 means that the senator will have ample time to smooth over any damage potentially done to his career due to the decision.
"He will certainly reach out and talk to groups and hope that over time he is proven right," Murray said. "I think he feels he can weather the storm and come out of this stronger."
Harrison echoed Murray's sentiments.
"In the long run not going to be make or break for his political career," she said. "There is a lot of time between now and his next election. I think that a lot of the people who will hold this against him weren't in his corner in the first place."
For Harrison, Booker's decision seems to have a lot to do with "the lack of a viable alternative."
"It is one thing to say you are opposed to the deal, but then where are we?" she asked. "I haven't spoken to the senator about this but I think the lack of a viable options, even when the idea that the deal is not perfect is there, perhaps factors in."
Despite Booker carefully weighing his options on the deal, in the end his choice will be of little consequence. On Wednesday, Senator Barbara Mikulski of Maryland came out in favor of the deal, giving Obama the 34 congressional votes he needed to ensure that he would be able to veto any opposition.