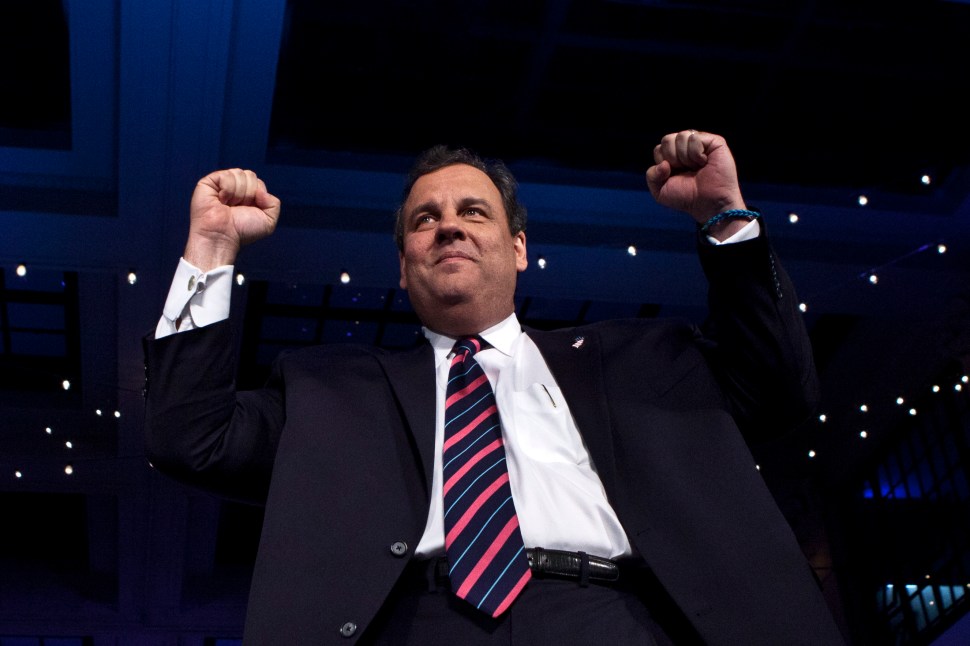 It's Tuesday in New Jersey, where our governor now has one less rival in his quest for higher office.
PNJ Poll: Who Gains Because of Scott Walker's Departure from the Prez Race?
With the Wisconsin governor's departure, which of the remaining candidates can capitalize on the change?
PolitickerNJ Staff, PolitickerNJ Read more
ELECTION 2015: 12 Greasepoints Around the State of New Jersey
As New Jersey gets closer to November 3rd Election Day, the following 12 races bear close scrutiny.
Max Pizarro, PolitickerNJ Read more
Source: Newark Faces Possibility of Nine-Percent Tax Hike
The Ras Baraka Administration is examining the prospect of a nine-percent property tax increase in the city of Newark, according to a source familiar with developing backroom dialogues around the budget.
Max Pizarro, PolitickerNJ Read more
NRA Denies Ciattarelli in LD16
The NRA-PVF (National Rifle Association-Political Victory Fund) today released its endorsements in New Jersey legislative races.
Max Pizarro, PolitickerNJ Read more
Mazzeo Stands to Gain as Gas Utility Bills Released from Committee
The Senate Environment and Energy Committee voted Monday to release a trio of bills that would oblige the Board of Public Utilities to provide more information on the rates and terms of customers' choices of gas providers in New Jersey. All three of the bills were sponsored in part by Assemblyman Vince Mazzeo (D-2), who is running for reelection in one of the state's few competitive contests this November.
JT Aregood, PolitickerNJ Read more
Doherty and Ruiz Argue over Hoboken-Hackettstown Education Divide
State senators M. Teresa Ruiz (D-29) and Mike Doherty (R-23) clashed this morning on the issue of the school funding formula and how it applies to Pre-K education before Ruiz shut down the Senate Education Committee's ranking Republican.
Max Pizarro, PolitickerNJ Read more
Carpenters Elevate Ballantyne to Executive Leadership Role to Replace Capelli
The Northeast Regional Council of Carpenters has elected 30-year carpenters union member John Ballantyne executive secretary treasurer of the union.
Max Pizarro, PolitickerNJ Read more
Payne on Separation of Church and State, Planned Parenthood, Trump
In reaction to recent comments made by Republican presidential candidates Donald Trump and Dr. Ben Carson, Congressman Donald Payne Jr. (D-10) says he believes that separation of church and state is not a respected philosophy in the current U.S. political world. According to Payne, that lack of respect for "what the country was founded on" is also a part of the reason that a government shutdown over funding to Planned Parenthood is looming.
Alyana Alfaro, PolitickerNJ Read more
Labor Leader Dances on Walker's Prez Race Grave, Taunts Christie
As Governor Scott Walker ends his Presidential bid this Monday, NJ Working Families executive director Analilia Mejia issued the following statement:
Politicker Staff, PolitickerNJ Read more
Republican Opposition Likely for Thursday's Criminal Record Expungement Bills
With two criminal record expungement bills going before the state Senate Thursday, one source told PoltiickerNJ that she expects for the opposition from Republicans to be fierce.
JT Aregood, PolitickerNJ Read more
Menendez, Booker, Payne, Baraka Announce $7.4 Million for Newark Firefighters
A new federal grant to the Newark fire department will provide $7.4 million for the city to hire 38 new fire fighters.
Alyana Alfaro, PolitickerNJ Read more
Number of Refugees Accepted into US to Increase to 100,000 by 2017
A rising tide of human misery, the flood of refugees — many fleeing the war in Syria — hit a wall of resistance this weekend along checkpoints in Croatia and Hungary where tanks and wire fences kept them from crossing borders.
Brenda Flanagan, NJTV News Read more
Scott Walker quits GOP prez race, which is good news for Christie
Wisconsin Gov. Scott Walker on Monday ended his presidential campaign, which means one less rival for Gov. Chris Christie.
Aristide Economopoulos, NJ.com Read more
Inside Chris Christie's militia, flab and cronyism trigger mutiny in the ranks
Besides serving as governor and running for president, Chris Christie has another job. As commander in chief of the New Jersey National Guard, he is in charge of 8,400 citizen soldiers, a militia that has become increasingly dysfunctional under his watch.
Craig Whitlock, Washington Post Read more
Christie orders N.J. National Guard leader to meet fitness requirements
Gov. Chris Christie has ordered the leader of New Jersey's National Guard to meet the U.S. military's fitness requirements after it came to light that the commander was reprimanded by the Pentagon last year for his excessive weight and for missing physical-fitness tests.
Brent Johnson, NJ.com Read more
Chris Christie Stood By Nomination Of Muslim Judge Despite Attacks From 'Crazies'
In recent days, GOP presidential candidates have been making news for their suggestions that Muslims, somehow, aren't fully American.
Amanda Terkel, Huffington Post
Read more
Jersey City to expand health benefits for transgender workers
Jersey City is expanding the health care it offers city workers to include coverage for transgender medical care and related procedures, including gender reassignment surgery.
Terrence T. McDonald, The Jersey Journal Read more
Should N.J. expand its public preschool program?
Cecilia Zalkind could already see the differences in the group of 3-years-olds during the first week of school, she said.
Adam Clark, NJ.com Read more
Passaic GOP freeholder candidates blast troubled Democrat-created county non-profit
Republicans in the Passaic County Freeholder race on Monday called for greater transparency regarding the Friends of the Passaic County Parks, a non-profit set up by county government in 2008 that has lost its tax-exempt status for failing to report its income to the Internal Revenue Service for three consecutive years.
Richard Cowen, The Record Read more
Bergen County freeholder fails in try to rally colleagues against Iran nuclear deal
Bergen County Freeholder John Felice wants his colleagues to take a stand against the proposed Iran nuclear arms agreement currently pending before Congress.
John C. Ensslin, The Record Read more
Is the door opening for Chris Christie?
It's still hard to find Republican voters who think New Jersey Gov. Chris Christie should get the party's presidential nomination, but his showing in last week's debate may be prompting more people to give him a look.
Bob Jordan, Asbury Park Press Read more
NJ congressmen pushing sports betting on 2nd front
NEW YORK The recent surge in companies offering fantasy sports leagues with big payouts to participants could help New Jersey's stalled attempt to allow legal sports gambling, a congressman involved in the effort said Monday.
Associated Press Read more
Bear legislation advanced by Senate committee
Don't feed the bears, or else.
That could possibly be your final warning, as legislation advanced by a Senate committee Monday would do away with a written warning requirement of the state law banning the feeding or baiting of bears, allowing violators to immediately be fined between $50 and $1,000.
David Levinsky, Burlington County Times Read more
Survey says New Jersey has highest tax burden
New Jersey residents carry the highest tax burden in the country after new accounting standards that allow unfunded pension and benefit costs to be factored in, according to a study released Monday.
Associated Press Read more
General Majority PAC sent ballot applications to Atlantic County voters
Atlantic County's Board of Elections is trying to figure out whether mail-in-ballot applications partially filled out for residents by a super political action committee should be considered messenger ballots.
Christian Hetrick, The Press of Atlantic City Read more
Talk at summit hints at compromise on gas-tax hike if tradeoffs can be found.
New Jersey business leaders came away from a two-day summit in Atlantic City with high hopes for an improved dialogue with state lawmakers, and with a better understanding of how those lawmakers could eventually resolve one of the state's most pressing concerns — the nearly broke Transportation Trust Fund.
John Reitmeyer, NJSpotlight Read more