He's here! Pope Francis became the fourth pope in history to visit the United States and it's kind of a big deal. It's hard to remember the last time I saw so many Americans get so excited.

September 24, 2015
(Turn the sound on for that Vine. Trust me, it's the best.)
There's just something about this pope that so many people seem to love. Not just Catholics either. On Reddit, a site where many users aren't too keen on religion, this "Good Guy Pope" meme shot to the top of r/AdviceAnimals.
(Via Reddit/unknown_name)
Of course, his looks might have something to do with it.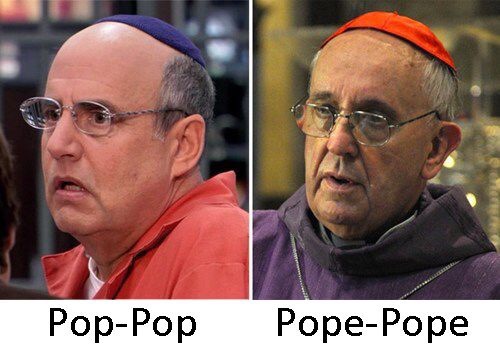 (Via Reddit/Pharmdoc07)
Pope Francis got things started with a visit to Washington D.C. where he met the president. Now, there's probably an article somewhere detailing the actual events of their meeting, but it's much more fun to speculate about how their conversation went.

Obama: Bo's an updog Pope Francis: what's an updog Obama: oh shit I messed that up, let me start over pic.twitter.com/68HbMnUwH7

— Jennie Berney (@MrsBerney) September 24, 2015
(Via The Gabe Roland)
Hey, this one isn't far off. Pope Francis announced that he's putting out a progressive rock album. No, I'm not kidding.
During his visit, to DC, Pope Francis also spoke to congress, giving us what might be the greatest John Boehner-related Vine ever.

Can't stop watching this https://t.co/opdAkT8XRi

— Justin Green (@JGreenDC) September 24, 2015
And with Boehner resigning the almost immediately after that happened, at least one liberal tweeter may have found religion.

Boehner is resigning? BEST. POPE. EVER.

— Johnny Taylor, Jr. (@hipsterocracy) September 25, 2015
Though one Redditor anticipated a more extreme reaction.

(Via Reddit/PhineusQButterfat)
Meanwhile, another noticed something odd about his Secret Service detail.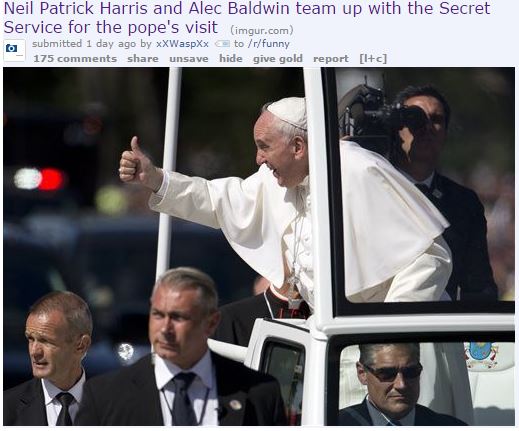 (Via Reddit/xXWaspXx)
The Pope then moved on to New York City. People here displayed their excitement exactly as you'd expect. On the side of buildings,

#popeinnyc #GODzilla pic.twitter.com/FV76oF4K5M

— Ann Carroll (@Violasmuse) September 12, 2015
on pizza,

The most important coverage of #PopeinNYC so far: pic.twitter.com/H4qJ6lVvar

— Patrik Sandberg (@PatrikSandberg) September 24, 2015
and of course

This is NYC, after all pic.twitter.com/B2V5xfjtik

— Sarah Kennedy (@Sarahkennedynyc) September 24, 2015
We also got an awesome Snapchat filter for the occasion.

But what do you do when the pope comes to visit?

I kind of feel like I should clean my apartment because the Pope is in town.

— Josh Gondelman (@joshgondelman) September 25, 2015
Today, the answer seems to be line up. Folks all over Manhattan noticed the extremely long lines that becan to form around Manhattan. Particularly Central Park,

The multitude assembles to see the Pope. Central Park West. pic.twitter.com/44s7wdPgHJ

— Harry Smith (@HarrySmith) September 25, 2015
And Madison Square Garden.

Line of people waiting to get into Central Park to see #PopeinNYC pic.twitter.com/HNuTCZWVzI

— Richard Quest (@richardquest) September 25, 2015
That line stretches all the way to Chelsea, by the way.

An iPhone 6s line? Nope. It's a Pope line and it stretches from MSG to Chelsea and back. #PopeinNYC pic.twitter.com/ePGl878MAa

— Marcelo Prince (@marcelolprince) September 25, 2015
Edit: The end of the line from above: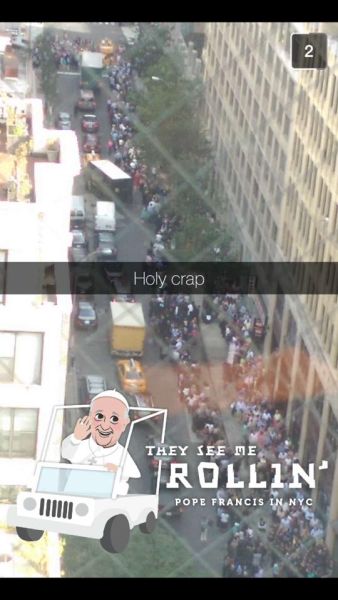 (Via me)
But hey, if you really want to see Pope Francis without waiting in those long lines, there's at least one alternative.

S/O to Madame Tussauds for trolling the yokels in TimesSq yesterday by driving a wax pope up The Great White Way OMG😂 pic.twitter.com/EMDOz5ycQY

— Vee (@lovestained555) September 25, 2015
It's been a crazy couple of days, but the crowds should all be gone tomorrow. Pope Frances heads out to Philadelphia tomorrow, which can mean a couple of different things could happen. He could settle once and for all whether Pat's or Geno's makes the superior steak. Or…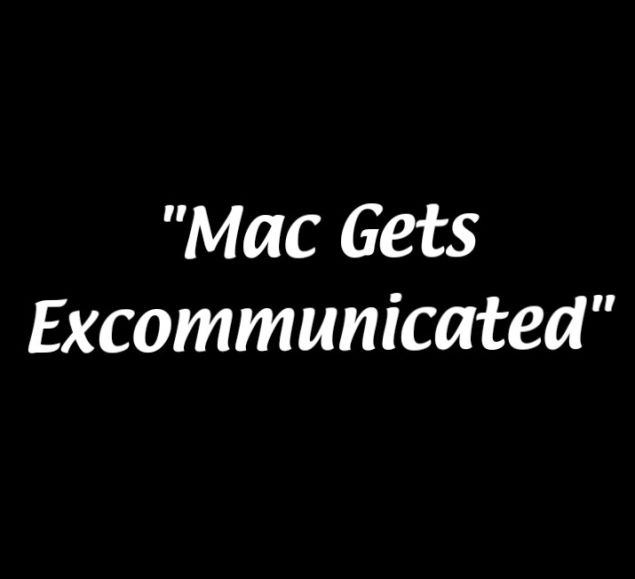 (Via Reddit/venom8599)
Cue the music.