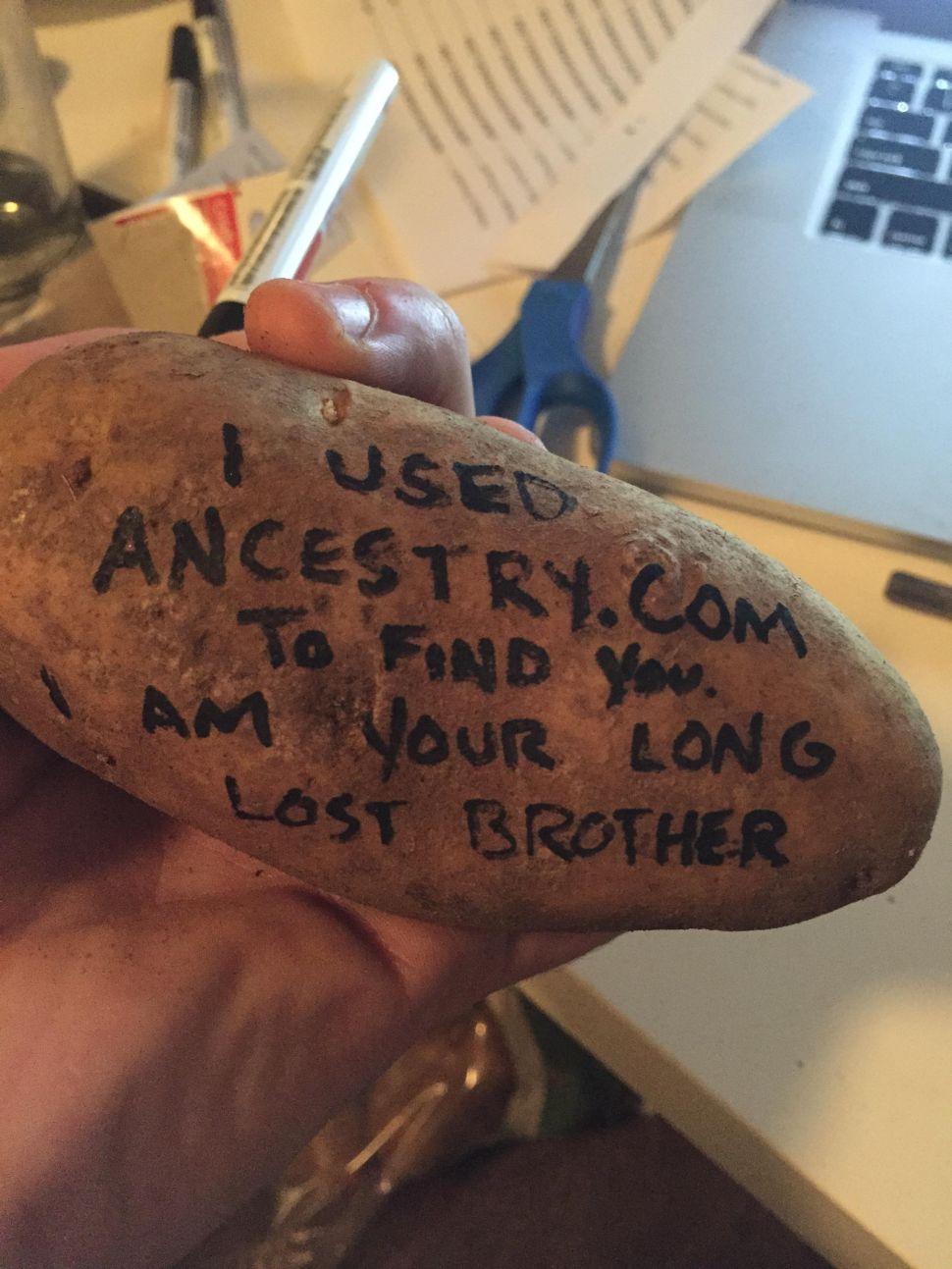 There's a new sector of the tech economy that's taking shape right now, and one of its pioneer websites is up for sale. Alex Craig is selling PotatoParcel. If you're not familiar, the site allows customers to have a custom message written onto a potato and mailed anonymously to anyone you choose. It's one of the earliest sites in the excess mail sector, alongside Dicks By Mail and Ship Your Enemies Glitter.   
Mr. Craig, the Dallas-based founder of the company, believes that PotatoParcel stood out by enabling users to customize their disappointing mail. A bag of dicks is just a bag of dicks and glitter is a tedious to clean un-bomb, but Mr. Craig's service added a new facet to the business.
Tittygram, the site for sending messages on model's breasts.
"What was very popular about PotatoParcel was it was very strange to send a potato in the first place," he told the Observer in a phone call, "but the very fact that you could customize it to whatever situation you were in. I think people really bought into that."
That said, these sites really move in a completely opposite direction from greeting cards. They please customers by aggravating recipients. As Mr. Craig told us, "You get this package in the mail and it gives you that surprise and delight because you don't know what it is, but then you open it up and you're devastated because it's just a potato with a message on it."
The business of marketing and selling that specific disappointment is on sale now. The price for the business currently sits at $10,000 on Flippa, with three days to go. The business has only been around a few months now. In that time, it's earned $43,000 in revenue and shipped thousands of potatoes, according to Mr. Craig.
As Flippa indicates, one of the downsides of trying to run the company is that much of its traffic comes from Reddit, which would be tough to sustain. In fact, after the site's initial surge, Mr. Craig said he turned to Reddit again to get interest in the company back up after it plummeted in its second month.
While Mr. Craig's company just expanded into Australia and the UK and is close to closing a deal with DHL that will streamline its shipments, Mr. Craig is ready to move on from the venture to focus on his day job. He works on the business development side of Bottle Rocket, a mobile dev company that works for major brands, like Showtime, Chick-Fil-A and Lego.
He built PotatoParcel's site in about an hour, he said, using Weebly, but since then he's spent a lot of his time writing on potatoes. In fact, he's had to recruit his roommate's girlfriend into the business, on a pay-per-potato basis. 
"It's been extremely lucrative and it continues to grow,"Mr. Craig told the Observer. "but at this point I'm getting pretty tired of coming home to an apartment full of potatoes every day."